CHOOSE A SPONSORSHIP PACKAGE
------ x ------
COMMUNITY IMPACT SPONSOR - $10,000 Sponsorship (1 Opportunity)
One team entry for up to 25 members, including: 20 paddlers, 1 drummer, 4 alternates plus a "Pay-it-forward" team entry for an area nonprofit ($3,000 value).
Participation in Eye Dotting Opening Ceremony and recognition at Closing Ceremony
Festival t-shirts (25 max)
Priority team tent location with VIP Package (Sponsor supplies tent)
Space for information booth
Private Tour & reception at brand new WNC Bridge Foundation facility in Fall 2021
Logo on marketing material and products such as banners, t-shirts, posters, press releases, e-blasts, and printed items
Featured as 5th Annual Community Impact Sponsor of 2021 Drums & Dragons event on 2 websites, 2 Facebook pages, Instagram, and in any radio or press coverage
8 event sponsor recognition announcements
Speaking opportunity on day of event
* 1 minute promo video to be featured on day of event + 3-5 min speaking opportunity at event
12 VIP on-site parking passes
PLATINUM DRAGON SPONSOR - $5,000 Sponsorship (3 Opportunities)
One team entry for up to 25 team members, including: 20 paddlers, 1 drummer, 4 alternates ($1,500 value)
Access to VIP area at event
Space for information booth
Logo on marketing material and products such as banners, t-shirts, posters, press releases, e-blasts, and print
Logo and links on website and social media
Logo prominently displayed on race scoreboard and festival banner
5 event sponsor recognition announcements
Speaking opportunity at the event
5 VIP on-site parking passes
GOLD DRAGON SPONSOR - $3,000 Sponsorship (3 Opportunities)
One team entry for up to 25 team members, including: 20 paddlers, 1 drummer, 4 alternates ($1,500 value)
Logo on marketing material and products such as banners, t-shirts, posters, press releases, e-blasts, and printed items
Logo and links on website and social media
Logo prominently displayed on race scoreboard and festival banner
3 event sponsor recognition announcements
2 VIP on-site parking passes
SILVER DRAGON SPONSOR - $1,500 Sponsorship
Priority team registration
Logo on marketing material and products such as banners, t-shirts, posters, press releases, e-blasts, and printed items
Logo and links on websites and social media
Logo prominently displayed on race scoreboard and festival banner
2 event sponsor recognition announcements
BRONZE DRAGON SPONSOR - $500 Sponsorship
Logo on marketing material and products such as banners, t-shirts, posters, press releases, e-blasts, and printed items
Logo and links on websites and social media
Logo prominently displayed on race scoreboard and festival banner
1 event sponsor recognition announcement
We also have several à la carte menu sponsorship options and are additionally in need of in-kind donations (forklift to move boats in/out of water, auction items, gift baskets, food for our 70+ event volunteers, + much more!) in order to successfully put on this year's event.
ABOUT 5TH ANNUAL DRUMS & DRAGONS CAMPAIGN
------ x ------

Drums & Dragons brings a unique and heartwarming fundraising experience to Asheville, North Carolina, all to benefit area non-profits and the ongoing work of WNC Bridge Foundation.

 

WNC Bridge Foundation is offering the following ways to get involved in our 5th Anniversary, one-of-a-kind fundraiser:

 

1. Participate in the 6-week virtual event to stay well, earn incentives & prizes, and help support this tremendous cause!

 

2. Participate as an in-person competitor later this summer by signing- up as an individual, then starting or joining a team!

(Must have a minimum of 15 paddlers and a drummer to keep rhythm, minimum age to participate is 15+. Professional Steerer provided.)

 

3. Join in the 6-week hybrid/training format to prep for the race!

(included in $99 registration donation)

 

 

* $1,500 "Buy your boat" registration donation applies only to non-profit teams, club teams, and "buy now" registrations. Individuals forming a team and/or fundraising—and not paying for boat outright—must pay the $99 registration donation per person. Deadline for

all

boat registrations is Monday, August 9th.

 

 

 

 

 

$49: 6-week virtual event runs from July 12 - August 23.

 

$99: Team Seat-in-a-boat + UNLIMITED virtual event access! Registration includes a seat-in-the-boat at the live race on August 28th, plus inclusion in the 6-week event from July 12 - August 23rd!

 

$1,500: Get your team together and start practicing your paddling, cause it's all happening on Saturday, August 28th, 2021 @ Lake Julian Park in Arden, NC!

 

Prizes will be awarded for Top Individual & Team Fundraisers, Greatest number of steps taken (virtual-only), Greatest Individual / Team Spirit, and more!

 

 

Peer-to-Peer fundraising has been at the heart of our mission since we started Drums & Dragons 5 years ago. It is in large part how we have been able to raise over $136,000 for area nonprofits in that time. With their proceeds, nonprofits have been able to:

 

Purchase handicapped-accessible vans to transport developmentally challenged clients to their medical appointments or to enjoyable group outings.

Procure a new orthotics & prosthetics mobile fitting/adjustment unit so they can travel to remote areas to assist their patients.

And so much more!!!

 

Check out this year's four benefitting nonprofits!

 

 

 

YOU, too, can be an Ambassador for Drums & Dragons!

Super easy! All you need to do is:
1. Register for the event.
2. Add a picture to your fundraising page.
3. Tell potential donors why these causes are important to you.
4. Share your fundraising page on your social media, email, and in chat groups... the more you raise, the more awesome incentives you earn!
5. If your employer has a matching gift program, check with your human resources department to see if they will add to your & your colleague's support.
6. Log your activity to win e-medals & prizes.
Fundraising milestone incentives:
(please note colors may vary based on availability)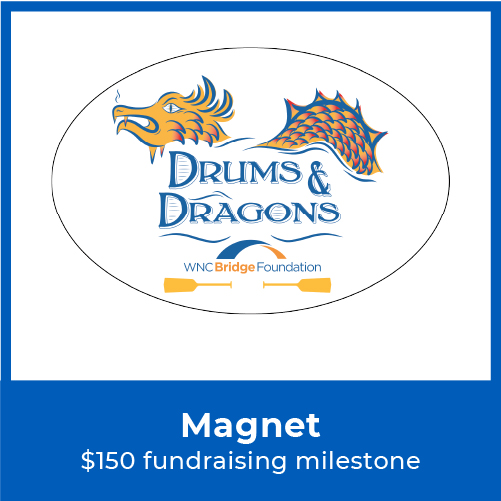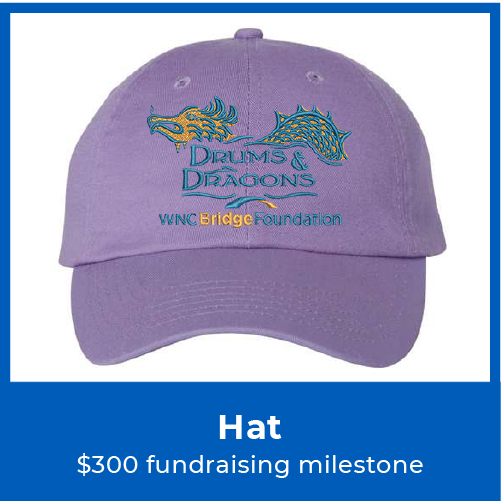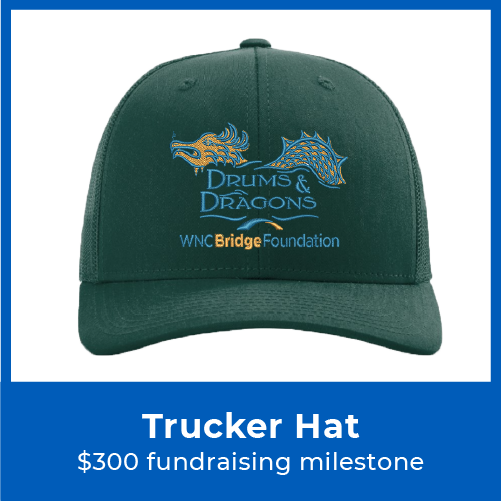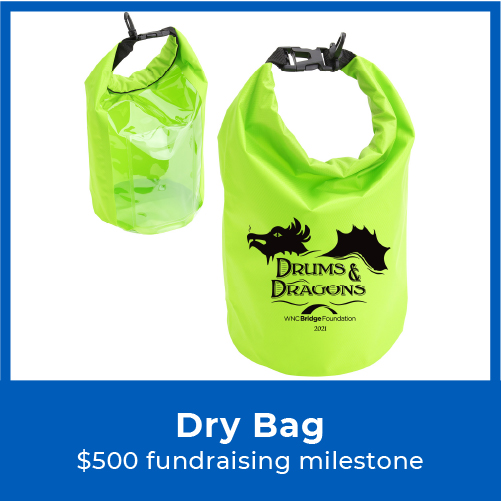 Need help converting your activities to steps? Use this handy chart!
(right click or hold photo to download to your device)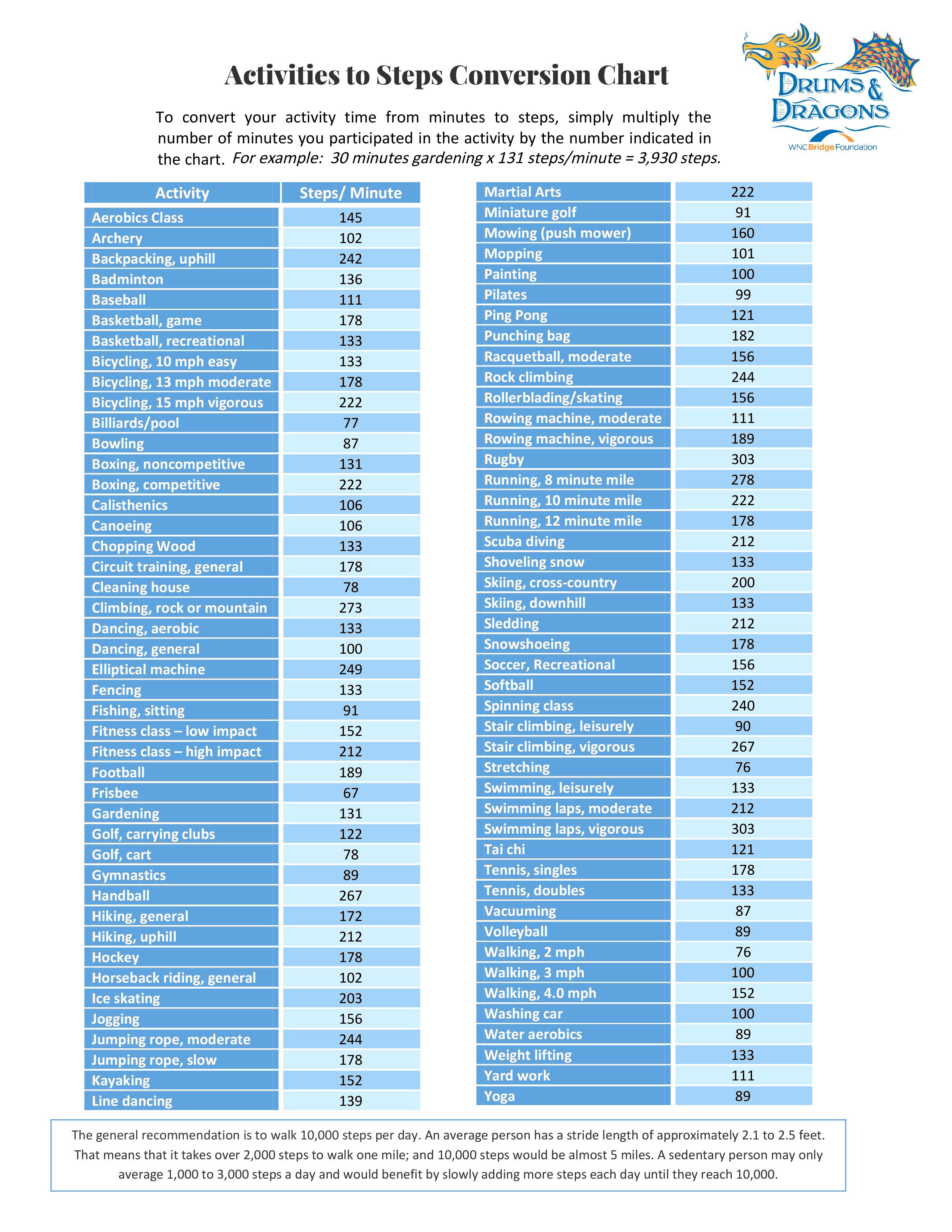 How many steps in a mile? An average person has a stride length of approximately 2.1 to 2.5 feet. That means that it takes over 2,000 steps to walk one mile and 10,000 steps would be almost 5 miles.
CONTACT ADMINISTRATORS
------ x ------
If you have any questions about the sponsorship opportunity, please send us a quick email. Please include the details about the campaign, non-profit you're interested in sponsoring, your contact information (including phone number) so that we can reach you directly.