ABOUT 5TH ANNUAL DRUMS & DRAGONS CAMPAIGN
Drums & Dragons brings a unique and heartwarming fundraising experience to Asheville, North Carolina, all to benefit area non-profits and the ongoing work of WNC Bridge Foundation.

 

WNC Bridge Foundation is offering the following ways to get involved in our 5th Anniversary, one-of-a-kind fundraiser:

 

1. Participate in our virtual event to stay well, earn incentives & prizes, and help support this tremendous cause!

 

2. Pay just $75 per person for your seat in the boat. Form or Join an existing team & get ready to race!

(Must have a minimum of 15 paddlers and a drummer to keep rhythm, minimum age to participate is 15+. Professional Steerer provided.)

 

 

* $1,500 "Buy your boat" registration donation applies only to "buy now" registrations. Deadline for

all

boat registrations is Monday, August 16th.

 

4. Club teams can participate at the discounted rate of $

1,000

for their boat.

Just complete registration steps and select club team registration at checkout.

 

 

 

 

 

Prizes will be awarded for Top Individual & Team Fundraisers, Greatest number of steps taken (virtual-only), Greatest Individual / Team Spirit, and more!

 

 

Peer-to-Peer fundraising has been at the heart of our mission since we started Drums & Dragons 5 years ago. It is in large part how we have been able to raise over $136,000 for 16 area non-profits in that time. With their proceeds, non-profits have been able to:

 

Purchase handicapped-accessible vans to transport developmentally challenged clients to their medical appointments or to enjoyable group outings.

Procure a new orthotics & prosthetics mobile fitting/adjustment unit so they can travel to remote areas to assist their patients.
And so much more!!!

 

Check out this year's four benefitting non-profits!

 

 

 

YOU, too, can be an Ambassador for Drums & Dragons!

Super easy! All you need to do is:
1. Register for the event.
2. Add a picture to your fundraising page.
3. Tell potential donors why these causes are important to you.
4. Share your fundraising page on your social media, email, and in chat groups... the more you raise, the more awesome incentives you earn!
5. If your employer has a matching gift program, check with your human resources department to see if they will add to your & your colleague's support.
6. Log your activity to win e-medals & prizes.
Fundraising milestone incentives:
(please note colors may vary based on availability)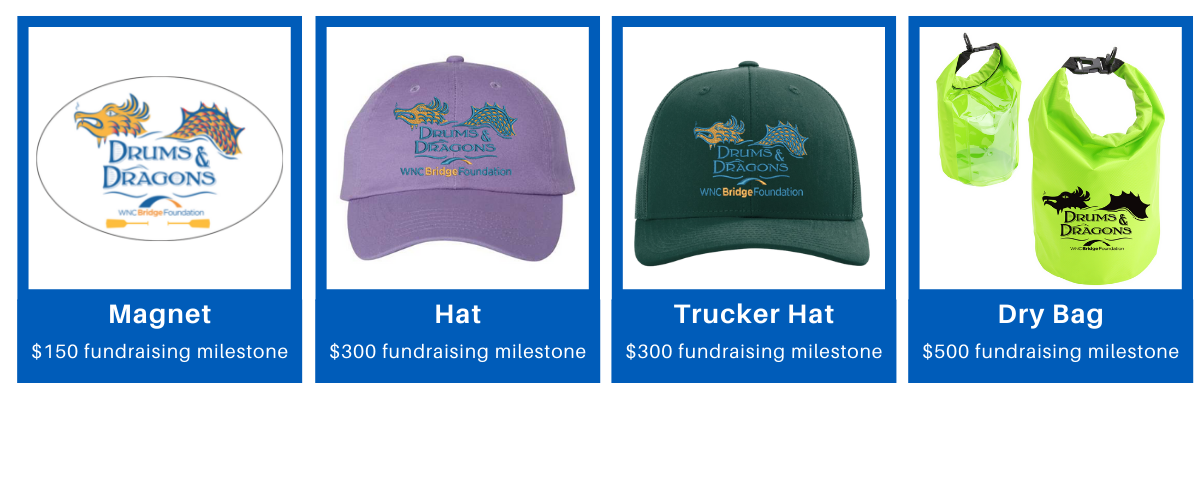 Need help converting your activities to steps? Use this handy chart!
(right click or hold photo to download to your device)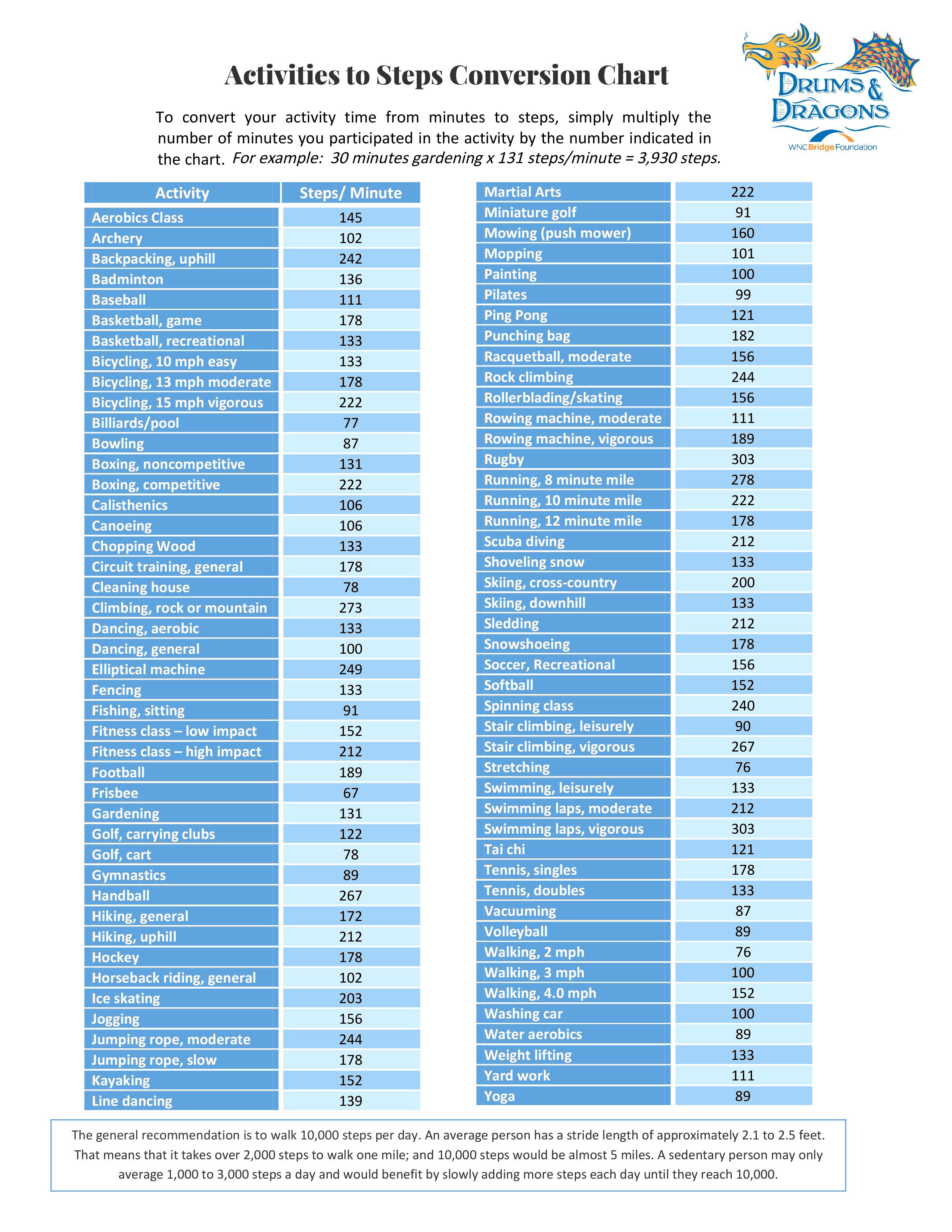 How many steps in a mile? An average person has a stride length of approximately 2.1 to 2.5 feet. That means that it takes over 2,000 steps to walk one mile and 10,000 steps would be almost 5 miles.
FITNESS GOAL
COMPLETED: 2,176 miles
TARGET: 5,000 miles
FUNDRAISING GOAL
RAISED: $ 19,487
TARGET: $ 25,000
You must go on adventures to find out where you truly belong. ~ Sue Fitzmaurice
Come join us and leave your footprints around Western North Carolina!
HOW IT WORKS
Register for the campaign and set your fitness & fundraising targets.
Share your story and raise funds & awareness.
Track workouts anywhere & anytime and complete goal.
ABOUT THE ORGANIZATION
WNC BRIDGE FOUNDATION

WNC Bridge Foundation's purpose is to provide funds to assist in meeting the health challenges of people in the communities of Western North Carolina and to empower non-profits to impact individual and community wellness in those communities.

100% of all funds raised during this year's event will directly benefit three Western North Carolina Non-profits: St. Gerard House, Irene Wortham Center, and MountainCare. These funds will allow developmentally challenged children and adults to thrive, they will expand the capacity to serve families who have children with autism, and they will provide caregivers respite while their family members attend Adult Day services

Read more about the organization >>
How Your Participation Helps

100% of the proceeds from this year's event will benefit (3) wonderful,
well-deserving WNC area non-profits, as well as support fundraising
programs of the WNC Bridge Foundation.

St. Gerard House—
Helping individuals with autism and their families experience more joy and achieve meaningful life outcomes. St. Gerard House is a non-profit organization in Hendersonville, NC offering evidence-based treatment for individuals with Autism Spectrum Disorder (ASD) and other behavioral health needs. St. Gerard House provides programs for individuals of all ages as well as programs for family members, guardians, caregivers, teachers, and others involved with care of the individual. Services are available to individuals, families, and professionals in WNC.

Irene Wortham Center—
Helping children and adults with developmental and/or socioeconomic challenges discover their full potential by providing equitable access to early education, medical care & therapies, and more independent living.

MountainCare—
Committed to maintaining critical, not-for-profit services that have existed for decades within our mountain communities. We serve families and individuals of all income levels through our Adult Care Services and the Seating and Wheeled Mobility Clinic.

WNC Bridge Foundation—
Raising funds to support programs that connect individuals in our community with essential resources. The following (5) community initiatives rely on the generous support of our community; You're Special Fund, Children's Services Fund, WNC Greatest Needs Fund, Health Scholarships, and Rathbun House, WNC's WNC's only hospitality house.

Thank you so much for your commitment in supporting these area non-profits!
FREQUENTLY ASKED QUESTIONS
What is Charity Footprints?

Charity Footprints is a social enterprise that connects fitness and charitable giving. We empower people just like you, to get fit & give back.

Our Virtual Races allow non-profits to challenge their patrons to run, walk or ride and raise funds just as they would in a fundraising walkathon. The best part - charities save over 45% in event and logistical costs. So, the dollars that you pay to register or fundraise, go farther.


What is the campaign registration fee?

Campaign registration fee is the amount that you'll need to pay to enroll in this virtual race. This fee (less transaction charges) will go to the non-profit running this campaign as a donation.

The registration fee along with the funds raised through your individual fundraising page will enable the non-profit to fund various programs and pursue their organization's mission.


How can I create my fundraising page?

Well, you wouldn't have to create a separate fundraising page. Once you register for this campaign, we'll give you the link to your fundraising page.


How will I track my distance?

You can track your workouts by setting up your devices (Fitbit, Garmin, Apple Watch, Google Fit, Misfit, Strava), or download the Charity Footprints' iOS or Android app and track your workouts toward this campaign.

If you workout indoors (treadmill, elliptical, stationary bike etc.), you can upload your workouts here.


How do I join a team on this campaign?

While registering for the campaign, select the team you'd like to join or create a new team and invite others to #GetFitGiveBack with you. If you want to join a team (or create your team) after registration, login to the campaign site and you would find a link to edit "My Team" in the menu under your profile in the header.


I am an international donor (non-US), what are my donation charges and tax-deductibility?

All donations are made in US dollars, so the donations may be levied an exchange rate fee via your bank. Donors will want to connect with their bank to determine exactly what that fee may be. Additionally, international donors will need to reach out to a tax professional to discuss if and how tax deductibility will apply to their donation.


Who can sponsor my fundraising efforts?

The short answer is - everyone. The fundraising research shows that the number one reason for people not donating is that they weren't asked to.

That said, there are things you can do to attract people to sponsor you. Adding a picture to your fundraising page, telling potential donors why this cause is so personal to you, sharing your fundraising page on social media, email, and chat groups.

Last, if your employer has a gift matching program, check with the human resources department to support your favorite cause as well.


Who can I contact if I need help?

You can contact us any time if you need help. We love hearing from our users so please don't hesitate to write to us about issues, suggestions, or to just say hi. You can also contact the non-profit administrator directly if you would like.


How do I change or switch my team?

If you want to join a team (or create your team) after registration, login to the campaign site and you would find a link to edit "My Team" in the menu under your profile in the header.