ABOUT GET FIT FOR FRENCHIES 2023 CAMPAIGN
French Bulldogs are one of the most beloved breeds in the world. In 2020, the American Kennel Club ranked them as the second most popular breed in the United States. Despite their lovable and clownish personalities, we are finding that with their booming popularity, many frenchies need to be rehomed later for a variety of reasons. That's where rescues come in — and we need your help as we welcome in the new year!
Please join French Bulldog Rescue Network and French Bulldog Village as we "Get Fit for Frenchies!" We invite you to participate in this month-long virtual event to help raise money while encouraging fitness, movement and activity in the new year!
Why We're Getting Fit For Frenchies:
When a French bulldog is surrendered, rescue organizations like French Bulldog Rescue Network (FBRN) and French Bulldog Village (FBV) step up to the plate to help rehabilitate and rehome them. Dogs are taken in from commercial breeding kennels, import brokers, shelters, private rescue groups, Good Samaritans or owners who are unable to care for them.
Both organizations are run solely by volunteers throughout the United States and Canada who open their homes and hearts to frenchies in need. As nonprofits, the rescues rely on the generous donations of people like you to help these dogs find their forever homes. Many of the dogs that find their way into rescue require veterinary treatment before they can be rehomed - some dogs even come into the rescues straight from the emergency room with severe medical issues. Both rescues have spent in excess of $100,000 in medical costs for the frenchies in their care in 2021. Anyone who has dealt with an unexpected emergency vet bill can see how the expenses can rack up quickly! There have unfortunately been times where the rescues have had to turn away dogs due to a lack of funding or foster homes. This is a decision that neither rescue ever wants to make. As we head into the new year and beyond, we're hoping this won't be the case for any frenchie!
A common medical emergency both rescues see is frenchies with Intervertebral Disc Disease (IVDD), which can require surgeries that cost between $5,000 and $6,000. This cost doesn't include the ongoing care like physical therapy and medication. The info graphic below shows the costs associated with IVDD for one dog. Both FBRN and FBV typically have multiple dogs with IVDD in their care at one time.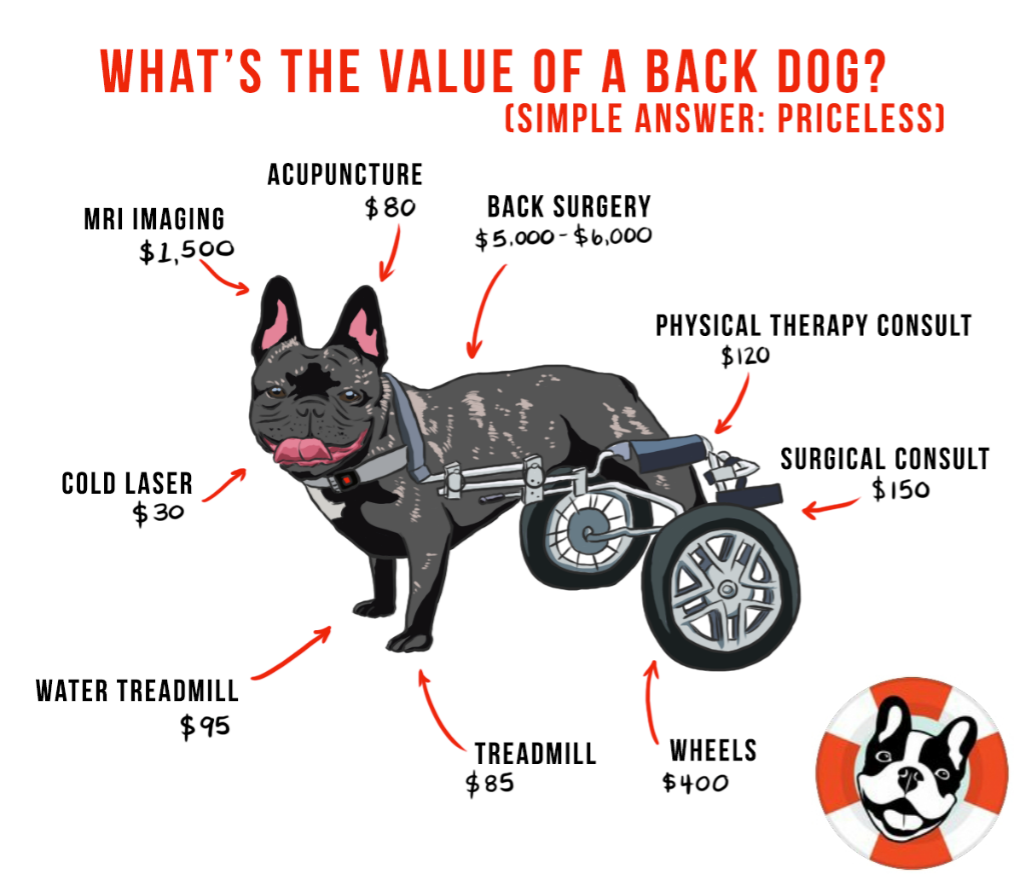 How to Participate:
STEP 1: REGISTER and set up your account anytime between now and Feb. . Once you register, you will have your own web page that will track your team's combined distance and funds you raise together.
Registration fee: $40/participant which is a tax-deductible donation (proceeds will be split 50/50 between FBRN and FBV)
STEP 2: RECRUIT team members from anywhere in the world to join you. Decide together on your goals for distance and fundraising. Get the most out of your experience by forming a team with friends, family, neighbors, or coworkers and competing with other teams!
STEP 3: USE YOUR INFLUENCE AND REAP REWARDS. Connect using emails built into your Charity Footprints account and to your social network to help raise awareness and reach your fundraising goals. Share your progress regularly by posting pictures and short videos to spread the word. Remember to tag @FrenchBulldogRescue and @FrenchBulldogVillage on Instagram and include #GetFitforFrenchies to help spread the word! Your registration fee is applied to your fundraising balance.
STEP 4: SET UP YOUR DEVICE AND GET ACTIVE! Activities can be tracked via Apple Watch, Fitbit, Garmin, Misfit, Android wearables, Charity Footprints or Strava iOS/Android mobile applications, or can be manually entered through the campaign website. You can try and get your heart rate up by walking, running or biking and log those miles. Taking your Frenchie for a walk? Even if they only go a few steps, go ahead and plug that in! For wellness activities that cannot be measured in miles, check out our steps conversion chart below to use it as a guide!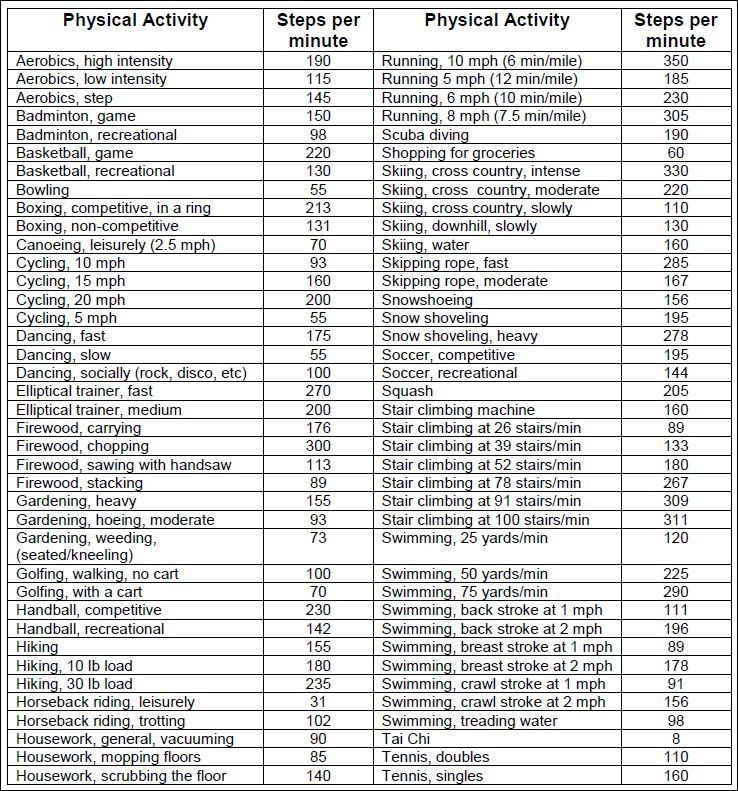 FITNESS GOAL
COMPLETED: 16,789,186 steps
TARGET: 2,500,000 steps
FUNDRAISING GOAL
RAISED: $ 15,742
TARGET: $ 20,000
You must go on adventures to find out where you truly belong. ~ Sue Fitzmaurice
Come join us and leave your footprints around the Frenchie!
HOW IT WORKS
Register for the campaign and set your fitness & fundraising targets.
Share your story and raise funds & awareness.
Track workouts anywhere & anytime and complete goal.
ABOUT THE ORGANIZATION
FRENCH BULLDOG RESCUE NETWORK

Our mission is based on the three R's: rescue, rehabilitate, and rehome. FBRN rescues French bulldogs in need from commercial breeding kennels, import brokers, shelters, private rescue groups, or Good Samaritans. FBRN is 100 percent volunteer-run, with volunteers in all fifty states and Canada. Our foster volunteers nurture these dogs, provide education, and training. Our goal is to place healthy, happy French bulldogs into their forever home.

Read more about the organization >>
HOW YOUR PARTICIPATION HELPS

Your participation, whether you participate, sponsor, donate or spread the word, will help us make a positive impact on the lives of the frenchies who need it most! Thank you for joining us in this fundraiser and for all your support! We hope you have as much fun with this fundraiser as we have had planning it! All money raised will go to caring for the French bulldogs being fostered by French Bulldog Rescue Network and French Bulldog Village. Costs include veterinary bills, foster dog expenses such as food, supplements as well as training. Every dollar donated will help these dogs get one step closer to finding their forever homes.
FREQUENTLY ASKED QUESTIONS
What is Charity Footprints?

Charity Footprints is a social enterprise that connects fitness and charitable giving. We empower people just like you, to get fit & give back.

Our Virtual Races allow non-profits to challenge their patrons to run, walk or ride and raise funds just as they would in a fundraising walkathon. The best part - charities save over 45% in event and logistical costs. So, the dollars that you pay to register or fundraise, go farther.


What is the campaign registration fee?

Campaign registration fee is the amount that you'll need to pay to enroll in this virtual race. This fee (less transaction charges) will go to the non-profit running this campaign as a donation.

The registration fee along with the funds raised through your individual fundraising page will enable the non-profit to fund various programs and pursue their organization's mission.


How can I create my fundraising page?

Well, you wouldn't have to create a separate fundraising page. Once you register for this campaign, we'll give you the link to your fundraising page.


How will I track my distance?

You can track your workouts by setting up your devices (Fitbit, Garmin, Apple Watch, Google Fit, Misfit, Strava), or download the Charity Footprints' iOS or Android app and track your workouts toward this campaign. ?>

If you workout indoors (treadmill, elliptical, stationary bike etc.), you can upload your workouts here.


How do I join a team on this campaign?

While registering for the campaign, select the team you'd like to join or create a new team and invite others to #GetFitGiveBack with you. If you want to join a team (or create your team) after registration, login to the campaign site and you would find a link to edit "My Team" in the menu under your profile in the header.


I am an international donor (non-US), what are my donation charges and tax-deductibility?

All donations are made in US dollars, so the donations may be levied an exchange rate fee via your bank. Donors will want to connect with their bank to determine exactly what that fee may be. Additionally, international donors will need to reach out to a tax professional to discuss if and how tax deductibility will apply to their donation.


Who can sponsor my fundraising efforts?

The short answer is - everyone. The fundraising research shows that the number one reason for people not donating is that they weren't asked to.

That said, there are things you can do to attract people to sponsor you. Adding a picture to your fundraising page, telling potential donors why this cause is so personal to you, sharing your fundraising page on social media, email, and chat groups.

Last, if your employer has a gift matching program, check with the human resources department to support your favorite cause as well.


Who can I contact if I need help?

You can contact us any time if you need help. We love hearing from our users so please don't hesitate to write to us about issues, suggestions, or to just say hi. You can also contact the non-profit administrator directly if you would like.


How do I change or switch my team?

If you want to join a team (or create your team) after registration, login to the campaign site and you would find a link to edit "My Team" in the menu under your profile in the header.