ABOUT STEP UP FOR HB COVID RELIEF CAMPAIGN
The

Step Up for HB COVID Relief campaign

is Harvest Bridge's first ever virtual race with a mission to provide food, funds for education, and investment in micro-enterprise for men, women, and children throughout South Asia who are impacted by COVID-19. With a virtual race, participants will have 4 weeks to help us raise money for COVID-19 relief in South Asia. Our race will take us virtually to ten regions (+1 bonus one) where Harvest Bridge works. Harvest Bridge's ministry to come alongside Jesus followers reaching their people with the Gospel through word and deed continues during the COVID-19 pandemic. In this time, that means

helping our partners respond to the most pressing needs their specific communities face during the COVID-19 crisis.

This means we need extra funds during this time. The

Step Up for HB COVID Relief campaign

is a fun way to help us raise funds, let others know about our work, learn about new cultures, and keep fit!
Unlike a traditional race, the
Step Up for HB COVID Relief campaign
takes place where you are and when you want, anytime between
Monday, October 26 and Tuesday, November 24, 2020

.
Our mission is to hit a fitness goal of traveling over
5200 miles
as a collective team and fundraise
$15,000
for COVID-19 relief!
Registration Fee:
It costs just $5 to enter the race.
Follow these 3 easy steps to join the Step Up for HB COVID Relief campaign
Step One: Join the race by clicking on any "Register" button on this page and follow the steps to complete your registration. Once registered, Harvest Bridge will follow up with you via email!
Step Two: Start spreading the news! Use your individual fundraising page and social media buttons to ask your friends and family members to join you in the run or donate to the cause. With your Charity Footprints account and fundraising page, you can track your donations and training miles to travel through South Asia. It's easy to share on social media! See as you climb the leaderboards in real time!
To help drive your fundraising efforts, we've provided some fundraising incentives to encourage you (described below)!
Step Three: Walk or run 70 miles between October 26 and November 24. That sounds like a lot – but it is only 2.3 miles, or 4600 steps, per day. Other activities can earn you steps as well. (See the chart at the bottom of this page.) Make sure to track your steps!
· Sync your fitness device (Fitbit, Apple Watch, Google Fit, Garmin, Strava etc.)
· Download the free Charity Footprints app to track your progress
· Manually enter your steps on the Charity Footprints app or on your event page
Race anywhere, anytime, and enter your total stats before end-of-day November 24th. As you race, you will learn more about our COVID relief efforts in 10 regions (+1 bonus one) on our map. You'll receive an official Step Up for HB COVID Relief Certificate of Participation (sent as printable PDF) shortly after the completion of the race.
Awards:
We will be awarding participants for the following:
Virtual Awards (available to all participants):
· Arriving at each city
Daily Awards (one per day):
· Taking the most steps for the day (
you can win up to 3 times
)
Whoever has the most steps for each day (30 days = 30 winners) will win a $5 gift card to a small business of their choice. Due to the pandemic, many small businesses are struggling. As an award for having the most steps for a day, you can help a small business of your choice through Harvest Bridge's purchase of a $5 gift card on your behalf. Once Harvest Bridge lets you know that you've won the most steps for a particular day, contact Harvest Bridge to let know which small business you would like a gift card from. The gift card will be sent to you via email once the virtual race is over. (You can only win this particular award at most 3 times).
End of Campaign Awards (you can only win one of these categories):
· Inviting the most participants
· Having the most sponsors
· Raising the most money
· Most total steps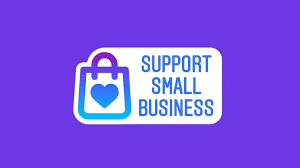 The winners of these 4 categories will each get to pick a $25 gift card to a small business of their choice. Once Harvest Bridge lets you know you are the winner of one of these categories, contact Harvest Bridge and let them know which small business you would like your $25 gift card from.
Activity Step Conversion Chart: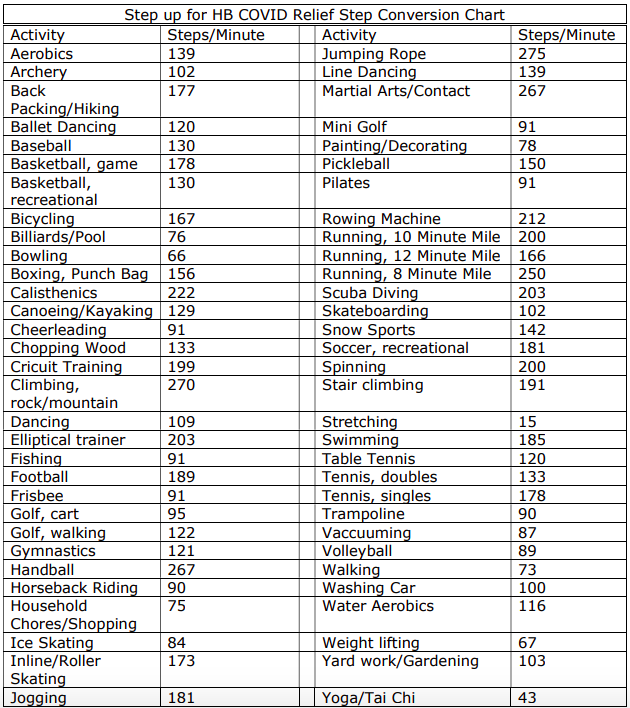 FITNESS GOAL
COMPLETED: 11,008,038 steps
TARGET: 10,474,000 steps
FUNDRAISING GOAL
RAISED: $ 3,547
TARGET: $ 15,000
You must go on adventures to find out where you truly belong. ~ Sue Fitzmaurice
Come join us and leave your footprints all around South Asia
HOW IT WORKS
Register for the campaign and set your fitness & fundraising targets.
Share your story and raise funds & awareness.
Track workouts anywhere & anytime and complete goal.
ABOUT THE ORGANIZATION
HARVEST BRIDGE

Harvest Bridge equips South Asian Christians to serve their communities more effectively. With our assistance, people and communities in South Asia are transformed by the love of Christ.

Read more about the organization >>
How Your Participation Helps

The funds raised will help bring COVID-19 relief to some of the poorest communities in South Asia, through the work of Harvest Bridge. This relief consists of food distributions, education initiatives, and micro-enterprise investments.

Many throughout South Asia are not able to buy food because of the lockdowns. For many of the world's poorest, no work means no money to buy that day's food. Minority religious groups and low-caste communities have frequently been passed over for help from their government in this time. Others in remote places need to purchase food before government assistance reaches them. Some can't get help because they lack the proper documentation needed to receive rations. Harvest Bridge leaders in South Asia have been organizing safe food distribution since March, and have focused on these communities. On average, it costs $8-$20 to provide nutritious food to an individual for a full month. This is with all costs included - transportation, storage, safe distribution methods, etc.

For others, due to the economic crisis caused by COVID-19, children are at risk of losing their opportunity for education. Many families throughout the world who were already living hand-to-mouth, surviving on their daily wages, are now unable to send their children back to school. Where Harvest Bridge works in South Asia, many schools have free tuition. However, families still have to pay for uniforms, school supplies, and books. This typically comes to between $30-$100 per year. For a family earning less than $2 per day before COVID-19, this was difficult, but possible. During and after COVID-19, this is simply unsustainable.

Our leaders have been identifying families that are making the decision to send their children to work instead of school. Depending on the region, a one-time gift of $30-$100 will allow a child to attend school when their schools open this fall. By helping for this one year of school, we can help ensure children don't miss out on their entire future education.

As with the entire world, many people have lost their jobs due to COVID-19. Working with women who we have invested in before, we are helping them sustain their businesses and jobs, and train new women in their own set of job skills. With a few hundred dollars, depending on the region, a woman can re-invest in her work and train another woman alongside her in the process.

All proceeds made through Step up for HB COVID Relief (which goes from Oct. 26-Nov. 24) will be going to these 3 COVID-19 Relief causes: food distributions, education initiatives, and micro-enterprise.
FREQUENTLY ASKED QUESTIONS
What is Charity Footprints?

Charity Footprints is a social enterprise that connects fitness and charitable giving. We empower people just like you, to get fit & give back.

Our Virtual Races allow non-profits to challenge their patrons to run, walk or ride and raise funds just as they would in a fundraising walkathon. The best part - charities save over 45% in event and logistical costs. So, the dollars that you pay to register or fundraise, go farther.


What is the campaign registration fee?

Campaign registration fee is the amount that you'll need to pay to enroll in this virtual race. This fee (less transaction charges) will go to the non-profit running this campaign as a donation.

The registration fee along with the funds raised through your individual fundraising page will enable the non-profit to fund various programs and pursue their organization's mission.


How can I create my fundraising page?

Well, you wouldn't have to create a separate fundraising page. Once you register for this campaign, we'll give you the link to your fundraising page.


How will I track my distance?

You can track your workouts by setting up your devices (Fitbit, Garmin, Apple Watch, Google Fit, Misfit, Strava), or download the Charity Footprints' iOS or Android app and track your workouts toward this campaign.

If you workout indoors (treadmill, elliptical, stationary bike etc.), you can upload your workouts here.


How do I join a team on this campaign?

While registering for the campaign, select the team you'd like to join or create a new team and invite others to #GetFitGiveBack with you. If you want to join a team (or create your team) after registration, login to the campaign site and you would find a link to edit "My Team" in the menu under your profile in the header.


I am an international donor (non-US), what are my donation charges and tax-deductibility?

All donations are made in US dollars, so the donations may be levied an exchange rate fee via your bank. Donors will want to connect with their bank to determine exactly what that fee may be. Additionally, international donors will need to reach out to a tax professional to discuss if and how tax deductibility will apply to their donation.


Who can sponsor my fundraising efforts?

The short answer is - everyone. The fundraising research shows that the number one reason for people not donating is that they weren't asked to.

That said, there are things you can do to attract people to sponsor you. Adding a picture to your fundraising page, telling potential donors why this cause is so personal to you, sharing your fundraising page on social media, email, and chat groups.

Last, if your employer has a gift matching program, check with the human resources department to support your favorite cause as well.


Who can I contact if I need help?

You can contact us any time if you need help. We love hearing from our users so please don't hesitate to write to us about issues, suggestions, or to just say hi. You can also contact the non-profit administrator directly if you would like.


How do I change or switch my team?

If you want to join a team (or create your team) after registration, login to the campaign site and you would find a link to edit "My Team" in the menu under your profile in the header.