LIGHT OF LIFE MINISTRIES INC.
Love only grows by sharing. You can only have more for yourself by giving it away to others. ~ Brian Tracy
ENTER AN AMOUNT YOU'D LIKE TO DONATE
------ x ------
READ MORE ABOUT THE CAUSE
------ x ------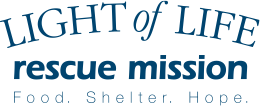 Light of Life Ministries Inc.
ABOUT:
Light of Life meets the immediate needs of Pittsburgh's homeless and hurting, while empowering them to transform their lives through men's, women's and children's programming.
OUR MISSION:
As a ministry of Jesus Christ, Light of Life will provide a home for the homeless and food for the hungry, and will build disciples for the Kingdom of God among the poor, addicted, abused and needy.