ABOUT 7TH ANNUAL RUN FOR RESEARCH CAMPAIGN
Lace up your shoes and join NCS for the 7th Annual Run for Research 5k run and 1 mile walk. We invite you to come together with other neurocritcal care professionals, even while we're apart, to support the NCS research mission, all while running your favorite 5k course – anywhere you choose! Unlike a traditional walk/run race, this virtual race uses technology and takes social distancing into account, allowing you to participate on your own, with a friend, colleague, or your whole family. You can show your support whenever and wherever you are, day or night, rain or shine, inside or outside. The virtual race starts Tuesday, September 22. Complete your race at any time, by end of day Friday, September 25. Race winners and top fundraising supporters will be announced the week of September 28.
If you have questions about the 7th Annual Run for Research, please email us at registration@neurocriticalcare.org.
As a reminder, 100% of all Run for Research proceeds will go towards the Neurocritical Care Research Central (NCRN) Grant Fund.
Step 1: Set Up Your Account!
Step 2:
Sync your Fitbit, Garmin, Strava, Apple Watch, Google Fit, or Misfit. Set up your device using the
How It Works
and
FAQs
sections below for more information on tracking your distance and setting up your device.
Step 3: Use your influence and get fundraising! Consider joining or starting your own team to help motivate activity and healthy competition with other teams. Easily start your own personal fundraising page and post it to social media to help encourage donations. Remember to tag NCS (@neurocritical) and include the #NCS18 hashtag to start a social media movement and get running! No wearable device? No problem. Download the free Charity Footprints app on iOS or Android to track your progress. Included in your registration:
Race T-Shirt (if you registered for the race on the NCS website before September 1)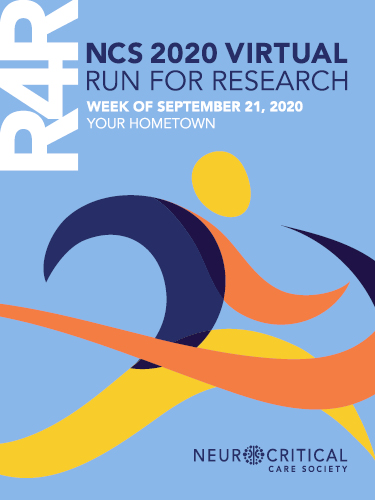 Digital Finisher's Certificate
Top Fundraising Team:
1st Place: $500 in NCS educational products
2nd Place: $250 in NCS educational products
3rd Place: Neurocritical Care ON CALL(R) Subscription
Top Fundraising Individual:
1st Place: Free 1-year NCS Membership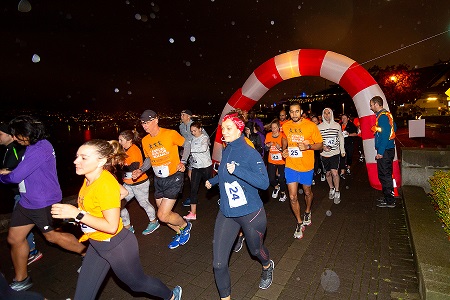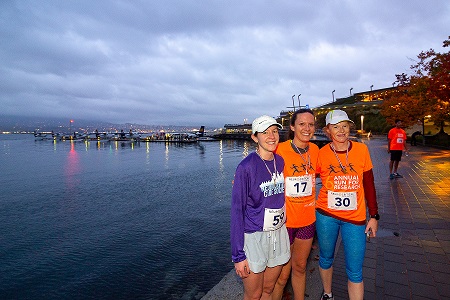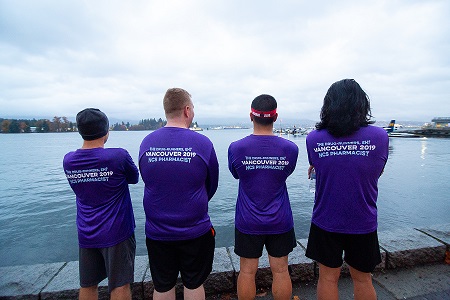 FITNESS GOAL
COMPLETED: 59 miles
TARGET: 310 miles
FUNDRAISING GOAL
RAISED: $ 6,041
TARGET: $ 10,000
You must go on adventures to find out where you truly belong. ~ Sue Fitzmaurice
Come join us and leave your footprints all around the US
HOW IT WORKS?
Register for the campaign and set your fitness & fundraising targets.
Share your story and raise funds & awareness.
Track workouts anywhere & anytime and complete goal.
ABOUT THE ORGANIZATION
NEUROCRITICAL CARE SOCIETY

The Neurocritical Care Society strives to provide...
Quality Patient Care by identifying and implementing best medical practices for acute neurological disorders that are consistent with current scientific knowledge, and that promote compassionate care and respect for patient-centered values.

Professional Collaboration by providing a forum for communication, collaboration, and exchange of ideas between physicians and allied health-care professionals within different specialties who care for critically-ill neurological patients.

Research by fostering clinical, experimental, and outcomes research focused on developing innovative and cost-effective medical and surgical interventions for acute neurological disorders.

Training and Education by developing standards for advanced fellowship training, program accreditation, and physician certification in the subspecialty of neurological intensive care.

Advocacy by making the case to patients, the public, policymakers, and other healthcare professionals that complex, life-threatening neurological diseases are best cared for by a multidisciplinary team with special expertise in neurocritical care.

Read more about the organization >>
How Your Participation Helps

Help the Neurocritical Care Society to further its mission to foster research in the field of Neurocritical Care by creating a fundraising team, joining an existing team, registering as an individual, or sponsoring your favorite participant. 100% of proceeds fund the Neurocritical Care Research Central Grant Fund. We look forward to seeing you on the virtual course!
FREQUENTLY ASKED QUESTIONS
What is Charity Footprints?

Charity Footprints is a social enterprise that connects fitness and charitable giving. We empower people just like you, to get fit & give back.

Our Virtual Races allow non-profits to challenge their patrons to run, walk or ride and raise funds just as they would in a fundraising walkathon. The best part - charities save over 45% in event and logistical costs. So, the dollars that you pay to register or fundraise, go farther.


What is the registration fee for the race?

Each individual must register for the race; race registration is $60.00. To register for the race, please visit https://www.neurocriticalcare.org/events/annualmeeting/registration and add the Run for Research to your Virtual Annual Meeting registration.


How can I create my fundraising page?

Well, you wouldn't have to create a separate fundraising page. Once you register for this campaign, we'll give you the link to your fundraising page.


How will I track my distance?

You can track your workouts by setting up your devices (Fitbit, Garmin, Apple Watch, Google Fit, Misfit, Strava), or download the Charity Footprints' iOS or Android app and track your workouts toward this campaign.

If you workout indoors (treadmill, elliptical, stationary bike etc.), you can upload your workouts here.


How do I join a team on this campaign?

While registering for the campaign, select the team you'd like to join or create a new team and invite others to #GetFitGiveBack with you. If you want to join a team (or create your team) after registration, login to the campaign site and you would find a link to edit "My Team" in the menu under your profile in the header.


I am an international donor (non-US), what are my donation charges and tax-deductibility?

All donations are made in US dollars, so the donations may be levied an exchange rate fee via your bank. Donors will want to connect with their bank to determine exactly what that fee may be. Additionally, international donors will need to reach out to a tax professional to discuss if and how tax deductibility will apply to their donation.


Who can sponsor my fundraising efforts?

The short answer is - everyone. The fundraising research shows that the number one reason for people not donating is that they weren't asked to.

That said, there are things you can do to attract people to sponsor you. Adding a picture to your fundraising page, telling potential donors why this cause is so personal to you, sharing your fundraising page on social media, email, and chat groups.

Last, if your employer has a gift matching program, check with the human resources department to support your favorite cause as well.


Who can I contact if I need help?

You can contact us any time if you need help. We love hearing from our users so please don't hesitate to write to us about issues, suggestions, or to just say hi. You can also contact NCS directly at registration@neurocriticalcare.org for specific NCS questions..


How do I change or switch my team?

If you want to join a team (or create your team) after registration, login to the campaign site and you would find a link to edit "My Team" in the menu under your profile in the header.