ABOUT PURPLE SOCK FITNESS CHALLENGE CAMPAIGN
This is the 2nd annual Purple Sock Fitness Challenge to raise money for Domestic Violence Awareness and bring attention to the fact it affects the entire family, including children. During this time of COVID-19, it has been reported that domestic violence has increased by 25%+. Children being schooled virtually allows for them to be subject to more domestic violence or witness it. Either of which has long lasting affects. Read more about domestic violence and the programs we will be supporting in the "How will the funds raised be used" section below.


Please "Go the distance for Domestic Violence Awareness" by registering for $25 per participant. We are encouraging each participant to raise funds as well, with a goal of $100. Spread the word as registration runs August 23-September 13th for individuals and teams (link your friends and family to form a team).
We are asking participants to walk, run, jog or bike in any combination 15 miles between September 14-October 5th (3 weeks). Wearable tracking devices can be synced to the event or manually entered. All donations to be collected by October 10 and entered in your site.
Every participant will receive a race medal in mid October as a thank you for raising funds to support Domestic Violence Awareness.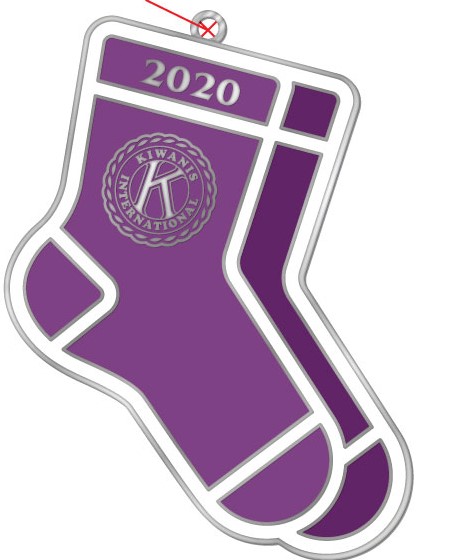 We will give each participant a free T-shirt for raising $100 in donations for Domestic Violence Awareness ($20 if purchased by going to "make donation" on participant page and at the bottom say make a donation directly to Kiwanis "here" click it to pay for the shirt. I will have your size already from the sign up to participate). If you have any questions email the administrator at kiwanispurplesock@aol.com.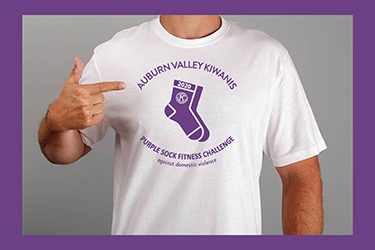 There will also be prizes for top individual and team raising the most money. Please visit our Facebook link
here
.
FITNESS GOAL
COMPLETED: 768 miles
TARGET: 2,250 miles
FUNDRAISING GOAL
RAISED: $ 5,115
TARGET: $ 15,000
You must go on adventures to find out where you truly belong. ~ Sue Fitzmaurice
Come join us and leave your footprints around the sock!
HOW IT WORKS?
Register for the campaign and set your fitness & fundraising targets.
Share your story and raise funds & awareness.
Track workouts anywhere & anytime and complete goal.
ABOUT THE ORGANIZATION
KIWANIS CLUB OF THE VALLEY FOUNDATION

The Kiwanis Club of the Valley, Auburn builds strong leaders through dedicated members providing leadership training and educational support with fun and fellowship while serving our community.

Read more about the organization >>
How Your Participation Helps

Kiwanis will use the funds to partner or support organizations within the South King County area.

Kiwanis has partnered with DAWN (domestic abuse women's network) who works directly to empower, support, shelter women, children and men affected by domestic violence. They give shelter, legal aid and counseling to victims, as well as awareness education programs in schools and for adults.

In 2019 DAWN took over 5100 calls, placed 132 clients at in emergency housing (65 women, 59 children and 8 infants), connected clients with advocates for 5070 hrs, hosted 1200 hours of support groups. DAWNS most utilized services are advocacy based counceling, Children's Domestic Violence Response Team and legal.

The Children's programs objective include individualized safety planning, conflict resolution skills building, anger education, emotional coaching and on-going advocacy.
The Children's Domestic Violence Response Team is a collaborative program with Sound Mental Health providing DV-informed, trauma-focused advocacy and mental health intervention for the non-abusive parent and children. A team of professionals use the wrap-around model of service offering of service offering intergrated advocacy and mental health sevices. The team includes a children's advocate, a mobile advocate, a legal advocate, and therapists working with each individual family member.

Kiwanis is also planning to partner with Algona/Pacific Domestic Violence Task Force on awareness programs for high school students in the Auburn School district on identifying unhealthy relationships as well as supporting adult education programs.
FREQUENTLY ASKED QUESTIONS
What is Charity Footprints?

Charity Footprints is a social enterprise that connects fitness and charitable giving. We empower people just like you, to get fit & give back.

Our Virtual Races allow non-profits to challenge their patrons to run, walk or ride and raise funds just as they would in a fundraising walkathon. The best part - charities save over 45% in event and logistical costs. So, the dollars that you pay to register or fundraise, go farther.


What is the campaign registration fee?

Campaign registration fee is the amount that you'll need to pay to enroll in this virtual race. This fee (less transaction charges) will go to the non-profit running this campaign as a donation.

The registration fee along with the funds raised through your individual fundraising page will enable the non-profit to fund various programs and pursue their organization's mission.


How can I create my fundraising page?

Well, you wouldn't have to create a separate fundraising page. Once you register for this campaign, we'll give you the link to your fundraising page.


How will I track my distance?

You can track your workouts by setting up your devices (Fitbit, Garmin, Apple Watch, Google Fit, Misfit, Strava), or download the Charity Footprints' iOS or Android app and track your workouts toward this campaign.

If you workout indoors (treadmill, elliptical, stationary bike etc.), you can upload your workouts here.


How do I join a team on this campaign?

While registering for the campaign, select the team you'd like to join or create a new team and invite others to #GetFitGiveBack with you. If you want to join a team (or create your team) after registration, login to the campaign site and you would find a link to edit "My Team" in the menu under your profile in the header.


I am an international donor (non-US), what are my donation charges and tax-deductibility?

All donations are made in US dollars, so the donations may be levied an exchange rate fee via your bank. Donors will want to connect with their bank to determine exactly what that fee may be. Additionally, international donors will need to reach out to a tax professional to discuss if and how tax deductibility will apply to their donation.


Who can sponsor my fundraising efforts?

The short answer is - everyone. The fundraising research shows that the number one reason for people not donating is that they weren't asked to.

That said, there are things you can do to attract people to sponsor you. Adding a picture to your fundraising page, telling potential donors why this cause is so personal to you, sharing your fundraising page on social media, email, and chat groups.

Last, if your employer has a gift matching program, check with the human resources department to support your favorite cause as well.


Who can I contact if I need help?

You can contact us any time if you need help. We love hearing from our users so please don't hesitate to write to us about issues, suggestions, or to just say hi. You can also contact the non-profit administrator directly if you would like.


How do I change or switch my team?

If you want to join a team (or create your team) after registration, login to the campaign site and you would find a link to edit "My Team" in the menu under your profile in the header.