ABOUT CHEERS TO 10 YEARS 10K CAMPAIGN
At Foundation Restoration, we fight daily for the heartbeat of our society – marriages. This year,

we have the honor celebrating 10 years of this vital work

and reflecting on God's faithfulness and goodness in using our ministry to make a difference in our world!
More than ever, we are passionate about the truth that strong marriages create a strong foundation for our children, communities, and world! Every 13 seconds, a couple gets divorced in America, and our ultimate goal is to eradicate divorce through creating healthy, thriving marriages. That is why we exist to equip, strengthen, and restore marriages through licensed, clinical expertise and a biblical perspective. For 10 years, we have been faithful and enduring in this mission and work, and we are excited, grateful, and compelled to push onward harder than ever as the need grows.
It's time for us to unite and fight for the heartbeat of our society side by side! Join us in our #Cheersto10years 10k celebration!
Unlike a traditional race, the
Cheers to 10 Years 10K
takes place where you are and when you want, anytime between
Thursday, November 19 and Thursday, December 31, 2020
.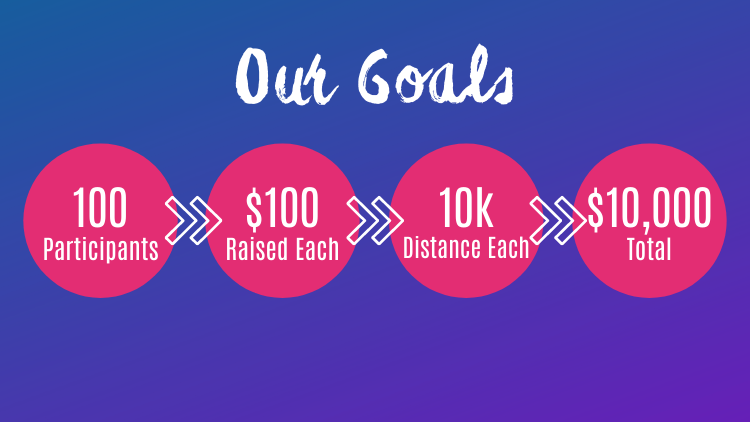 Registration Fee:
$30 Registration per participant

$50 Registration + Free T-shirt*
Register to join the event or donate directly to our organization at https://foundationrestoration.org/donate/

3 Easy Steps:
Step One: Join the race by clicking on any "Register" button on this page, and follow the steps to complete your registration.
Step Two: Start spreading the news! Create your online event page and ask your friends and family members to join you in the run or donate to the cause. With your event page, you can track your donations and training miles to climb the leaderboards! Make sure you share your progress with friends and invite everyone you know to support your progress by making a donation.
Step Three: It is all in the steps! If you are moving…keep track! Walk, run, bike, jog, hike, swim, paddle or whatever you do! Just choose your preferred activity to complete your race distance of 10k between November 19 and December 31. There are three ways to track your progress:
Sync your fitness device (Fitbit, Apple Watch, Google Fit, Garmin, or Strava)

Download the free Charity Footprints app to track your progress

Manually enter your steps on your event page
Challenge yourself. Challenge a friend. Join a team. This is a great way to raise money for a vital cause while caring for your own health and connecting with others - so grab your spouse, friend, kids, neighbor, co-worker, or family member, and get moving together!
Please follow along and connect on our Facebook Event page here
Race anywhere, anytime, and enter your stats before end-of-day December 31.
Awards:
We will be giving 3 awards out!
Overall Farthest/Most Steps Taken

Raised the Most Donations

Participant Raffle (All those registered will be entered to win a prize pack)
Incentives:
$50 Registration + Free T-shirt* & custom silicone band saying "Foundation Restoration - 1 John 4:19 - Marriage is the heartbeat of society!"

Those who hit their fundraising goal of $100 will receive a limited edition commemorative ornament + Silicone Band

Those who raise/donate $150 or more will receive a set of 4 genuine leather, hand-cut & embossed coasters with Foundation Restoration logo & Scripture + limited edition commemorative ornament + the set of 4 coasters + Silicone Band
*T-shirts, prizes, and incentives will be mailed at the conclusion of the event to the address you entered for registration.
Special thanks to our sponsor!

FITNESS GOAL
COMPLETED: 840,004 steps
TARGET: 20,000,000 steps
FUNDRAISING GOAL
RAISED: $ 1,560
TARGET: $ 10,000
HOW IT WORKS
Register for the campaign and set your fitness & fundraising targets.
Share your story and raise funds & awareness.
Track workouts anywhere & anytime and complete goal.
ABOUT THE ORGANIZATION
FOUNDATION RESTORATION

Our mission is to equip, strengthen, and restore marriages everywhere with clinical expertise and a biblical perspective. We believe marriages are the very heartbeat and foundation of our society.

Read more about the organization >>
How Your Participation Helps

Foundation Restoration has heartfelt gratitude for those who stand in support of our organization and mission! We are so very thankful for your belief in us, and we operate with the utmost integrity in applying your funds to our programs and serving our community! Your donation will enable us to continue to provide:

- Professional Therapy - With clinical expertise and a biblical perspective, we work on a face-to-face level with individuals, couples, and families to truly dig into whatever they may be facing. Whether it's serious mental health issues, relationship tune-ups, premarital preparation, personal crisis, tragedies, infidelity, communication skills, spiritual formation, life stage adjustment, and everything in between, we are journeying with people in a personal, impactful way to bring about healing, wholeness, and restoration in their lives.
- Events - We provide an array of events to create connection and community in an engaging, challenging, fun, and inspirational way. Workshops and seminars are hands-on and allow attendees to gain knowledge and then work to immediately implement it into their relationships and lives. Our date night events are fun, dynamic ways to get couples laughing, playing, and enjoying one another with the opportunity to connect with other couples in their area. Our prayer & worship nights are intimate, transformative, and impactful times where we call upon the Lord to enter into our marriages, families, and community to bring about healing, connection, and eternal purpose. We often partner with churches and other organizations to make these events accessible to various groups and communities.
- Website/Online Resources - Our world revolves around technology, and we are aware that more and more people are seeking information and help via online resources. We have a website chock full of articles, interviews, information, and encouragement to spread hope, truth, and guidance. We engage with people through social media knowing that 79% of the US population is on social media for an average of 144 minutes a day. Our goal is to be a voice of truth, encouragement, and inspiration to connect people with the Lord, their families, and their community amidst the inundation and noise bombarding people.
FREQUENTLY ASKED QUESTIONS
What is Charity Footprints?

Charity Footprints is a social enterprise that connects fitness and charitable giving. We empower people just like you, to get fit & give back.

Our Virtual Races allow non-profits to challenge their patrons to run, walk or ride and raise funds just as they would in a fundraising walkathon. The best part - charities save over 45% in event and logistical costs. So, the dollars that you pay to register or fundraise, go farther.


What is the campaign registration fee?

Campaign registration fee is the amount that you'll need to pay to enroll in this virtual race. This fee (less transaction charges) will go to the non-profit running this campaign as a donation.

The registration fee along with the funds raised through your individual fundraising page will enable the non-profit to fund various programs and pursue their organization's mission.


How can I create my fundraising page?

Well, you wouldn't have to create a separate fundraising page. Once you register for this campaign, we'll give you the link to your fundraising page.


How will I track my distance?

You can track your workouts by setting up your devices (Fitbit, Garmin, Apple Watch, Google Fit, Misfit, Strava), or download the Charity Footprints' iOS or Android app and track your workouts toward this campaign.

If you workout indoors (treadmill, elliptical, stationary bike etc.), you can upload your workouts here.


How do I join a team on this campaign?

While registering for the campaign, select the team you'd like to join or create a new team and invite others to #GetFitGiveBack with you. If you want to join a team (or create your team) after registration, login to the campaign site and you would find a link to edit "My Team" in the menu under your profile in the header.


I am an international donor (non-US), what are my donation charges and tax-deductibility?

All donations are made in US dollars, so the donations may be levied an exchange rate fee via your bank. Donors will want to connect with their bank to determine exactly what that fee may be. Additionally, international donors will need to reach out to a tax professional to discuss if and how tax deductibility will apply to their donation.


Who can sponsor my fundraising efforts?

The short answer is - everyone. The fundraising research shows that the number one reason for people not donating is that they weren't asked to.

That said, there are things you can do to attract people to sponsor you. Adding a picture to your fundraising page, telling potential donors why this cause is so personal to you, sharing your fundraising page on social media, email, and chat groups.

Last, if your employer has a gift matching program, check with the human resources department to support your favorite cause as well.


Who can I contact if I need help?

You can contact us any time if you need help. We love hearing from our users so please don't hesitate to write to us about issues, suggestions, or to just say hi. You can also contact the non-profit administrator directly if you would like.


How do I change or switch my team?

If you want to join a team (or create your team) after registration, login to the campaign site and you would find a link to edit "My Team" in the menu under your profile in the header.