ABOUT WINTER WARMER FOR KIDS CAMPAIGN
The COVID-19 pandemic has created never before experienced societal challenges. Reports continue to show a surge in predators distributing

Child Sexual Abuse Material (CSAM)

online. While we are all forced to spend more time at home, children are spending more time on the internet. Predators are exploiting these opportunities - in many cases at home with their victims but also carrying out online grooming and exploitation - and child abuse has certainly increased.

 
At Child Rescue Coalition, we rescue children from sexual abuse by building technology for law enforcement, free of charge, to track, arrest and prosecute child predators. To date, CRC technology has aided global law enforcement in the arrest of over 13,000 dangerous predators and the rescue of over 3,000 children, which on average is almost 4 predators every single day and 1 child every day and a half!
Sweat a little to change a lot. #JoinTheFight for our Winter Warmer For Kids Virtual Race!

What is the Winter Warmer For Kids Virtual Race?
Unlike a traditional walk/run/bike race, this virtual race uses technology & takes social distancing into account; allowing you to participate on your own, with friends, work mates or your whole family! Show your support whenever & wherever you are day or night; rain or shine; inside or outside. The choice is yours! You simply register anytime from January 27th - March 10th and continue to do the things you normally do to be active, knowing your participation is helping raise vital funds to protect kids.
You don't walk, run or bike to stay active? No problem. Since it's winter maybe you ski, snowboard, ice skate, spin, workout, dance, hike, box or even do house or yard work. That's great! As long as you can move, you can #JoinTheFight For Kids!
Can I score prizes just for fundraising?
Yes! Our most inspired Winter Warmer For Kids Defender, Warrior, Champion and Hero fundraisers and donors will receive exclusive prizes! The more funds you raise (in addition to your registration donation), the more Winter Warmer prize swag you'll win!*
$50 Raised/Donated - Winter Warmer For Kids Defender
You will receive:
An Exclusive Winter Warmer For Kids Tote featuring the
Manhattan Toy
Aviator Bear we've lovingly named
Amelia Bearheart
!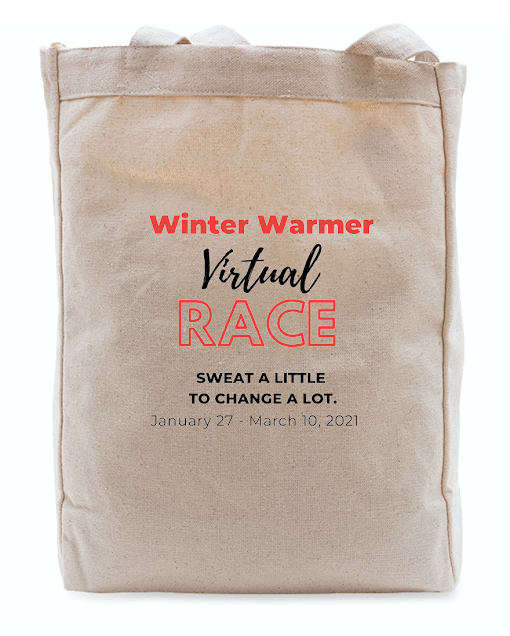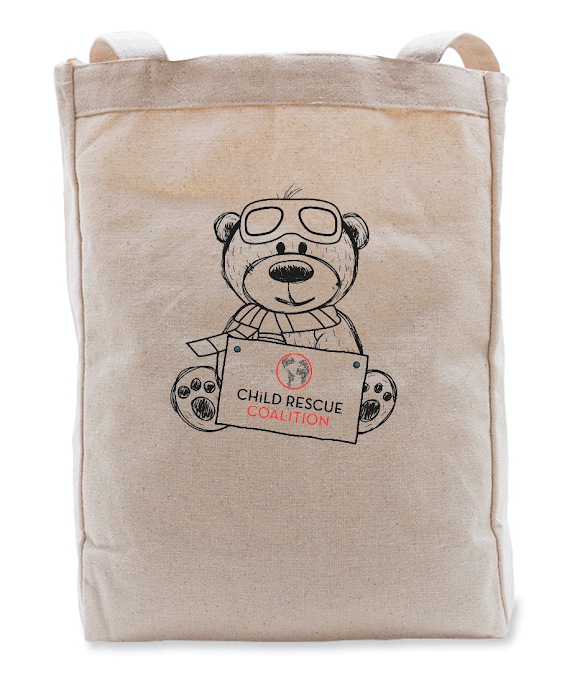 $100 Raised/Donated - Winter Warmer For Kids Warrior
You will receive the above plus:
An Exclusive Winter Warmer For Kids Long Sleeve T-Shirt (Grey)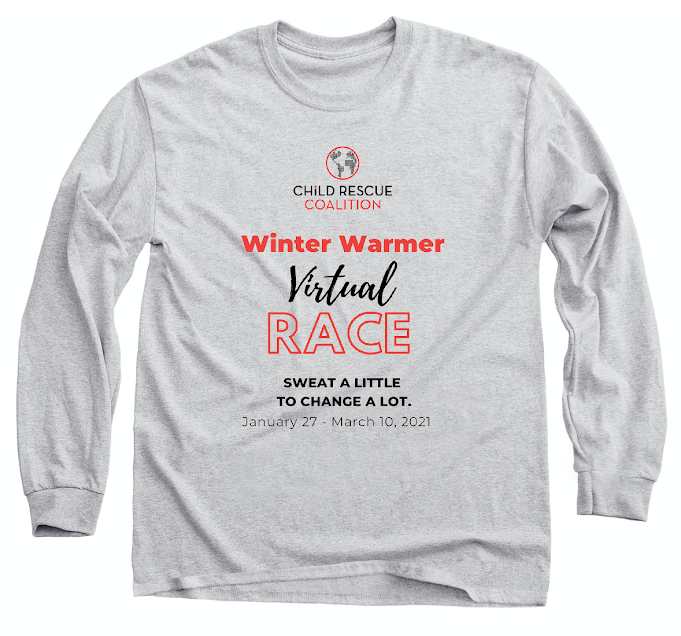 $200 Raised/Donated - Winter Warmer For Kids Champion
You will receive all the above plus:
An Exclusive Winter Warmer Long Sleeve Hoodie (Grey)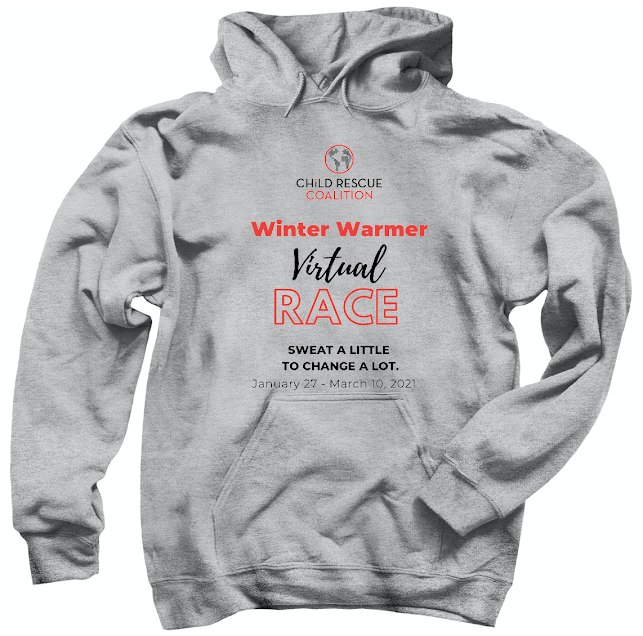 $350 Raised/Donated - Winter Warmer For Kids Hero
You will receive all the above plus:
Three (3) Premium 13" Stuffed Animals generously donated by our sponsor
Manhattan Toy
including the adorable
Amelia Bearheart
and her cute friends we've named
Bobby the Super Bunny
and
Freddie the Fire Dog
!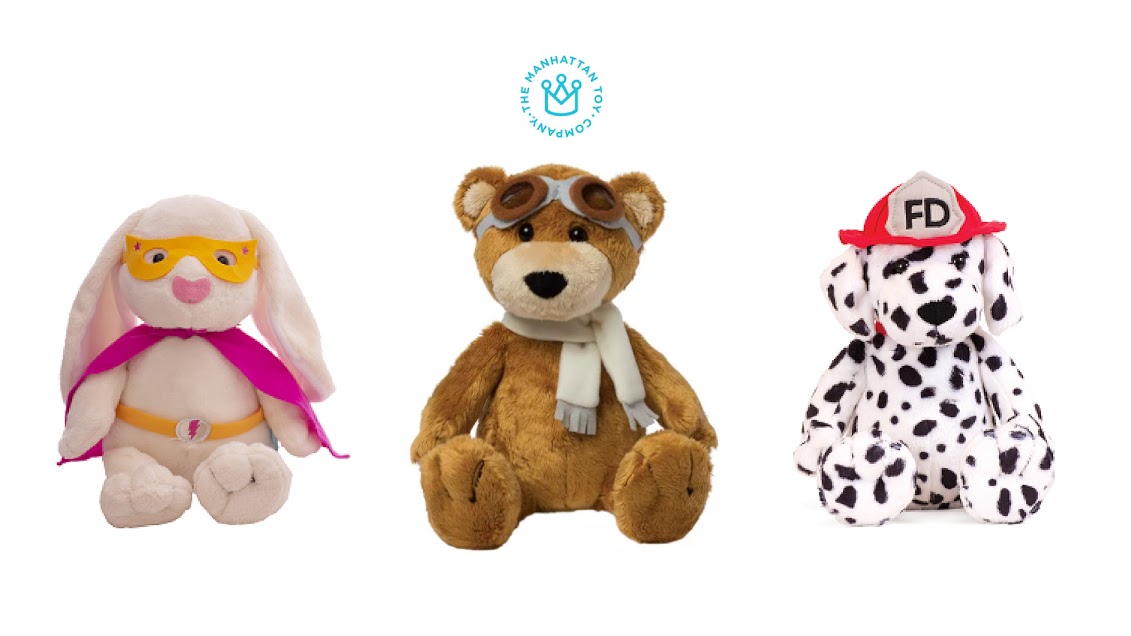 * All prizes will be processed and shipped starting at the end of the race
How do I get started and participate?
Your participation and support will ensure the protection of thousands of children from sexual abuse and exploitation and participating couldn't be easier….
STEP 1
Register at the donation level that's right for you
Winter Warmer Stepper - $20 donation (individual)
Winter Warmer Family - $60 donation (for up to 4 family members or friends - SAVE $20)
Winter Warmer Pro
- $75 donation (individual + receive an
Exclusive Winter Warmer For Kids Mug
featuring the Aviator Bear
Amelia Bearheart
)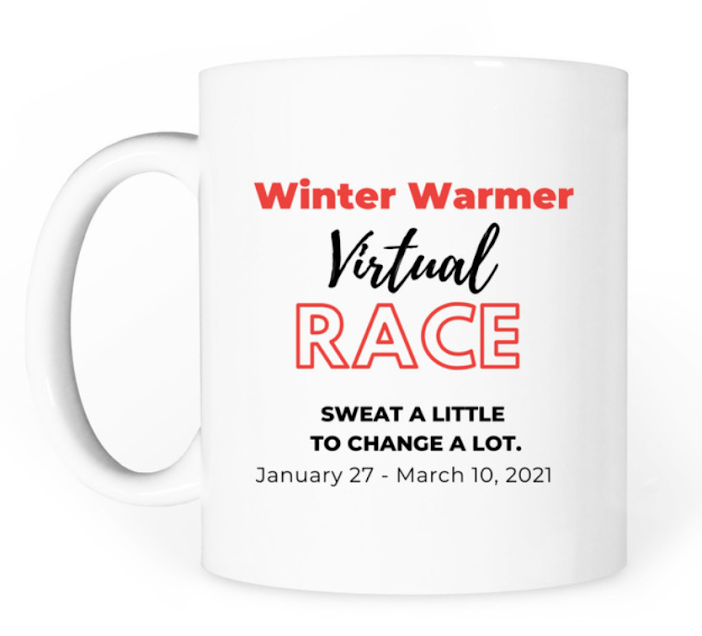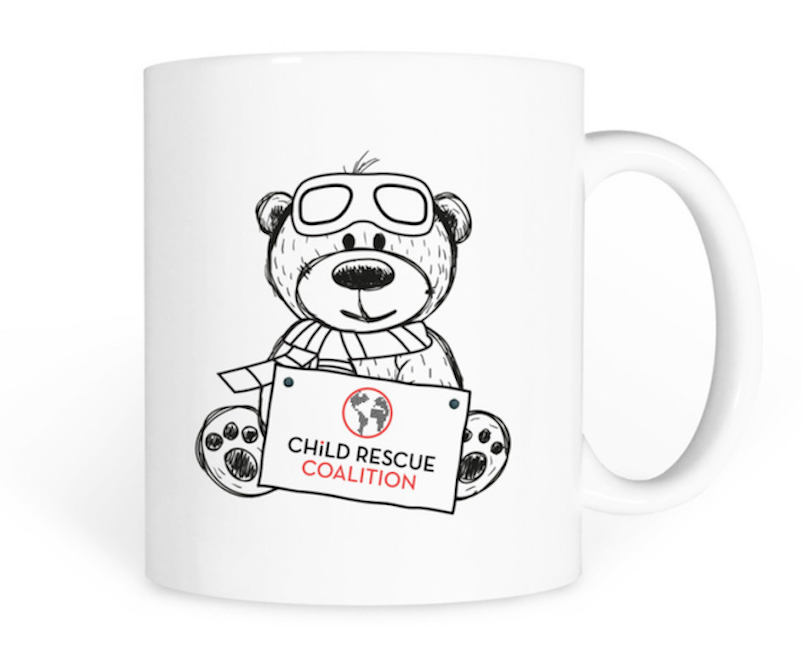 STEP 2
Set Up Your Device. Join or Start a Team. Track Your Support!
Set up your fitness device using the How It Works instructions. Join or start your own team to help motivate activity and healthy competition with other teams. Easily start your own personal fundraising page and use the FAQs below to learn how to best post it to social media to raise more funds to protect kids!
STEP 3
Use your influence. Get Active!
Share your personal fundraising page with your social network to help raise awareness and reach your fitness and fundraising goals. Post your progress regularly with pictures/short videos while tagging us (@ChildRescueCoalition) and including the #StopHumanTrafficking, #WinterWarmer and #JoinTheFight hashtags to start a social media movement!
How do I track my activities progress and convert other physical activities into steps?
You can participate by doing virtually anything that gets your heart rate up! Refer to the How It Works and FAQs sections below for more information on tracking your distance, setting up your device and manually uploading activities. Use the virtual teddy bear map below to see how you, your team and everyone else is collectively moving towards our goals. For physical activities that cannot be measured in steps or miles, Log Activity using the Activity to Steps Conversion Chart below as a guide. (we trust you to use your discretion!)
Activity to Steps Conversion Chart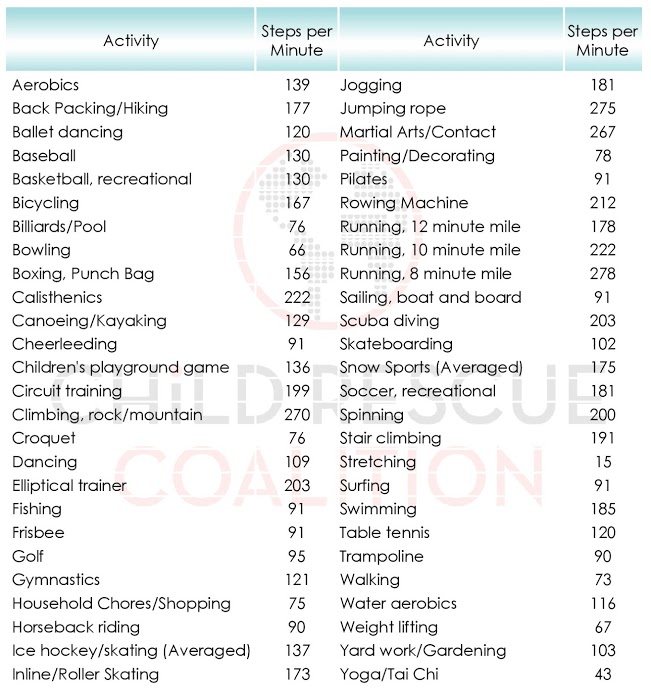 Multiply # of minutes you do of each activity times steps per minute
Are there any non-physical activities I can do as I participate to support the Winter Warmer for Kids?
Yes! As with the
#JoinTheFight For Kids Virtual Race
held last summer, this 6-week challenge will not only encourage you to post and participate in our weekly
Community Scrapbook Challenges
but also encourage
"Do Good" Activities
focused on promoting the safety and protection of children. Each activity you complete and log will contribute 15 points towards a
TransUnion
sponsored points-to-dollar match of
up to $5,000
to further protect and save another child*. Click on the activities below to learn more and use the
Log Activity
button at the top or in the site menu to log.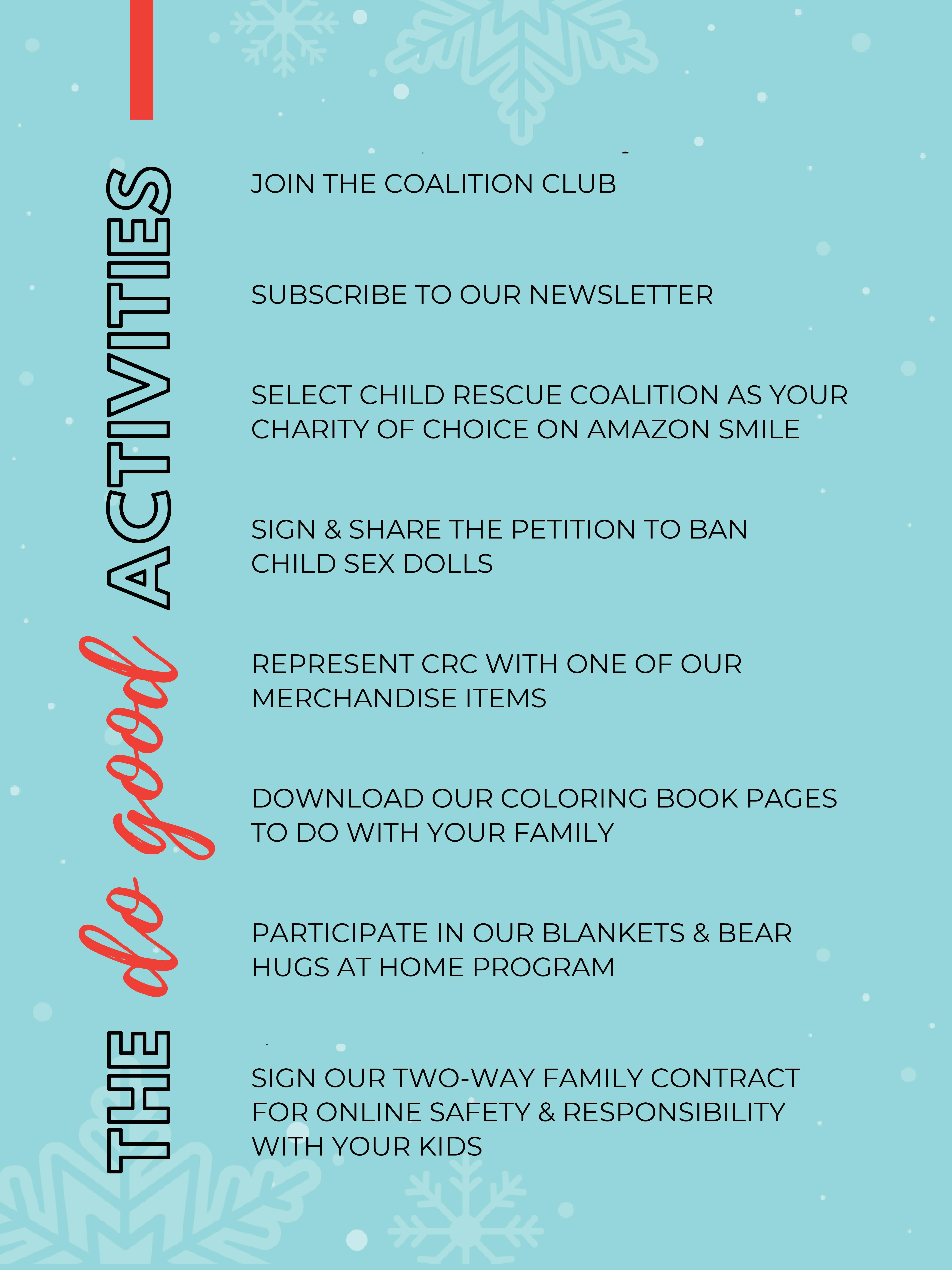 * Do Good Activities points impact leaderboard, Footprints and sponsor(s) donation match. Points-to-dollar match do not count towards prizes/swag
Our Goal:
- You have from January 27 - March 10, 2021 to join at any time, set your fitness & Do Good Activities goals while racking up those steps and raising those funds!
- Your Do Good Activity, Fitness and Fundraising goals are entirely up to you!
- Our collective goal is to raise $60,000 or more and reach a total of 5000 Activity points/dollars and 30,000 miles / 60,000,000 steps or more!
ACTIVITY GOAL
COMPLETED: 720 points
TARGET: 5,000 points
FITNESS GOAL
COMPLETED: 28,400,668 steps
TARGET: 60,000,000 steps
FUNDRAISING GOAL
RAISED: $ 13,691
TARGET: $ 60,000
You must go on adventures to find out where you truly belong. ~ Sue Fitzmaurice
Come join us and leave your footprints ...Step up, track your teddy bear paw prints and help to protect and save children!
HOW IT WORKS
Register for the campaign and set your fitness & fundraising targets.
Share your story and raise funds & awareness.
Track workouts anywhere & anytime and complete goal.
ABOUT THE ORGANIZATION
CHILD RESCUE COALITION INC.

To rescue children from sexual abuse by building donor-funded technology for law enforcement to track, arrest and prosecute child predators.

Read more about the organization >>
How Your Participation Helps

Child Rescue Coalition takes great care in placing your donations where they truly belong. Proceeds will enhance Child Rescue Coalition's technological developments, increase law enforcement training, promote parental education and awareness and rescue thousands of children from sexual exploitation and abuse.
FREQUENTLY ASKED QUESTIONS
What is Charity Footprints?

Charity Footprints is a social enterprise that connects fitness and charitable giving. We empower people just like you, to get fit & give back.

Our Virtual Races allow non-profits to challenge their patrons to run, walk or ride and raise funds just as they would in a fundraising walkathon. The best part - charities save over 45% in event and logistical costs. So, the dollars that you pay to register or fundraise, go farther.


What is the campaign registration fee?

Campaign registration fee is the amount that you'll need to pay to enroll in this virtual race. This fee (less transaction charges) will go to the non-profit running this campaign as a donation.

The registration fee along with the funds raised through your individual fundraising page will enable the non-profit to fund various programs and pursue their organization's mission.


How can I create my fundraising page?

Well, you wouldn't have to create a separate fundraising page. Once you register for this campaign, we'll give you the link to your fundraising page.


How Do I Post My Fundraising Page Link on Instagram?



Select and copy the web address of your fundraising page from the address bar of your browser.
Open Instagram to Edit Your Profile. Paste the copied link in your Profile Website or Bio.
In your Instagram posts, instruct your followers to click on that link in your BIO to take them to your personal fundraising page.

Alternatively, you can sign up for a free Linktree account that will allow you to list multiple links you are promoting (including your personal fundraising page) all from one Linktree link in your BIO.


How do I better assure my Facebook donors come to my personal fundraising page to pledge their support? Should I use the Facebook Donate Button in my posts?



After logging into the Charity Footprints virtual race website, using the drop-down menu in the upper right-hand corner of any page, click on My Fundraiser.
On your personal fundraising page, click on the Facebook Share button at the top of the page. If you are logged into your Facebook account, this should open a pop-up that will automatically have the clickable image link back to your personal fundraising page. Add any additional message you want to your post and share.
After you post, refrain from using any Add a Donate Button suggestion that Facebook makes for your post. Despite this being a great way to otherwise raise funds for your charity, funds raised through this donate button will not be tied to your personal fundraising page or the virtual race campaign.
How will I track my distance?

You can track your workouts by setting up your devices (Fitbit, Garmin, Apple Watch, Google Fit, Misfit, Strava), or download the Charity Footprints' iOS or Android app and track your workouts toward this campaign.

If you workout indoors (treadmill, elliptical, stationary bike etc.), you can upload your workouts here.


How do I join a team on this campaign?

While registering for the campaign, select the team you'd like to join or create a new team and invite others to #GetFitGiveBack with you. If you want to join a team (or create your team) after registration, login to the campaign site and you would find a link to edit "My Team" in the menu under your profile in the header.


I am an international donor (non-US), what are my donation charges and tax-deductibility?

All donations are made in US dollars, so the donations may be levied an exchange rate fee via your bank. Donors will want to connect with their bank to determine exactly what that fee may be. Additionally, international donors will need to reach out to a tax professional to discuss if and how tax deductibility will apply to their donation.


Who can sponsor my fundraising efforts?

The short answer is - everyone. The fundraising research shows that the number one reason for people not donating is that they weren't asked to.

That said, there are things you can do to attract people to sponsor you. Adding a picture to your fundraising page, telling potential donors why this cause is so personal to you, sharing your fundraising page on social media, email, and chat groups.

Last, if your employer has a gift matching program, check with the human resources department to support your favorite cause as well.


Who can I contact if I need help?

You can contact us any time if you need help. We love hearing from our users so please don't hesitate to write to us about issues, suggestions, or to just say hi. You can also contact the non-profit administrator directly if you would like.


How do I change or switch my team?

If you want to join a team (or create your team) after registration, login to the campaign site and you would find a link to edit "My Team" in the menu under your profile in the header.