ABOUT STEPS CHALLENGE CAMPAIGN
Why a STEPS Challenge?

The Foundation for the Advancement in Research in Medicine, Inc. (FARM) welcomes you to the STEPS Challenge! This event encourages participants to get healthy and give back by providing funds for BoneSmart, the comprehensive online educational and outreach initiative that supports those suffering with arthritis from its beginning stages through joint replacement surgery. With the STEPS Challenge, participants have the opportunity to improve their own health by challenging themselves and meeting fitness goals. All funds raised during the event go toward continuing and expanding BoneSmart's support outreach through the website, forum, and educational programs. Why is this important?

The words behind the STEPS acronym, Striving Toward Each Person's Success, incorporate the essence of FARM's and BoneSmart's mission to help each person suffering with arthritis toward their best life.

The STEPS Challenge is open to anyone worldwide who is impacted directly by arthritis, those who know someone suffering from this disease, or individuals who wish to help improve lives for the more than 350 million arthritis patients. Our goal is to encourage people to move more and do things that are good for their health and well-being. All funds raised during the Challenge will benefit FARM's consumer outreach through BoneSmart.

 

How the STEPS Challenge Works

The STEPS Challenge kicks off March 22, 2021, with a five-week warmup period followed by a virtual Challenge Walk April 26 through May 3, 2021. During both the warmup and the walk, participants track progress toward personal fitness and fundraising goals they have set and have the opportunity to win weekly challenges along the way. You can link a wearable device (FitBit, Apple Watch, Garmin, and others) once you join and your daily steps will be automatically recorded – or enter them manually in the app.
By the time the STEPS Challenge Walk is complete, you'll have logged tens of thousands of steps and hopefully we'll meet or exceed our overall Challenge goal of 15 million steps walked.
What are the Challenge categories?
Participants choose to support the Challenge by completing milestones in two categories: Fitness Goals and Fundraising Goals. You can choose one or both categories for your personal challenge when you register. There are four different activity levels so you can participate and compete no matter what your current fitness level happens to be. Since this is a Challenge, be sure to select an activity level that is at least a bit above your current ability. The warmup period will give you time to improve before the official Challenge Walk that starts on April 26th. The four activity levels are:
Trooper – designed for the person at the beginning of their fitness program or someone less than 6 months out from joint replacement surgery.
Warrior – this level is for participants who have a moderately active lifestyle that includes some exercise each week.
Gladiator – this level is for participants who exercise most days for at least 30 minutes and regularly participate in moderately active sports such as golf, pickleball, or swimming.
Crusader – participants at this level have a very active lifestyle or engage in more demanding sports such as distance running, hiking, basketball, or other competitive sports.
* FITNESS GOALS: Progress in this category is measured by the number of steps completed each day. Steps walked during the warmup period and the virtual walk are converted into miles (2,000 steps = 1 mile). Activities other than walking can be converted to steps using the following chart: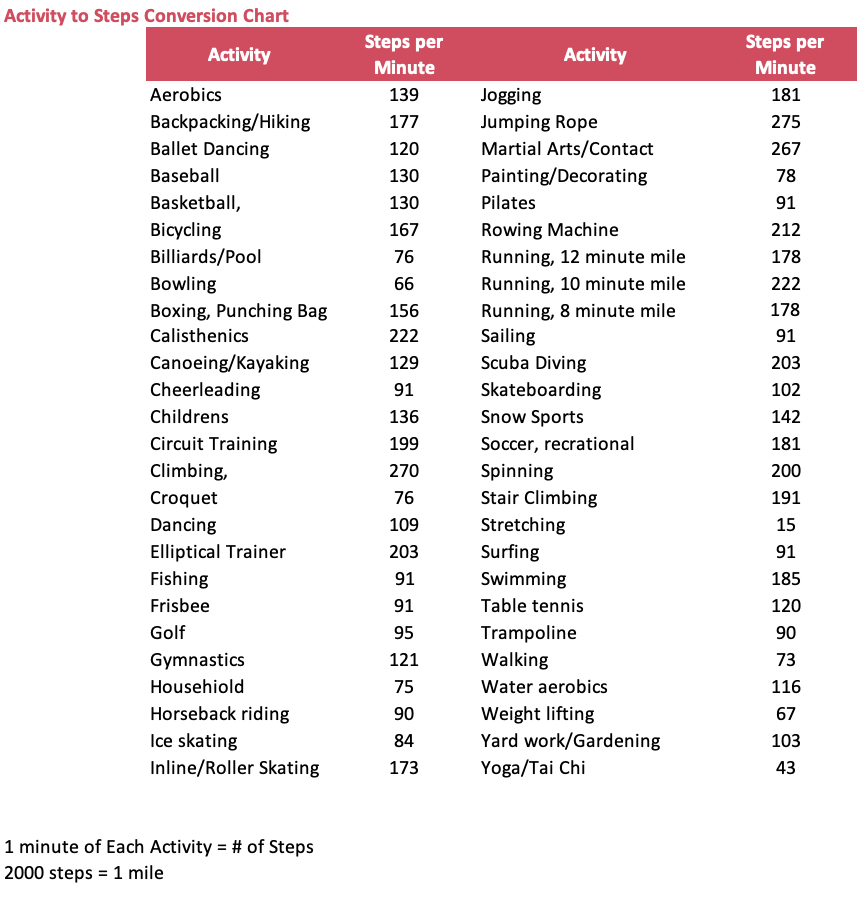 * FUND RAISING GOALS: The final week of the STEPS Challenge features a virtual walk to raise funds for BoneSmart by securing donations from your supporters. You will have your own fundraiser page with a link to send to friends and family to encourage them to donate to your fundraising goal. You can also just participate in the walk as part of your fitness goals and choose not to raise funds.
Or, if you prefer, you can participate by
simply making a donation to BoneSmart!
We encourage participants to form teams (your friends, family, those who share a surgery date or type of surgery) for some fun competition during the warmup and walk.
_____________________________________________________________________________
LIMITED EDITION T-SHIRT
Show your support by purchasing a limited edition T-shirt designed specifically for this event and wear it proudly to show you accepted the 2021 STEPS Challenge. T-shirts can only be purchased through May 2nd
. Proceeds from the shirts also go to benefit BoneSmart.
W_____________________________________________________________________________
WIN PRIZES!
We'll announce weekly winners for each of the five warm up challenges. At the conclusion of the STEPS Challenge Walk in week 6, we'll award prizes to the individuals in each of the four fitness categories with the most steps recorded and to the person with the most funds raised. Winners will have the opportunity to appear during BoneSmart's 2021 Joint Replacement Awareness Day (JRAD) program to talk about their accomplishments and why they chose to support the STEPS Challenge program and BoneSmart. Each participant will receive a special certificate and thank you for your support.
PRIZES:
-Fitness Winners: Plaque and a premium insulated JRAD water bottle (1 for each of the 4 fitness category winners)*
-Fundraiser Winner: Plaque and a premium insulated JRAD waterbottle (1 winner)*
-Weekly challenge winners: Weekly winners in each of the 4 fitness categories will be recognized in the following week's promotional email and receive a STEPS Challenge water bottle
-All participants: Participation certificate for all who register (downloadable PDF file)
* Opportunity to appear on JRAD with Dr. Sinha
FITNESS GOAL
COMPLETED: 1,531,575 steps
TARGET: 15,000,000 steps
FUNDRAISING GOAL
RAISED: $ 475
TARGET: $ 30,000
HOW IT WORKS
Register for the campaign and set your fitness & fundraising targets.
Share your story and raise funds & awareness.
Track workouts anywhere & anytime and complete goal.
ABOUT THE ORGANIZATION
FOUNDATION FOR ADVANCEMENT IN RESEARCH IN MEDICINE INC.

The Foundation for the Advancement in Research in Medicine, Inc, (FARM) is a 501 (c)(3) non-profit organization that strives to raise awareness about treatment and joint replacement options available for the millions of patients suffering from degenerative conditions such as arthritis.

Read more about the organization >>
How Your Participation Helps

All funds raised through the STEPS Challenge will be used to support BoneSmart and will enable them to reach increasing numbers of people in need. We hope that as participants strive to reach their fitness goals, they will also serve as ambassadors for BoneSmart and let those in their family and community know about this valuable free resource for people with arthritic joints.

For almost two decades, BoneSmart has helped rescue tens of thousands of people around the world from a life of sitting on the sidelines due to the pain and immobility that comes with arthritis. Isolation is a common feeling for arthritis sufferers. As much as family and friends love them and want to help, it's usually impossible for them to relate to what's going on unless they themselves have had a failing joint or a joint replacement. BoneSmart's online members and guests are relieved to find an entire community of men, women, and young adults who have been exactly where they are and truly "get it."

The BoneSmart website serves as a one-stop resource for the latest information on joint treatment options, technological advances in surgical procedures and implants, guidance on how to prepare for surgery, and the best recovery tips for post-op success. BoneSmart's forum offers a unique opportunity for someone worried about a symptom or persistent pain to connect almost immediately with a knowledgeable person who can help. Through conversations with moderators and other members who have had joint surgery themselves, participants on the forum find one-on-one support virtually any time day or night.

BoneSmart is a free online resource available to anyone needing assistance with questions or concerns about degenerative arthritis conditions. Their goal continues to be abating the fears associated with joint disease and enabling each individual to live a happier, healthier, and more productive life. It depends almost entirely on donations from individuals and fund-raising events to perform its outreach mission for joint pain patients and their families.
FREQUENTLY ASKED QUESTIONS
What is Charity Footprints?

Charity Footprints is a social enterprise that connects fitness and charitable giving. We empower people just like you, to get fit & give back.

Our Virtual Races allow non-profits to challenge their patrons to run, walk or ride and raise funds just as they would in a fundraising walkathon. The best part - charities save over 45% in event and logistical costs. So, the dollars that you pay to register or fundraise, go farther.


What is the campaign registration fee?

This campaign is free to participate in.

However, we encourage you to donate optional/suggested amount during registration or you can always donate any amount on your fundraising page after the registration.


How can I create my fundraising page?

Well, you wouldn't have to create a separate fundraising page. Once you register for this campaign, we'll give you the link to your fundraising page.


How will I track my distance?

You can track your workouts by setting up your devices (Fitbit, Garmin, Apple Watch, Google Fit, Misfit, Strava), or download the Charity Footprints' iOS or Android app and track your workouts toward this campaign.

If you workout indoors (treadmill, elliptical, stationary bike etc.), you can upload your workouts here.


How do I join a team on this campaign?

While registering for the campaign, select the team you'd like to join or create a new team and invite others to #GetFitGiveBack with you. If you want to join a team (or create your team) after registration, login to the campaign site and you would find a link to edit "My Team" in the menu under your profile in the header.


I am an international donor (non-US), what are my donation charges and tax-deductibility?

All donations are made in US dollars, so the donations may be levied an exchange rate fee via your bank. Donors will want to connect with their bank to determine exactly what that fee may be. Additionally, international donors will need to reach out to a tax professional to discuss if and how tax deductibility will apply to their donation.


Who can sponsor my fundraising efforts?

The short answer is - everyone. The fundraising research shows that the number one reason for people not donating is that they weren't asked to.

That said, there are things you can do to attract people to sponsor you. Adding a picture to your fundraising page, telling potential donors why this cause is so personal to you, sharing your fundraising page on social media, email, and chat groups.

Last, if your employer has a gift matching program, check with the human resources department to support your favorite cause as well.


Who can I contact if I need help?

You can contact us any time if you need help. We love hearing from our users so please don't hesitate to write to us about issues, suggestions, or to just say hi. You can also contact the non-profit administrator directly if you would like.


How do I change or switch my team?

If you want to join a team (or create your team) after registration, login to the campaign site and you would find a link to edit "My Team" in the menu under your profile in the header.