ABOUT WALK FOR HEALING CAMPAIGN
REGISTRATION STARTS April 24 and is ongoing until the end of the race.
Sponsor information HERE.
Find an individual to donate to HERE.
Find a team to donate to HERE.
Make a direct donation to Hospice SLO County HERE.
For the past year, COVID-19 has caused tragedy, isolation, and loss in our lives. We are all hurting in some capacity. We invite you to take time to care for yourself by making healthy choices as you participate in the WALK FOR HEALING challenge. We hope by participating you can feel healing and know that you are helping others as you support Hospice SLO County.
The
WALK FOR HEALING
challenge will raise funds to ensure Hospice SLO County has enough resources for a robust Counseling Program, a strong In-Home Support and End-of-Life Doula Program, a dedicated Pet Peace of Mind Program, and a growing Volunteer Corps. Your participation will make a direct impact on our services as the need increases because of the complicated grief we are seeing as a direct impact of COVID-19.
The
WALK FOR HEALING
challenge will kick-off on April 24, and run until June 19. You can walk, jog, run, bike, swim, dance, jump rope -it is your choice- wherever you are, in memory of a loved one, and in support of Hospice SLO County.
It's as easy as 1 - 2 - 3!
1. Register to participate individually or with a team, or create your own team.
2. Set a personal fitness goal and track your miles using your own fitness device or the Charity Footprints App.
3. Once you register you will be given a link to your own unique fundraising page. Here you can personalize your page with your fundraising goal and send your link to friends and family to donate in your name.
Add to the Fun
• Form a team and challenge others to some friendly competition.
• Watch our progress and see your ranking on the live virtual map.
• Share your experiences with others through the campaign chat.
• Earn chances to win prizes throughout the virtual race.
When
Registration: April 24, 2021 - June 19, 2021
Challenge Starts: May 1, 2021
Challenge Ends: June 19, 2021
The Goal
Our collective goal is to reach 50,000 miles and raise $50,000
Registration
$30 per participant (includes commemorative event t-shirt)
Prizes for Fundraising
For every $250 you raise, your name will be entered in a raffle to win one of four $300 Visa cards. The raffle will be held on June 21, 2021
The team with the most miles, the individual with the most miles, and the top fundraiser will be recognized with a trophy and social media shout outs.
How to Record Miles
When
walking
or
running
, report actual miles.
When
biking
, report 1 mile for every 3 miles biked. (3:1 ratio)
For everything else, use the following conversion chart: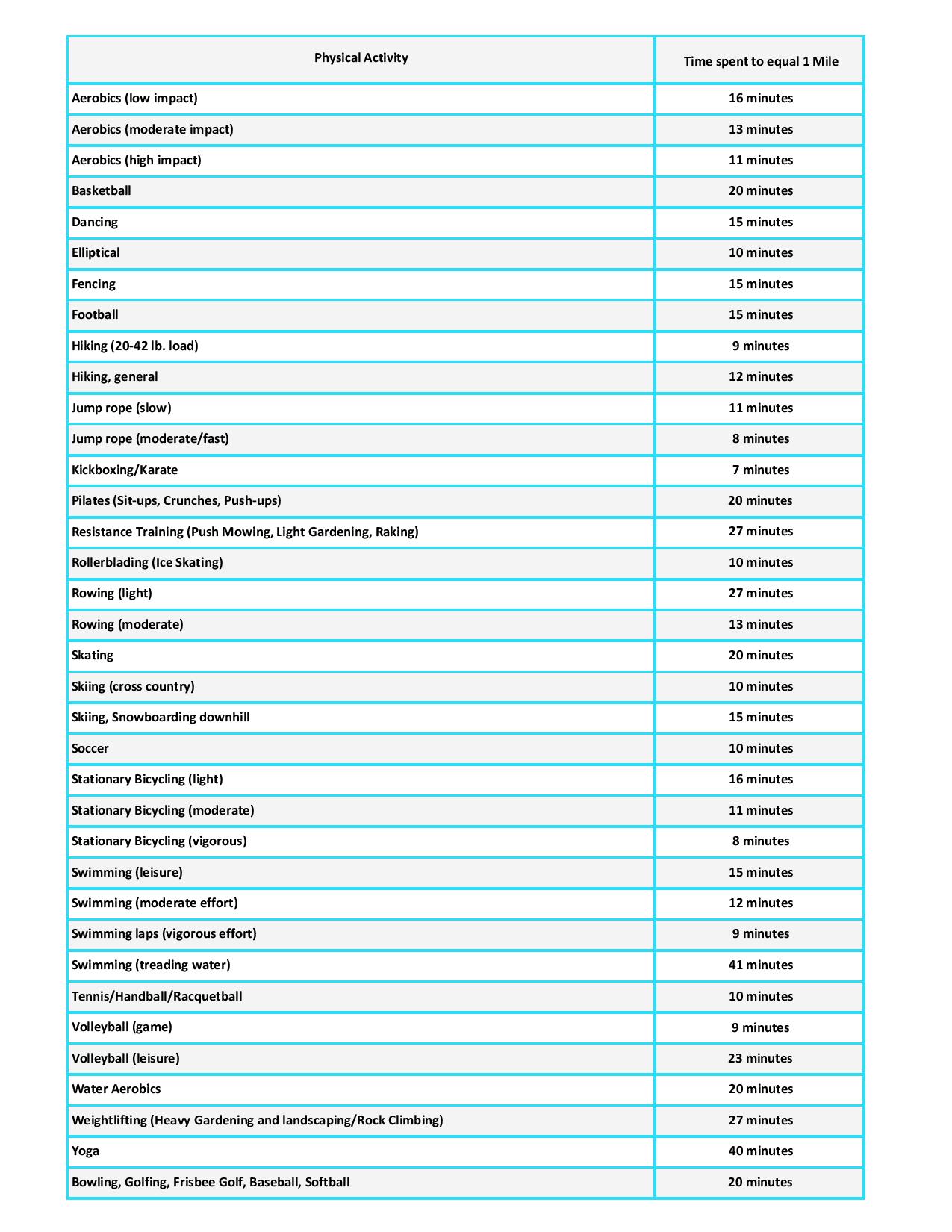 Sponsors
We are pleased to highlight your business sponsorship throughout our community.
500 participants will see your logo on the event website. Participants will continue to see your logo every time they log on to report their miles. Your logo will appear on each participant's fundraising page and will be seen by their supporters.
The Platinum sponsor will be the Title sponsor and be recognized on the KSBY on-air promotion.
Click HERE to become a sponsor!
(Logo on event t-shirt deadline 4/24/21)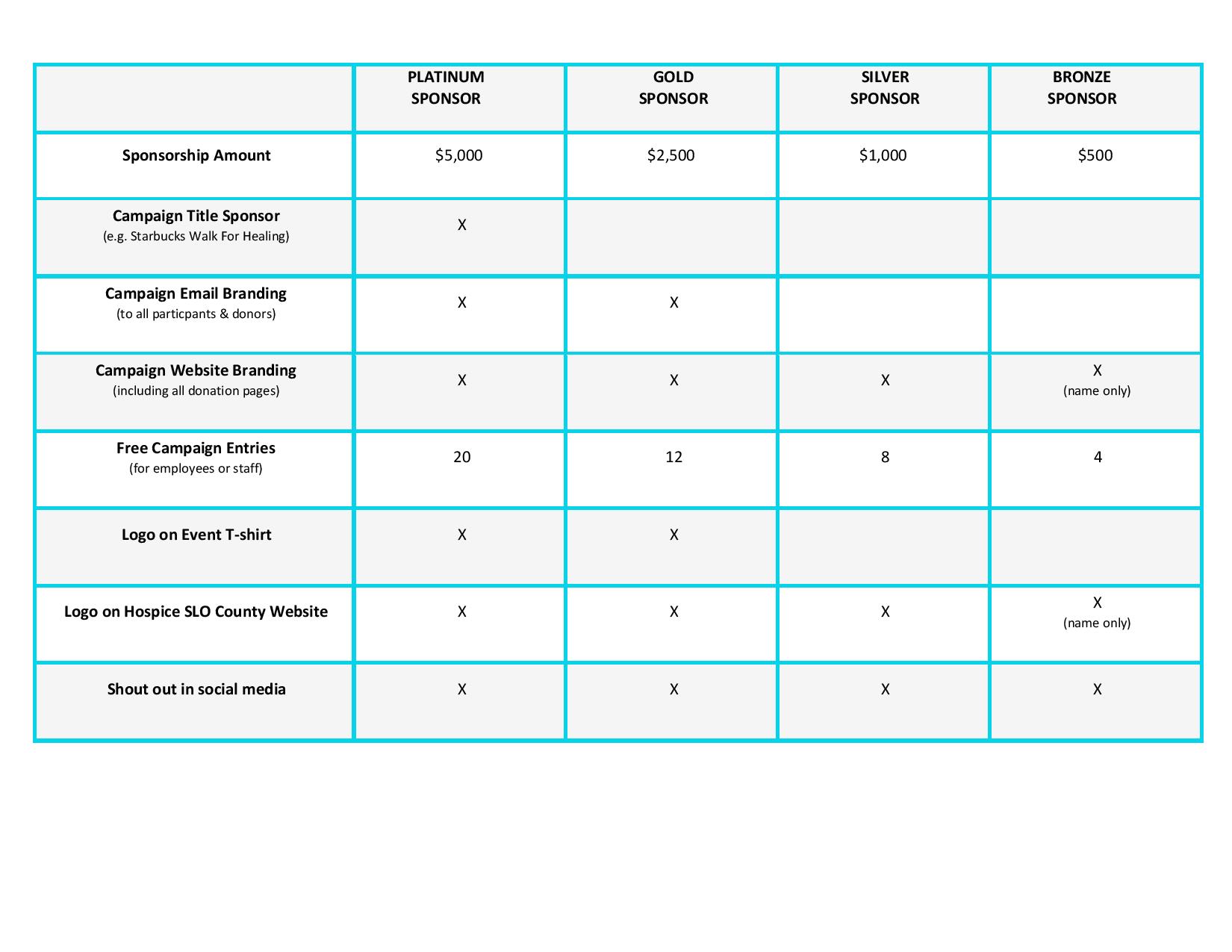 Find us online
Instagram @hospiceslocounty
Facebook at www.facebook.com/hospiceofslocounty
Our website at www.hospiceslo.org
Hashtag #WalkForHealingHospiceSLO
Mail in donations:
Make checks out to Hospice SLO County.
Write "Walk For Healing" in the memo.
If this donation is to support a participant, put the participant's name in the memo.
If this donation is to support a team, put the team's name in the memo.
Mail to:
Hospice SLO County
1304 Pacific Street
San Luis Obispo, CA 93401
Questions
Contact Susan Olson at 805-544-2266 or susanolson@hospiceslo.org
FITNESS GOAL
COMPLETED: 18,950 miles
TARGET: 50,000 miles
FUNDRAISING GOAL
RAISED: $ 57,194
TARGET: $ 50,000
You must go on adventures to find out where you truly belong. ~ Sue Fitzmaurice
Come join us and leave your footprints to support this great cause
HOW IT WORKS
Register for the campaign and set your fitness & fundraising targets.
Share your story and raise funds & awareness.
Track workouts anywhere & anytime and complete goal.
ABOUT THE ORGANIZATION
HOSPICE OF SAN LUIS OBISPO COUNTY

Hospice SLO County assists anyone in our community who is grieving a death or coping with a life-limiting illness. All services are offered free of charge.

Read more about the organization >>
HOW YOUR PARTICIPATION HELPS

The WALK FOR HEALING will raise funds to ensure Hospice SLO County has enough resources for a robust counseling program, a strong in-home support and end-of-life doula program, a dedicated pet program, and a growing volunteer corps.

Last month, our nation's top bereavement experts and organizations joined Hospice Foundation of America to urge the United States to immediately prepare for a second potential pandemic for which there is no vaccine and insufficient resources to address—a pandemic of complicated grief.

Complicated grief stands apart from typical grief. Research shows that while most grievers are fairly resilient, those with complications suffer significant psychological, health, vocational, and social impairment. Additionally, studies showed complicated grief has negative physical health consequences for those who suffer from it and sizeable negative financial effects for employers due to lost productivity.

Presently, much of the U.S. population is experiencing significant death and non-death losses. Awareness of the increased risk of contracting and dying from COVID-19 leads to heightened anxiety and may contribute to complicated grief.

Fortunately, since Hospice SLO County is a volunteer hospice and not constrained by medical hospice regulations, we have always been able to offer complicated grief counseling to anyone in our community. As we prepare and see this upswing in need, we are grateful for supporters like you who help fund our services through direct donations and participation in fundraisers like Walk For Healing.
FREQUENTLY ASKED QUESTIONS
What is Charity Footprints?

Charity Footprints is a social enterprise that connects fitness and charitable giving. We empower people just like you, to get fit & give back.

Our Virtual Races allow non-profits to challenge their patrons to run, walk or ride and raise funds just as they would in a fundraising walkathon. The best part - charities save over 45% in event and logistical costs. So, the dollars that you pay to register or fundraise, go farther.


What is the campaign registration fee?

Campaign registration fee is the amount that you'll need to pay to enroll in this virtual race. This fee (less transaction charges) will go to the non-profit running this campaign as a donation.

The registration fee along with the funds raised through your individual fundraising page will enable the non-profit to fund various programs and pursue their organization's mission.


How can I create my fundraising page?

Well, you wouldn't have to create a separate fundraising page. Once you register for this campaign, we'll give you the link to your fundraising page.


How will I track my distance?

You can track your workouts by setting up your devices (Fitbit, Garmin, Apple Watch, Google Fit, Misfit, Strava), or download the Charity Footprints' iOS or Android app and track your workouts toward this campaign. ?>

If you workout indoors (treadmill, elliptical, stationary bike etc.), you can upload your workouts here.


How do I join a team on this campaign?

While registering for the campaign, select the team you'd like to join or create a new team and invite others to #GetFitGiveBack with you. If you want to join a team (or create your team) after registration, login to the campaign site and you would find a link to edit "My Team" in the menu under your profile in the header.


I am an international donor (non-US), what are my donation charges and tax-deductibility?

All donations are made in US dollars, so the donations may be levied an exchange rate fee via your bank. Donors will want to connect with their bank to determine exactly what that fee may be. Additionally, international donors will need to reach out to a tax professional to discuss if and how tax deductibility will apply to their donation.


Who can sponsor my fundraising efforts?

The short answer is - everyone. The fundraising research shows that the number one reason for people not donating is that they weren't asked to.

That said, there are things you can do to attract people to sponsor you. Adding a picture to your fundraising page, telling potential donors why this cause is so personal to you, sharing your fundraising page on social media, email, and chat groups.

Last, if your employer has a gift matching program, check with the human resources department to support your favorite cause as well.


Who can I contact if I need help?

You can contact us any time if you need help. We love hearing from our users so please don't hesitate to write to us about issues, suggestions, or to just say hi. You can also contact the non-profit administrator directly if you would like.


How do I change or switch my team?

If you want to join a team (or create your team) after registration, login to the campaign site and you would find a link to edit "My Team" in the menu under your profile in the header.