ABOUT GIVE HOPE GLOBAL VIRTUAL RACE CAMPAIGN
This is a unique race designed to fit your schedule. It's an experience where you can interact with peers, move at your own pace and on your own time.
Set your fitness goal: Unlike a traditional race, Race for Education Virtual Tour takes place where you are and when you want. Whether you run, walk, swim, bike, roll or stroll… it all translates to steps. Your imagination is the only limit!
Wear a fit-bit? It is easy to synchronize the device with the website and start tracking. If not, don't worry…just take your smartphone with you and use the charity footprints app. Just remember to enter all your movement from the day to reach your goal.
Why Race?
After the 2010 Earthquake in Haiti, hundreds of thousands of children found themselves homeless, orphaned, and in a fight for their very lives. With over 300,000 dead, these children had no one to look to but themselves. When Give Hope's founders first stepped foot in Haiti they found underfed, unhealthy children struggling to survive. They knew change had to happen. Give Hope Global has since fought alongside the people of Haiti to rebuild what was lost, and create opportunities through education that most of these children have not had. By joining the race for education, you bring hope to those fighting for a better future at any age or grade-level.
$600 will cover the annual education expense for one primary or middle school student

$1400 will cover the cost of technology and curriculum for one year of virtual education for a high school student

$5000 will cover the annual tuition and living expense for one student to attend a university
Every step you take propels our race for education forward allowing these students to become change agents in their community.
-Register yourself, or register a team, and select your target number of miles to complete.
-Setup your devices (Fitbit, Garmin, etc.) or download our Charity Footprints Apple or Android app.
-Beginning April 22nd, 2021 engage in your aerobic activity of choice to achieve your desired number of steps
-Share your progress regularly on social media by posting pictures and short videos and spread awareness by word of mouth.
-Remember to Tag @GiveHopeGlobal so we can share your progress and use #RaceForEducation to join in our social media movement and inspire others to join the race.
It's all about the MOVEMENT
It's not just about the steps, any type of exercise gets you closer to your goal! You can use this conversion chart to enter your steps on the app and keep the race for education moving! Simply multiply the number of minutes you participated in the activity by the number indicated in the chart, and enter your converted steps in the app.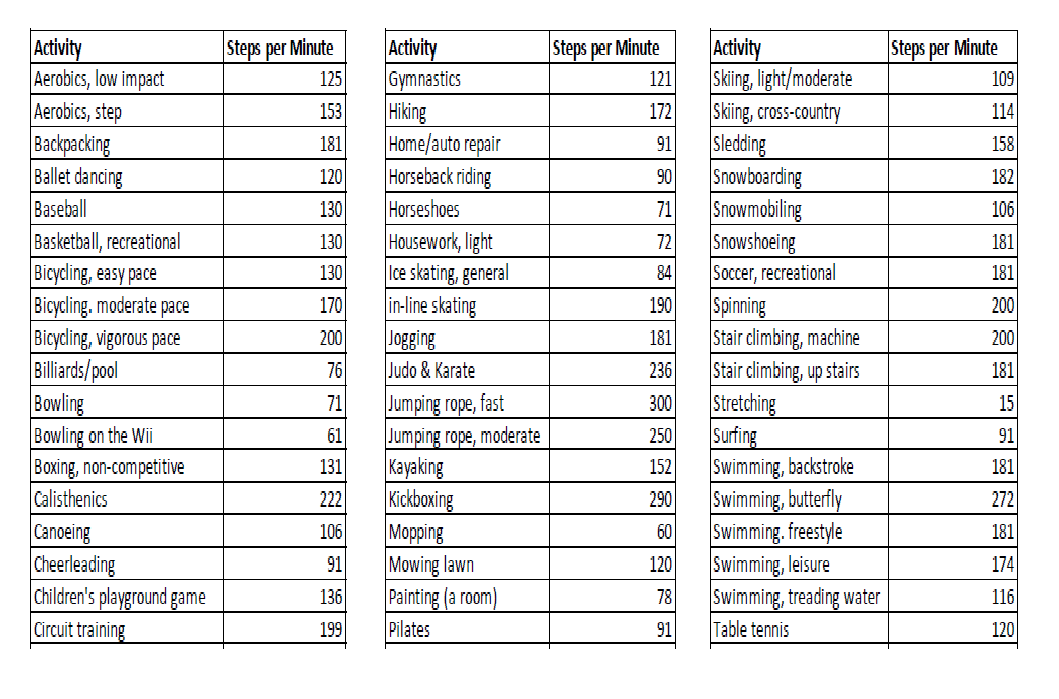 Every friend strengthens our community and every dollar makes a difference! Invite your family, friends, neighbors and colleagues to take part or sponsor you. Join the tour for $35 and shoot for personal goal to raise $300
All participants who raise $300 will receive a Give Hope Global T shirt.
Raise $750 get a Give Hope Global Pullover
Raise $1000+ get a $100 Shop hope Gift Card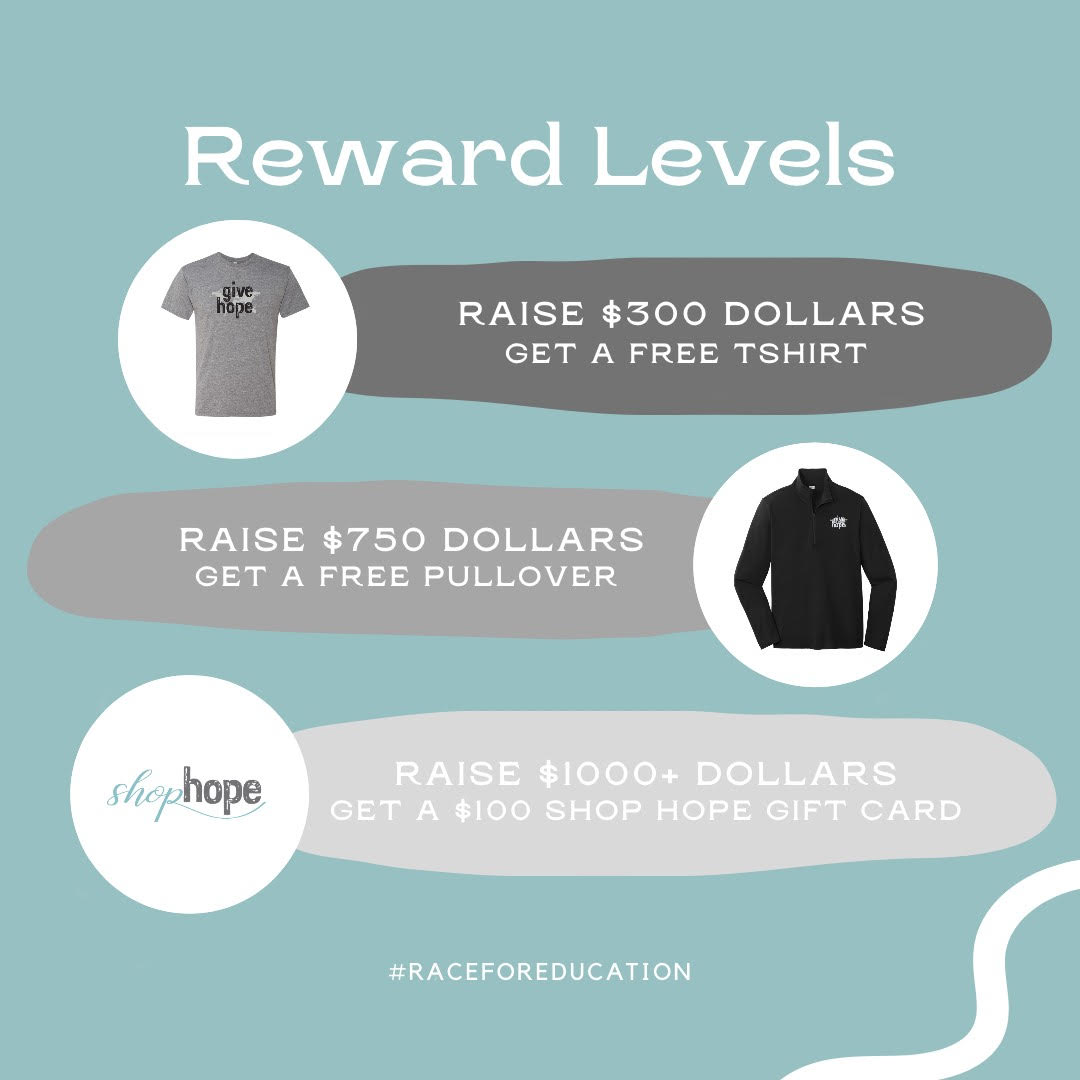 FITNESS GOAL
COMPLETED: 274,969 steps
TARGET: 8,000,000 steps
FUNDRAISING GOAL
RAISED: $ 1,020
TARGET: $ 45,000
HOW IT WORKS
Register for the campaign and set your fitness & fundraising targets.
Share your story and raise funds & awareness.
Track workouts anywhere & anytime and complete goal.
ABOUT THE ORGANIZATION
GIVE HOPE INC.

To Give Hope and bring lifelong change through the power of the Good News, good health, good education and good jobs.

To see the people we serve become able to serve others both spiritually and physically.

Read more about the organization >>
How Your Participation Helps

Your participation enables us to enhance the education needs serving children in Haiti and Ghana. Give Hope provides for the basic needs for 250 children in two student villages, Cambry and Darivarger, near the town of Les Cayes. We focus on meeting the physical needs of the children by providing food, clean water, housing, medical care and other basic necessities. We also provide quality education through primary and secondary schools for grades kindergarten through high school. We also operate a vocational training school with areas of focus that include agricultural development, cosmetology, sewing, auto repair and construction, and have recently acquired a transitional home where students who have graduated high school can receive the assistance to continue their studies at university.

Our goal is for every race participant to raise enough money to cover the educational cost of sending one student to school for an entire year.
FREQUENTLY ASKED QUESTIONS
What is Charity Footprints?

Charity Footprints is a social enterprise that connects fitness and charitable giving. We empower people just like you, to get fit & give back.

Our Virtual Races allow non-profits to challenge their patrons to run, walk or ride and raise funds just as they would in a fundraising walkathon. The best part - charities save over 45% in event and logistical costs. So, the dollars that you pay to register or fundraise, go farther.


What is the campaign registration fee?

Campaign registration fee is the amount that you'll need to pay to enroll in this virtual race. This fee (less transaction charges) will go to the non-profit running this campaign as a donation.

The registration fee along with the funds raised through your individual fundraising page will enable the non-profit to fund various programs and pursue their organization's mission.


How can I create my fundraising page?

Well, you wouldn't have to create a separate fundraising page. Once you register for this campaign, we'll give you the link to your fundraising page.


How will I track my distance?

You can track your workouts by setting up your devices (Fitbit, Garmin, Apple Watch, Google Fit, Misfit, Strava), or download the Charity Footprints' iOS or Android app and track your workouts toward this campaign.

If you workout indoors (treadmill, elliptical, stationary bike etc.), you can upload your workouts here.


How do I join a team on this campaign?

While registering for the campaign, select the team you'd like to join or create a new team and invite others to #GetFitGiveBack with you. If you want to join a team (or create your team) after registration, login to the campaign site and you would find a link to edit "My Team" in the menu under your profile in the header.


I am an international donor (non-US), what are my donation charges and tax-deductibility?

All donations are made in US dollars, so the donations may be levied an exchange rate fee via your bank. Donors will want to connect with their bank to determine exactly what that fee may be. Additionally, international donors will need to reach out to a tax professional to discuss if and how tax deductibility will apply to their donation.


Who can sponsor my fundraising efforts?

The short answer is - everyone. The fundraising research shows that the number one reason for people not donating is that they weren't asked to.

That said, there are things you can do to attract people to sponsor you. Adding a picture to your fundraising page, telling potential donors why this cause is so personal to you, sharing your fundraising page on social media, email, and chat groups.

Last, if your employer has a gift matching program, check with the human resources department to support your favorite cause as well.


Who can I contact if I need help?

You can contact us any time if you need help. We love hearing from our users so please don't hesitate to write to us about issues, suggestions, or to just say hi. You can also contact the non-profit administrator directly if you would like.


How do I change or switch my team?

If you want to join a team (or create your team) after registration, login to the campaign site and you would find a link to edit "My Team" in the menu under your profile in the header.