ABOUT BRIGHT BLESSINGS SUMMER OF CARING VIRTUAL RACE CAMPAIGN
Our annual Summer of Caring campaign is crucial to the success of our mission in the second half of the year.
While school is out, we are busy preparing for students to go back in the fall. We host dozens of volunteer sessions, wrap hundreds of gifts and books, assemble countless baby baskets and hygiene kits, prepare pre-k literacy kits for our community's newest learners and so much more. Every item in our facility used for all four of our programs is either purchased with donor dollars or is physically donated by local businesses, groups and individuals. We quite literally could not do what we do without the generosity and support of our community!
Campaign Incentive Items:
Registration: Bright Blessings PopSocket
Raise $350: Bright Blessings Water Bottle
Raise $500: Bright Blessings Umbrella
Raise $1000 or more: Bright Blessings Cooler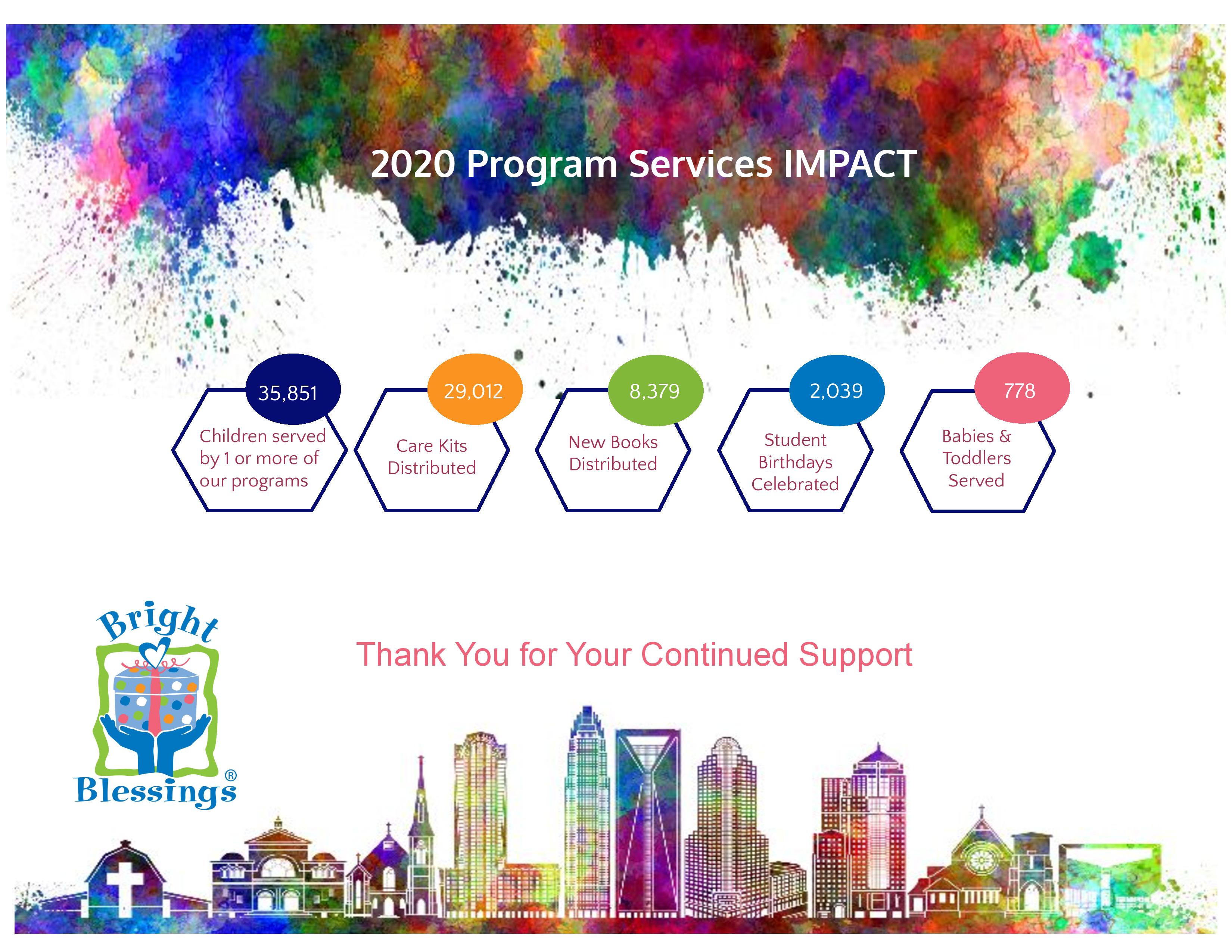 Need help converting your activity to miles? Use this handy chart!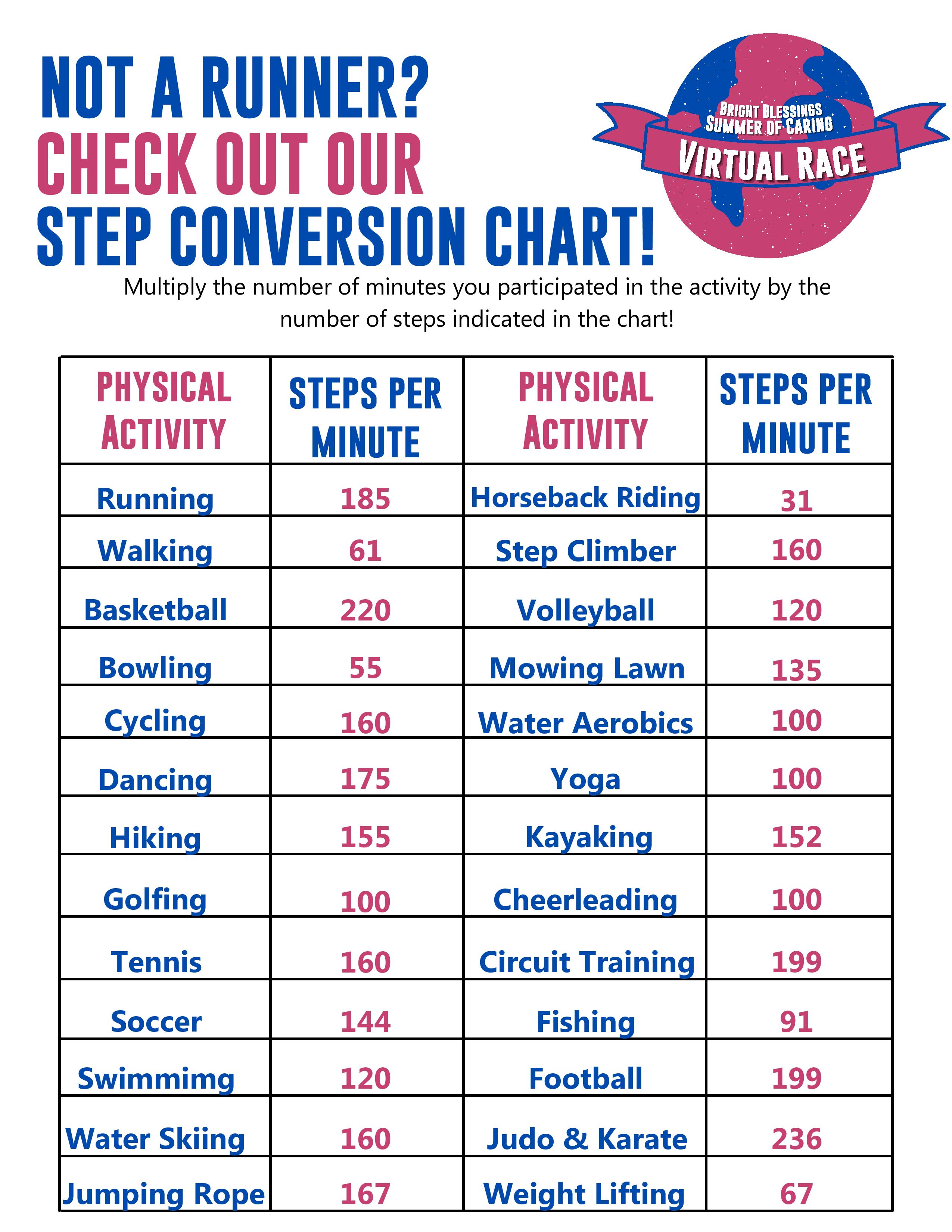 FITNESS GOAL
COMPLETED: 3,309,480 steps
TARGET: 200,000,000 steps
FUNDRAISING GOAL
RAISED: $ 1,160
TARGET: $ 50,000
HOW IT WORKS
Register for the campaign and set your fitness & fundraising targets.
Share your story and raise funds & awareness.
Track workouts anywhere & anytime and complete goal.
ABOUT THE ORGANIZATION
BRIGHT BLESSINGS

Bringing joy, care and hope to homeless and impoverished children by mobilizing community volunteers of all ages.

Read more about the organization >>
How Your Participation Helps

All funds raised from this campaign will go directly in to our four programs:

Bless-A-Birthday
At shelters and housing programs, this program offers all the traditional birthday fun, plus educational and enrichment activities. Our parties include meals, cupcakes, treat bags and lots of love and attention for the kids! Many of these children have never experienced a birthday party or received new presents, but being in the spotlight and feeling a positive sense of self are oftentimes the gifts that mean the most.
For transient homeless students, our birthday and care packages are delivered anonymously to local schools. Elementary age students receive birthday treats to share with classmates, giving them a chance to feel confident and a sense of normalcy among peers. Middle and high school students receive a birthday bag with supplies and special sweets to take 'home' and celebrate with family. All students served also receive new presents, books and academic supplies, healthy snacks, as well as a care & comfort set.


Bless-A-Baby
Every baby deserves a positive start to life. Our Bless-A-Baby program brings help and hope to homeless and impoverished babies by providing for their emergent health and well-being. Every Blessing Bag that we prepare and deliver is tailored to the needs of each individual child and provides all of the new basics that baby needs. Soft blankets, fresh clothing, diapers and wipes, critical healthcare items, feeding supplies, educational materials and more—these gifts of love and support fill each and every bag.
Whether beginning life in shelters or domestic violence programs, at temporary maternity centers or in supportive housing communities, this program provides a healthy and positive start for the tiniest victims of poverty. For new mothers, worry and stress turn into joyful blessings and promote positive bonding between mother and child.

Gift of Literacy
For disadvantaged children, the path to academic success is often hindered by roadblocks along the way. With little or no resources for school supplies and learning tools, many of these otherwise capable students lag behind their peers academically. When a family struggles to maintain housing and utilities, everyday basics like books and snacks easily fall to the wayside. Additionally, for transient children with high mobility rates, keeping up with homework and projects becomes even more of a challenge.

Our Gift of Literacy program goes beyond the books to help fill gaps where poverty undermines promise. By providing the kids we serve with new books, snacks for school days, and hygiene sets for personal care, Bright Blessings is committed to helping disadvantaged kids overcome their circumstances and rise to their academic potential.
All children served through our birthday program receive a set of new, age-appropriate books as part of their gift package. Additionally, throughout the year, we provide books to every child staying at the shelters, housing programs and domestic violence facilities that we serve. Pre-K Literacy Kits, board books, and first readers are essential components in reaching even the youngest children through our Pre-K and baby programs. Each Blessing Basket that we prepare includes new books for the child—tools to promote early literacy and an opportunity to encourage positive parent-child bonding.

Gift of Care
Bright Blessings works to help ease the effects of poverty for the children we serve by supporting them with healthy snacks, hygiene kits, and comfort items like blankets and stuffed animals.
Every winter, we provide hundreds of warm fleece blankets to children in overcrowded shelters. Kids served through our birthday program receive bath and personal care sets in their gift packages, and little ones served through our baby program receive healthcare kits, food and feeding supplies in their Blessing Baskets.
Healthy snack packs are distributed throughout the year to every child we serve, and all transient children also receive soft blankets and pillows to serve as portable bedding when they move from place to place.
Transient elementary children receive new stuffed animals for a sense of security on nights when they sleep in unfamiliar places, and thousands of hygiene items including shampoo, soap, washcloths, and oral care supplies are distributed to help improve basic hygiene and decrease the risk of illness.
FREQUENTLY ASKED QUESTIONS
What is Charity Footprints?

Charity Footprints is a social enterprise that connects fitness and charitable giving. We empower people just like you, to get fit & give back.

Our Virtual Races allow non-profits to challenge their patrons to run, walk or ride and raise funds just as they would in a fundraising walkathon. The best part - charities save over 45% in event and logistical costs. So, the dollars that you pay to register or fundraise, go farther.


What is the campaign registration fee?

Campaign registration fee is the amount that you'll need to pay to enroll in this virtual race. This fee (less transaction charges) will go to the non-profit running this campaign as a donation.

The registration fee along with the funds raised through your individual fundraising page will enable the non-profit to fund various programs and pursue their organization's mission.


How can I create my fundraising page?

Well, you wouldn't have to create a separate fundraising page. Once you register for this campaign, we'll give you the link to your fundraising page.


How will I track my distance?

You can track your workouts by setting up your devices (Fitbit, Garmin, Apple Watch, Google Fit, Misfit, Strava), or download the Charity Footprints' iOS or Android app and track your workouts toward this campaign.

If you workout indoors (treadmill, elliptical, stationary bike etc.), you can upload your workouts here.


How do I join a team on this campaign?

While registering for the campaign, select the team you'd like to join or create a new team and invite others to #GetFitGiveBack with you. If you want to join a team (or create your team) after registration, login to the campaign site and you would find a link to edit "My Team" in the menu under your profile in the header.


I am an international donor (non-US), what are my donation charges and tax-deductibility?

All donations are made in US dollars, so the donations may be levied an exchange rate fee via your bank. Donors will want to connect with their bank to determine exactly what that fee may be. Additionally, international donors will need to reach out to a tax professional to discuss if and how tax deductibility will apply to their donation.


Who can sponsor my fundraising efforts?

The short answer is - everyone. The fundraising research shows that the number one reason for people not donating is that they weren't asked to.

That said, there are things you can do to attract people to sponsor you. Adding a picture to your fundraising page, telling potential donors why this cause is so personal to you, sharing your fundraising page on social media, email, and chat groups.

Last, if your employer has a gift matching program, check with the human resources department to support your favorite cause as well.


Who can I contact if I need help?

You can contact us any time if you need help. We love hearing from our users so please don't hesitate to write to us about issues, suggestions, or to just say hi. You can also contact the non-profit administrator directly if you would like.


How do I change or switch my team?

If you want to join a team (or create your team) after registration, login to the campaign site and you would find a link to edit "My Team" in the menu under your profile in the header.