ABOUT HOUSINGPLUS SPRING FITNESS CHALLENGE CAMPAIGN
Get fit AND help fellow New Yorkers!
HousingPlus, a NYC-based supportive housing nonprofit, will hold its 3rd Fitness Challenge event from Monday, March 27 through Friday, March 31, 2023. A virtual event, fitness activities are converted into "steps" with teams engaging in a friendly competition for a team goal of 500,000 steps in support of women and families.
Participants help us provide NYC women and children with housing PLUS so much more by walking, biking, swimming…you name it! Every step you take, mile you cycle, or length you swim provides more opportunities for them to learn, grow, and thrive.
Please support us as we work(out) toward a better future!
Dates: March 27-31 2023
Goal: 500,000 steps by running, walking, or any other activity.
Registration:
Individuals: $50 per person
Corporate Teams:
Trailblazer Sponsorship: $10,000
Empowerment Sponsorship: $5,000
Foundation Sponsorship: $2,500
Groundbreaker Sponsorship: $1,000
Get in on the challenge!
Sponsor or join a team

Help us reach our goal of 500,000 steps!
Set up your device (Fitbit, Garmin, etc.) or download the Charity Footprints Apple or Android app. No fitness tracking device? No problem. You can easily enter all your activity manually on your personal leaderboard page.

March 27-31, engage in your fitness activity of choice

Share your progress regularly on Social Media, and tag @housingplusnyc
Practicing Yoga? Playing Pickleball? Or perhaps you went dancing? Convert all your fun activities into steps - learn how to here.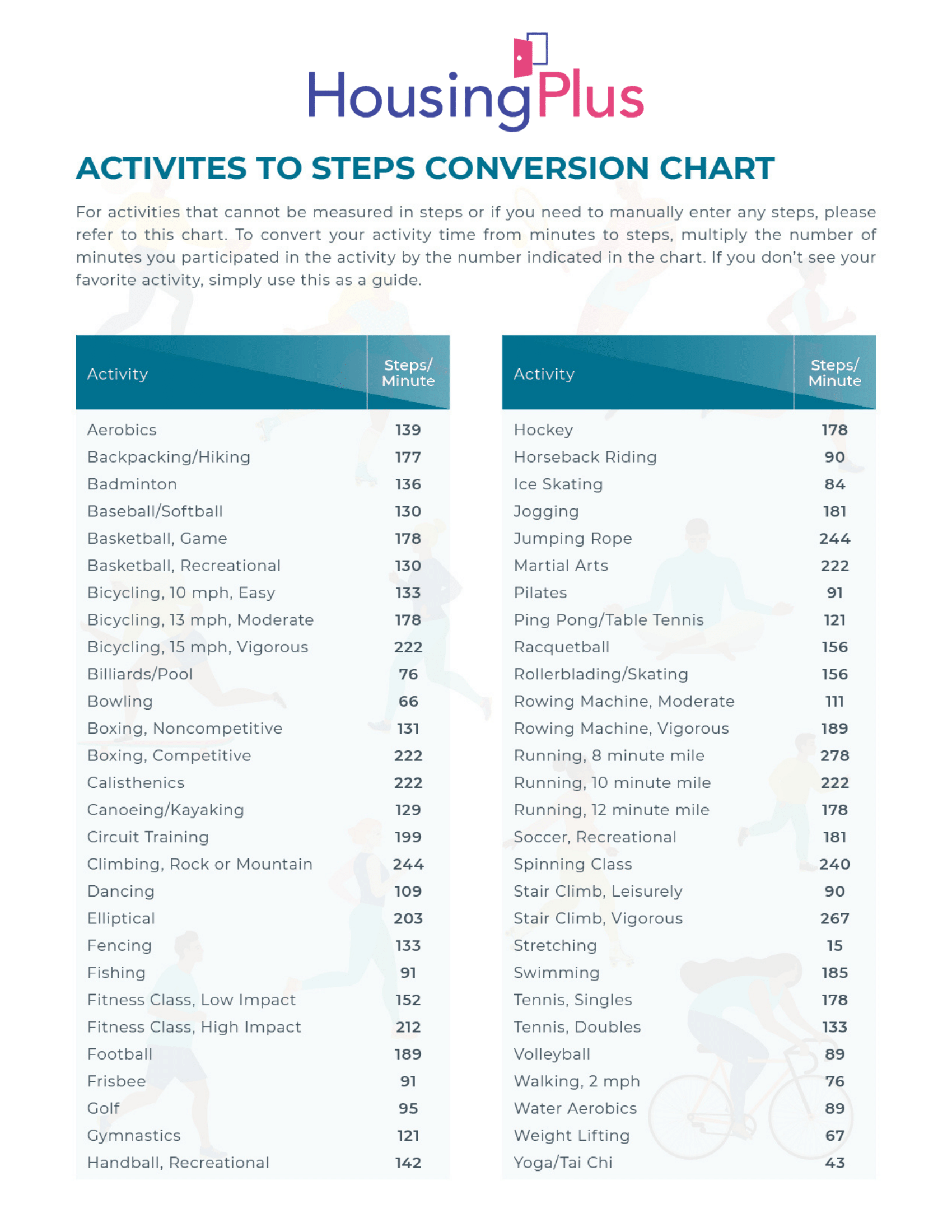 Why join?
Founded in 2002, HousingPlus has helped hundreds of NYC women who have experienced homelessness, and their children, attain and maintain affordable housing. We do this through a "housing first" philosophy, women, transgender and gender non-conforming persons are accepted into our housing without preconditions such as sobriety. Once stably housed, our residents are supported by a suite of wraparound services, including case management, career advancement and mental health services. For our residents, "thriving not surviving" begins with the stabilizing security of a permanent home, but it's only the first step.
Over the past two decades, HousingPlus has unequivocally demonstrated that offering supportive services alongside stable housing radically transforms lives. We lay the groundwork for stability, growth, and success for generations to come.
Our Success:
Shadequa has been a HousingPlus tenant since 2015, and is one of two tenants who joined our Board of Directors in 2022. A member of the US Marine Corps, Shadequa was honorably discharged in 2014, and she describes her time in the military as bittersweet. There was camaraderie, but there was also racism. Returning home, she struggled with homelessnessand lived in a shelter until she heard about our permanent housing for female veterans. Stable, affordable housing made it easier to stay in school, and in May of 2021, she earnedher Master's in Social Work from Fordham University. She tells us, "I hope to use my lifeexperiences and talents to make the world a better place."
FITNESS GOAL
COMPLETED: 3,121,509 steps
TARGET: 500,000 steps
FUNDRAISING GOAL
RAISED: $ 51,649
TARGET: $ 50,000
You must go on adventures to find out where you truly belong. ~ Sue Fitzmaurice
Come join us and leave your footprints around the house!
HOW IT WORKS
Register for the campaign and set your fitness & fundraising targets.
Share your story and raise funds & awareness.
Track workouts anywhere & anytime and complete goal.
ABOUT THE ORGANIZATION
HOUSINGPLUS SOLUTIONS

HousingPlus provides community-based housing and comprehensive services to New York City women in crisis, to support them in overcoming poverty, homelessness, and the effects of incarceration, and help them build stable lives.

Read more about the organization >>
HOW YOUR PARTICIPATION HELPS

Your support will allow HousingPlus to continue our commitment to opening doors for women to build a better future for themselves and their families. Brianna and her mother moved into a supportive permanent home at HousingPlus when she was just a year old. Before HP, they had lived in several homes in Brianna's short life. Now, she is pursuing her dreams thanks to a college scholarship and the support she and her mother receive at HousingPlus. Safe, stable, supportive housing gave them more than a home, it gave them opportunities.
FREQUENTLY ASKED QUESTIONS
What is Charity Footprints?

Charity Footprints is a social enterprise that connects fitness and charitable giving. We empower people just like you, to get fit & give back.

Our Virtual Races allow non-profits to challenge their patrons to run, walk or ride and raise funds just as they would in a fundraising walkathon. The best part - charities save over 45% in event and logistical costs. So, the dollars that you pay to register or fundraise, go farther.


What is the campaign registration fee?

Campaign registration fee is the amount that you'll need to pay to enroll in this virtual race. This fee (less transaction charges) will go to the non-profit running this campaign as a donation.

The registration fee along with the funds raised through your individual fundraising page will enable the non-profit to fund various programs and pursue their organization's mission.


How can I create my fundraising page?

Well, you wouldn't have to create a separate fundraising page. Once you register for this campaign, we'll give you the link to your fundraising page.


How will I track my distance?

You can track your workouts by setting up your devices (Fitbit, Garmin, Apple Watch, Google Fit, Misfit, Strava), or download the Charity Footprints' iOS or Android app and track your workouts toward this campaign. ?>

If you workout indoors (treadmill, elliptical, stationary bike etc.), you can upload your workouts here.


How do I join a team on this campaign?

While registering for the campaign, select the team you'd like to join or create a new team and invite others to #GetFitGiveBack with you. If you want to join a team (or create your team) after registration, login to the campaign site and you would find a link to edit "My Team" in the menu under your profile in the header.


I am an international donor (non-US), what are my donation charges and tax-deductibility?

All donations are made in US dollars, so the donations may be levied an exchange rate fee via your bank. Donors will want to connect with their bank to determine exactly what that fee may be. Additionally, international donors will need to reach out to a tax professional to discuss if and how tax deductibility will apply to their donation.


Who can sponsor my fundraising efforts?

The short answer is - everyone. The fundraising research shows that the number one reason for people not donating is that they weren't asked to.

That said, there are things you can do to attract people to sponsor you. Adding a picture to your fundraising page, telling potential donors why this cause is so personal to you, sharing your fundraising page on social media, email, and chat groups.

Last, if your employer has a gift matching program, check with the human resources department to support your favorite cause as well.


Who can I contact if I need help?

You can contact us any time if you need help. We love hearing from our users so please don't hesitate to write to us about issues, suggestions, or to just say hi. You can also contact the non-profit administrator directly if you would like.


How do I change or switch my team?

If you want to join a team (or create your team) after registration, login to the campaign site and you would find a link to edit "My Team" in the menu under your profile in the header.