CHOOSE A SPONSORSHIP PACKAGE
------ x ------
Honoree Sponsor $15,000
Livingston Event — 2 Available
10 event registrations
Same inclusions as Leader in the Journey
Exclusive speaking introduction of special guest Honoree at Livingston, NJ event
Company logo & link on JFTL & MSHEF websites
Logo on front of MSHEF's TCS NYC Marathon runner shirts*
Listing on MSHEF's NYC Marathon webpage
YOUR IMPACT -
Provides Holocaust education materials/programming for 2 average sized school districts (10-20 schools)
OR
Underwrites New Grant Program for MSHE Foundation
Bib Sponsor $10,000
"I Walk In Honor Of" — 3 Available
10 event registrations
Same inclusions as Leader in the Journey
Logo placement on "I Walk In Honor Of" bibs provided to all participants
Company logo & link on JFTL & MSHEF websites
Logo on back of MSHEF's TCS NYC Marathon runner shirts*
Listing on MSHEF's NYC Marathon webpage
YOUR IMPACT -
Provides Holocaust education materials/programming for 2 average sized school districts (10-20 schools)
OR
Underwrites New Grant Program for MSHE Foundation
Raffle Sponsor $7,500
4 Available
7 event registrations
Same inclusions as Leader in the Journey
Exclusive Company / Name recognition for one raffle week as "Presented by"
Ability to include a collateral piece with raffle prize shipment
YOUR IMPACT -
Provides Holocaust education materials/programming for 1 average sized school district (5-10 schools), helps subsidize transportation costs for Holocaust-related field trips, and Holocaust-related books for 5+ classrooms
Leader in the Journey $5,000
Unlimited Available (7 in 2022 + 1 in-kind)
5 event registrations
Same inclusions as Partner in the Journey
Inclusion in social media posting
Logo on bag provided to all participants
YOUR IMPACT -
Provides Holocaust education materials/programming for 1 average sized school district (5-10 schools)
Partner in the Journey $2,500
Unlimited Available (6 in 2022)
3 event registrations
Same inclusions as Ambassador of the Journey
Inclusion in JFTL Press Releases
Company / Name on JFTL website
YOUR IMPACT -
Provides Holocaust-related books/materials/programming for 5+ classrooms
Ambassador of the Journey $1,000
Unlimited Available (10 in 2022)
2 event registrations
Same inclusions as Friend of the Journey
Company listing in JFTL e-blasts
Post-event email coverage
YOUR IMPACT -
Provides Holocaust education materials for 1 average sized school
OR
Subsidized transportation for a Holocaust related field trip
Friend of the Journey $500
Unlimited Available (10 in 2022)
1 event registration
Company / Name on Facebook event page
Company / Name on Giveaway insert shipped to participants
YOUR IMPACT -
Subsidizes cost of a Holocaust-related museum/trip
OR
Two classroom sets of books
ABOUT JOURNEY FOR THE LIVING CAMPAIGN
------ x ------

Walk, run, ride at least 15 miles in one month and raise money and awareness for Holocaust education.

 

The money raised goes directly to support Holocaust Education Grants that impact students. The impact we have made in just three years has far exceeded our initial goals – 304 grants, across 30 states, reaching over 73,000 students! But our ultimate goal is Holocaust education in all 50 states, and we need your help to achieve it!
TAKE THE JOURNEY TO SUPPORT HOLOCAUST EDUCATION!
Mark Schonwetter along with his mother and younger sister walked 15 miles to escape their hometown in Poland to go to a ghetto where they thought they would be safer. We invite you to take the journey and walk (run or ride) in Mark's footsteps. Raise money for Holocaust education while bringing awareness to this important topic. Support the Mark Schonwetter Holocaust Education Foundation (MSHEF) and help provide grants to schools enabling them to teach the lessons learned from the past and how they relate to today.
Register and create a team to support your walk. Walk alone or create a community. Recruit family members, friends, co-workers, neighbors, etc. to participate and bring fitness to all while raising money and supporting a great cause at the same time!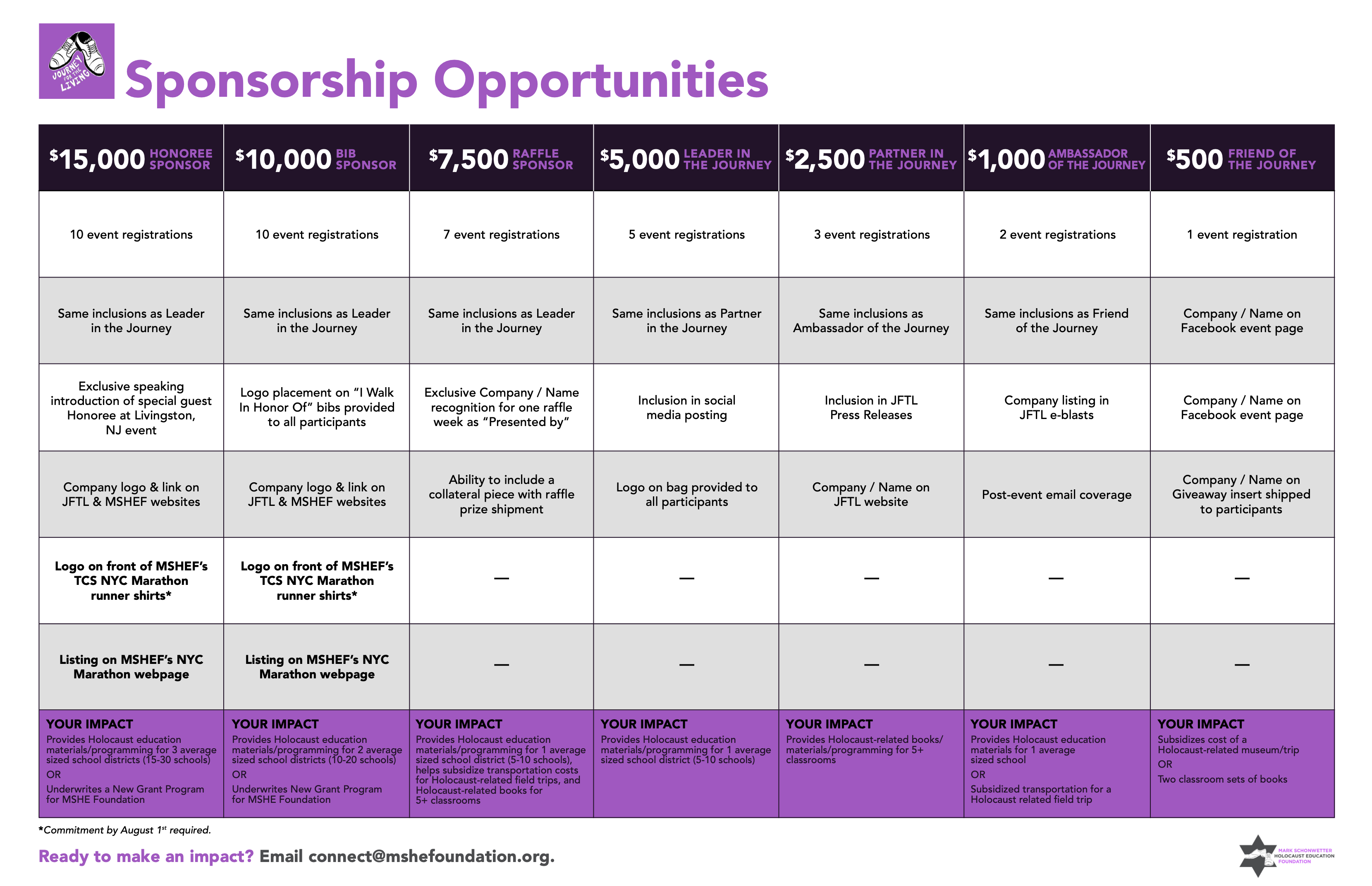 CONTACT ADMINISTRATORS
------ x ------
If you have any questions about the sponsorship opportunity, please send us a quick email. Please include the details about the campaign, non-profit you're interested in sponsoring, your contact information (including phone number) so that we can reach you directly.