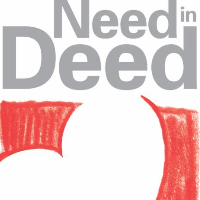 Need In Deed's Fundraiser

My
Appeal
From August 24 through October 4, 2020, you can support Need in Deed's Education Equity Campaign by running or walking or by making a donation.



Founded in 1987, Need in Deed increases equity in public education by improving the educational outcomes and experience of students in grades 3-8 in public schools across Philadelphia. The funds raised through this campaign will help Need in Deed support students and their teachers in the challenging school year ahead. Your gift is an investment in a student's future.



Our goal for the campaign is to engage 150 runners/walkers and raise $20,000.
My
Progress
Need is walking 3 miles and raising funds for Need in Deed. Please show your support and donate generously.
My
Cause
The Mission: The purpose of Need in Deed is to transform the educational experience for students, teachers, and communities by embedding empathy, informed investigation, and civic action within public school classrooms.
About the Organization: Need in Deed has a vision for equitable public education where students' concerns, ideas, and lived experiences drive them to be advocates for change. Our unique learning model deepens student engagement, enhances effective teaching strategies, and develops authentic community relationships.

Using Need in Deed's signature "My VOICE" framework, students in grades 3-8 identify a social issue, engage in research to learn about root causes, and develop action steps in response. Throughout the year-long process, Need in Deed provides teachers with a network of practice and support. Local professionals and practitioners also bring their expertise and wisdom into classrooms, connecting school curriculum with community issues. By engaging students' curiosity and leadership, our model develops students' academic, social, and emotional skills and prepares youth for lifelong success.
Recent
Donations
$75
Thank you so much for all your support!
$50
Need in Deed continues to be a much needed support for teachers as they support students. Keep up the amazing work!
$40
In my work with teacher candidates you are always a model for what good education can look like. Keep fighting the good fights!
$100
Keep up the Good Work!
$100
Thank you for the incredible work Need in Deed and its staff do to support teachers and students on the path of social justice and service-learning.