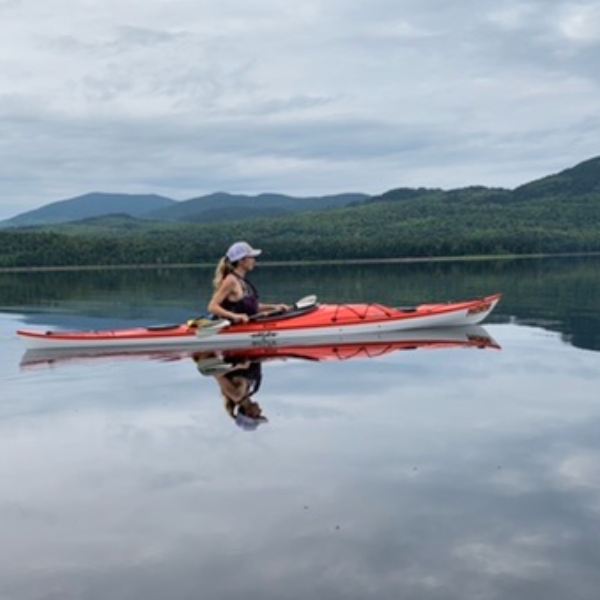 Lauren Boyd's Fundraiser

My
Appeal
I'm going to try to paddle 100 miles of the Captain John Smith Chesapeake National Historic Water Trail!



As of 10/3 I've done 102.84 miles!!! And 51.5 miles of that was in the last week, during the race period! Thank you to everyone who has donated - I'm so incredibly grateful and so excited I met my mileage and my fund raising goal!



John Smith in collaboration with Native American partners, mapped the entire Chesapeake Watershed producing the first map of the region in 1612. He did this with incredible accuracy despite limited tools and a relatively simple 16 ft single masted boat Keeping extensive notes about the rich ecosystems he encountered along every stretch of shoreline. These notes serve as a stark comparison when we look at the health of the Bay and it's rivers today. In an effort to raise awareness of not only the historical significance of the Chesapeake, but also to educate and facilitate access for the community to learn more about the health and importance of our waterways and human impacts on them AND the critical role Native American populations played in this watershed, the National Park Service designated the waters explored by John Smith as America's first National Water Trail.



I'd like to paddle as much of these waterways as possible in my 14 ft kayak to raise money for Team River Runner, which works with disabled Veterans and their families nationwide to provide education and opportunities to paddle. The TRR folks are badasses and have been incredibly inspiring to me whenever I've volunteered with them.
My
Progress
Lauren is exercising 100 miles and raising funds for Team River Runner Inc.. Please show your support and donate generously.
73.3
MILES done
100 miles
My
Cause
The Mission: Team River Runner's mission is to provide all veterans and their families an opportunity to find health, healing, community purpose, and new challenges through adventure and adaptive paddle sports in communities across the nation. Team River Runner began at Walter Reed National Military Medical Center in 2004 and since then has placed 10,000+ veterans into kayaks in more than 65 chapters nationwide.
About the Organization: Started in 2004 by a group of kayakers in the DC/Metro area, TRR was created as a necessary safe place for veterans to connect with each other and with nature. At Team River Runner, we believe that every wounded and disabled service veteran deserves the opportunity to embrace new challenges and opportunities. We believe that the daily life routines should be supplemented with activities that spark competitiveness, invoke leadership, and promote camaraderie. At Team River Runner, we provide an outlet to fulfill these beliefs – inviting wounded and disabled war veterans and their families to participate in adaptive and therapeutic kayaking programs. And in the process-become paddling athletes.

Team River Runner was originally founded in 2004 at the Walter Reed Medical Center. In the last 16 years, we've grown exponentially. We now offer weekly paddling sessions in 65 locations nationally, as well as biathlons in Washington, D.C. and Colorado., annual Kayak Football Tournament at Walter Reed, Canton, Ohio, and several other locations nationwide-as well as a host of other activities and events. As we've evolved, we've placed an increasing emphasis on the development of leadership skills for our participants. We now have leadership clinics in numerous locations, including Colorado, Montana, Florida, Idaho and other locations selected each year. These programs teach veterans the necessary fundamentals and skills to take home to become leaders in their respective TRR chapters.

Team River Runner is more than an adaptive sports program. It's an idea that healing doesn't have to be done alone. It's a place that provides hope and strength to the brave veterans who have risked so much, yet asked for so little. It's an opportunity to enjoy nature and realize its social, physical, and emotional benefits, whether it's careening through whitewater rapids or floating on peaceful flat-water. It's an environment that facilitates connection, allowing veterans to reunite with their families and forge new relationships with those who have endured similar service for our nation. More than anything, Team River Runner is a program that provides purpose for those who need it most – the wounded and disabled veterans of the United States of America.
Recent
Donations
$50
Great cause and great stories
$15
Nothing is too ruff for you Ms. Lauren
$35
Wow Lauren we're so proud of you. What a wonderful organization to support.
$50
What an amazing project! Good luck, Lauren!
$20
Good luck, Lauren! Wonderful cause!
$50
Good luck Lauren. We love you!
$20
Go Team Lauren/Photon!
$50
Family muscle put to good use! Go Lauren