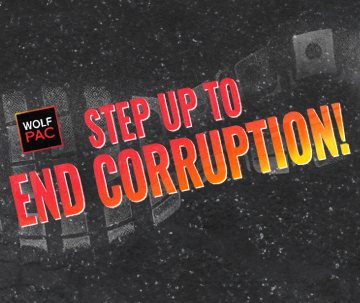 Cenk Uygur's Fundraiser

My
Appeal
Funds go directly to Wolf-PAC and the fight to end corruption. Funds will be used to expand staff and educate the public about the urgent need for a U.S. Constitutional Amendment to fix our corrupt campaign finance system and restore a truly representative government in America.

*Please note that Wolf-PAC is classified as a 501(c)(4) organization and contributions are not deductible for federal income tax purposes as charitable contributions.
My
Progress
Cenk is running 200,000 steps and raising funds for WOLF PAC. Please show your support and donate generously.
30,000.0
STEPS done
200,000 steps
My
Cause
The Mission: Our goal is a 28th Amendment to the U.S. Constitution that ends the corruption of big-monied special interests in American politics and restores a government that represents the will of the people!
About the Organization: We are Americans, from all walks of life, who have come together to fight for the future of our country. We are school teachers, small business owners, firemen, janitors, engineers, truck drivers and nurses. We are proudly nonpartisan and grassroots funded.
Recent
Donations
$50
Too Strong! You can do it!
$10
Get the money out of politics
$50
From Lisa & Rich. All the VERY best luck with those push-ups Cenk ;)
$100
Cenk you're awesome. Say high to John and Ana from me
$10
Thank you for doing what I can't I'm disabled and live in ga but we need you to lead us to victory getting money out of politics
$50
For Cenk Uygur! May he live long and prosper!
$10
You're one of my heroes!