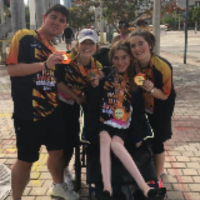 Racheli Herzfeld's Fundraiser

My
Appeal
Every year since I am 12 years old I have participated in marathons, fundraising for organizations that I love. The feeling of camaraderie when trekking through the miles is the one that is unparalleled and I will miss the most this year. With the help of Hashem, we should merit to be able to journey together again. This year I am not trying to persuade you to sponsor me so that I can get a trip in return. I know that the pandemic has put people in financial turbulence. Even more so, organizations are struggling to sustain their existence. Please help me help them.
My
Progress
Racheli is rolling 48,000 steps and raising funds for Kids of Courage Inc.. Please show your support and donate generously.
4,907.0
STEPS done
48,000 steps
My
Cause
The Mission: Kids of Courage is an innovative volunteer-based organization, dedicated to the improving the lives of children and young adults with serious medical diagnoses. Kids of Courage is committed to change the way people look at illness, and open up a world of support, hope and opportunity for every sick child and family, no matter how serious the diagnosis.
About the Organization: Imagine for a moment that you are 14 years old and in a wheelchair, or have a feeding tube, or require oxygen, or possibly all three. How difficult would it be to travel to a place like Disney World, ski down the slopes of a snowy mountain or ride a rollercoaster or jet-ski? Kids of Courage (K.O.C.) is an extraordinary, unique, non-profit organization that makes dreams come true for children and young adults who are living with serious, debilitating, painful, often life-threatening illnesses, 24 hours a day, seven days a week, 365 days a year. Volunteer driven, K.O.C.'s mission and goal, from its inception in 2008, has been to empower children and young adults — most of whom would otherwise be restricted to hospitals or their homes — to have the glorious, joyful, exhilarating, companion-filled adventures children deserve and to enable them to see and experience a world of delights that would otherwise be unattainable.
Recent
Donations
$18
Your the best Rachel! Love you!!!
$88
LOVE YOU GORGEOUS GIRLY
$36
In honor of Racheli my love!
$18
For always kicking butt with a smile
$36
Go Rach😘😘😘 love you xxx
$18
You're amazing Racheli!!! Keep being you!!!
$100
Good luck and have fun! Miss you!
$360
Keep up the amazing work! I no u got this and ur technique of raising funds hasn't changed at all😂🤣
$18
So proud of you racheli!!!
$36
Tizku limitzvos we love you❤️❤️❤️
$100
Way to be Racheli!!! So proud of you.
$100
You're a great inspiration!
$100
Stay awesome! Keep inspiring people!!
$72
Racheli, So proud of you and the great work you continuously do - blessed to be your friend. Tizku Limitzvos
$72
Love you so much Racheli!!
$180
Racheli, you're such an inspiration!
$36
To my main G mew rocking your world 💕😘
$18
Racheli you're my inspiration!!! Continue doing your thing!!!💪👊👍
$50
Good luck Racheli! Keep up the amazing work!
$100
In honor of Racheli!
$36
Your the best! Keep inspiring everyone!
$100
Go Racheli! You're such an inspiration! We love you!
$18
May you continue to be a source of nachas to all who know you!
$36
Always proud of you Racheli
$100
Go Racheli! You're a rockstar!!
$36
Go Racheli! You are awesome!
$54
Keep up the good Work!
$54
You are amazing! Love ya
$180
For the absolute best! You go racheli!!
$360
Love you rockstar !!!!!!!
$25
Racheli you are awesome!!!