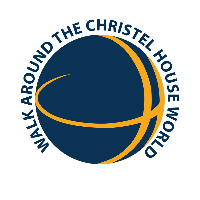 Christel House 's Fundraiser

My
Appeal
100% of all donations support programs and services for Christel House students.

$ 8 - Could provide College & Careers support to one Indianapolis graduate for a week;
$ 11 - Could provide a full day of Christel House services for one student in India;
$ 102 - Could provide transportation to and from school for two Indianapolis students for a month;
$ 374 - Could provide breakfast, lunch and a healthy snack to one Student in Mexico for a full year;
$ 587 - Could provide medical care to the entire first grade in Jamaica for a semester;
$ 1,038 - Could provide breakfast and lunch to all students at a Christel House school for a day;
$ 3,109 - Could provide a full year of Christel House programs and services for one student;

My
Progress
Christel House is walking 10 miles and raising funds for Christel House International Inc.. Please show your support and donate generously.
My
Cause
The Mission: The mission of Christel House is to transform the lives of underserved children around the world—breaking the cycle of poverty and building self-sufficient, contributing members of society. A focus on academic excellence through a robust K–12 curriculum is combined with a strong character development program to give students the skills and competencies necessary to compete successfully in complex 21st Century society. Christel House currently serves over 5,662 students through eight schools — located in India, Jamaica, Mexico, South Africa and the United States.
About the Organization: Christel House transforms the lives of children from deeply distressed communities. Children don't choose to be born into poverty. Most grow up never realizing their human potential. Instead, they face physical and psychological trauma—hunger, malnutrition, disease, low self-esteem and lack of opportunity.

Christel House is a holistic model designed to transform the lives of impoverished children. We do this by focusing on the "whole child." We don't just educate, or feed, or provide health care—we do all of these things—from early childhood through early adulthood. We develop the total child.

Christel House Works: 2020 Global Statistics

Average daily attendance rate 96% - Students K-12

Annual K-12 Student retention rate of 94%

Standardized test scores that surpass benchmark public schools by high margins

99% of students passed graduation exams

88% of College & Careers students continuing studies or gainfully employed

5,662 Total number of students served including College & Careers