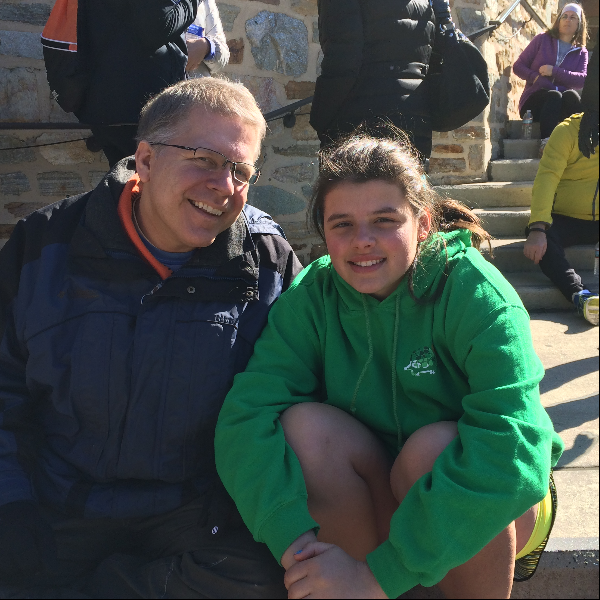 Yana Myers's Fundraiser

My
Appeal
CHAMPIONS FOR CHAD ~ In loving memory of my dad ~ Chadly-Jay Leister Myers.

HopeWell is a one-of-a-kind place that helps all whose lives have been forever changed by cancer. Families just like ours . . .

It will be three years on August 22, 2019 since my dad passed away. Every single day we think of him and miss him.

This year as our family celebrates TJ's high school graduation, it marks the first of many special life-events to come without my dad's physical presence. We know, however, that he is with us in spirit and alive in our hearts.

This year HopeWell is celebrating its 25th anniversary the same year my parents would have celebrated their 25th wedding anniversary.

So, to honor my dad's memory this year, we ask you to please join us in HopeWell's unique 25th Anniversary "virtual race to 5K" by being a part of our team CHAMPIONS FOR CHAD. Please invite all of your friends and family to be a part as well.

My dad participated and volunteered at HopeWell's annual ReachOut & Run event for many years. In April of 2016, just months before he passed away, dad still walked - never complaining - inspiring others - and remaining hopeful.

My dad was an incredible example of patience and love. He gave to others all of his life - a warm smile, an encouraging word, an incomparable hug . . . He would be proud of us all reaching out as far as we are able to give back to HopeWell.

Will you please join us?

Thank you so much for remembering my dad in this special way by supporting HopeWell.


My
Progress
Yana is walking 12,000 steps and raising funds for Hopewell Cancer Support. Please show your support and donate generously.
0.0
STEPS done
12,000 steps
My
Cause
The Mission: HopeWell Cancer Support's mission is to inspire healing, hope, and purpose for people and their loved ones who experience the life-changing impact of cancer, by providing support through caring, trust, understanding, peace, and strength in our growing, diverse community called HopeWell.
About the Organization: HopeWell is thousands of people, young and old, patients and loved ones, who share in the life-changing experience of cancer. The focus of our unique support community is the psychological, physical, and spiritual response to cancer. Facilitated by talented professionals and surrounded by people who understand and care, our members receive the psycho-social support that is vital to the healing process. Through our no-cost support groups, seminars, and exercise classes, we aim to build lasting relationships and inspire life-giving hope and life-fulfilling purpose.

For over 25 years, we have served the Greater Baltimore community, welcoming all people with cancer and their loved ones. Opening our door to more than 200,000 visits . . . offering more than 7,500 days of incomparable support, wellness, and education. And while much in the world of cancer has changed over the last quarter century, one thing remains true: cancer is not going away any time soon.

Join us to help people with cancer and their loved ones cope with the life-changing impact of a cancer diagnosis.
Recent
Donations
$50
So proud of you Yana - thank you for keeping the team going!
$100
Chad would be so proud of all your work, Yana!
$100
Yana in loving memory of your Family. God Bless you all.
$100
It's great that you are doing this. Love, Connie and Sandy
$50
I'm happy to support Hopewell and honor your Dad, Yana ❤️
$26
So happy to support this group in memory of Chad
$25
This is such a special way to honor your dad, and what a tribute to your parents that you share their generous hearts!
$100
Wonderful place to support Yana. Good for you!!
$100
Thank you for helping us remember your father and continue to be inspired by your entire family.
$100
What a wonderful way to honor a wonderful man. Our hearts go out to you all.
$20
Keep up the good work Yana.
$100
We also think of Chad often, actually, we think about all four of the wonderful Myers family members very often! M & M
$50
Thanks for being the first team!