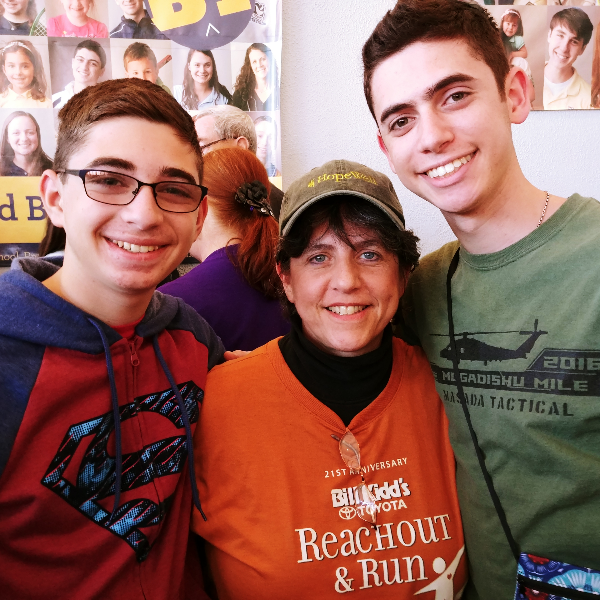 Elise Ziv's Fundraiser

My
Appeal
As most of you know, Ed died of brain cancer in 2011, when our boys were just 11 & 8 years old.

Both the boys and I have benefited greatly from Hopewell and the programs offered to families who have been touched by cancer.

The love and support that is present in the Kids Grief group for the kids and the "only parent" is incredible! This AMAZING program gives us the tools and the ability to cope with our new family dynamic. Not sure where we'd all be emotionally without Hopewell.

May 4th marks the 8th anniversary of Ed's death :(

As I mentioned earlier, Hopewell Cancer Support has played a HUGE role in our lives - providing support, programs, and information during our journey with cancer and our lives without Ed.

This year, in honor of Hopewell's 25th year, and for Brain Cancer Awareness Month (the month of May), I'm raising money and awareness for this AMAZING organization.

My goal is to help sponsor 4 people to be able to participate at Hopewell for one year.

Because ALL programs are FREE OF CHARGE to ALL participants, it takes $1,000 to provide a year of HopeWell programs and services for one person with cancer.

Please help me honor Ed's memory this month by donating to ReachOut! No donation is too small. Any amount is much appreciated and will go directly to fund participant programs.

Thank you, thank you!!

- Elise, Caleb, & Coby
My
Progress
Elise is walking 36,000 steps and raising funds for Hopewell Cancer Support. Please show your support and donate generously.
68,880.0
STEPS done
36,000 steps
My
Cause
The Mission: HopeWell Cancer Support's mission is to inspire healing, hope, and purpose for people and their loved ones who experience the life-changing impact of cancer, by providing support through caring, trust, understanding, peace, and strength in our growing, diverse community called HopeWell.
About the Organization: HopeWell is thousands of people, young and old, patients and loved ones, who share in the life-changing experience of cancer. The focus of our unique support community is the psychological, physical, and spiritual response to cancer. Facilitated by talented professionals and surrounded by people who understand and care, our members receive the psycho-social support that is vital to the healing process. Through our no-cost support groups, seminars, and exercise classes, we aim to build lasting relationships and inspire life-giving hope and life-fulfilling purpose.

For over 25 years, we have served the Greater Baltimore community, welcoming all people with cancer and their loved ones. Opening our door to more than 200,000 visits . . . offering more than 7,500 days of incomparable support, wellness, and education. And while much in the world of cancer has changed over the last quarter century, one thing remains true: cancer is not going away any time soon.

Join us to help people with cancer and their loved ones cope with the life-changing impact of a cancer diagnosis.
Recent
Donations
$25
Beautifully written Elise. HopeWell is so important to so many. ❤️
$50
In memory of Ed and in honor of Andrea's 50th bday!
$36
Our memories of Ed are that of an involved, happy and devoted Father.
$50
Best wishes to you and your family
$36
It's people like you who are working so hard to help eradicate this terrible disease!
$36
A look at how much good has come from the root of something so harsh. Thank you Hopewell for helping all of us Hope-Well. During and after that dark day of diagnosis.
$100
Elise, you will never know how much help you were to me during my brief time in the caregivers support group at Hopewell 9 years ago. You were a Godsend to me.
$118
may no one else suffer again
$118
In memory of a special husband, Father, son and friend, Eddy Ziv and in honor his extraordinary wife and sons
$36
Ed always in our hearts.
$36
In memory of Ed, Steven, and so many others whose battles ended. Love you.
$18
Elise, you are a true example of strength and courage. Ed would be so proud of you and the boys.
$100
So proud of all of you for doing this year after year. Hopewell Rocks !!!!