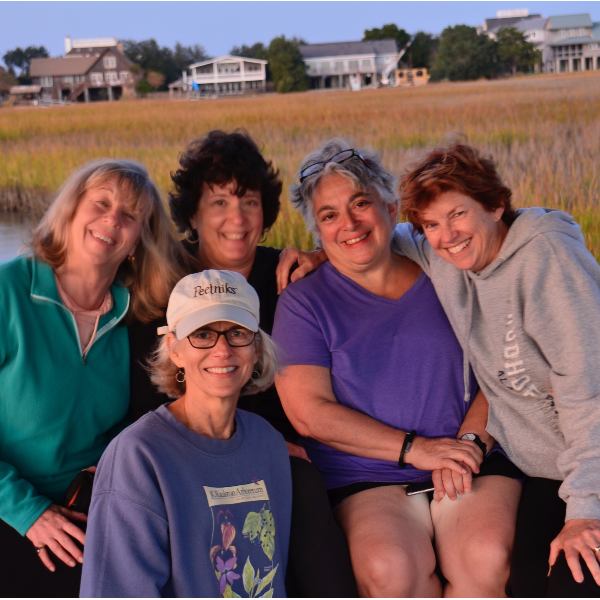 Cathy Ward's Fundraiser

My
Appeal
As many of you know, our dear friend Kathy Brocato lost her fight with cancer after 10 months of an heroic battle. As you may also know, the Blister Sisters have been meeting every week for 19 years after we became life long friends during a 60 mile fundraiser walk for breast cancer of which Kathy was part. Today, the Blister Sisters are forming a team to raise money for HopeWell in her honor. Read on for more information.

During the last few weeks of Kathy's life, we struggled mightily with her pending death and we collectively needed emotional support and we found it at HopeWell. They are located on Falls Road just south of Meadowwood and you've driven by it many times. We stumbled on this wonderful resource accidentally but we are so thankful we did. They provide amazing support for cancer patients and their caregivers - AT NO CHARGE to all those who enter. They gave us emotional support to help us deal with our friend's sad fate.

I am now asking you to help support HopeWell through your generosity as they continue their work helping those who are in such emotional need.

Th Blister Sisters will be walking and hiking over the next few weeks in Kathy's honor with a group hike that everyone can participate in. We will notify you of the date.

I hope you never need the services of HopeWell but if you do they are here for you in ways you can't imagine so please consider contributing to their success by donating. Thank you from the bottom of our hearts.
My
Progress
Cathy is walking 6,000 steps and raising funds for Hopewell Cancer Support. Please show your support and donate generously.
3,800.0
STEPS done
6,000 steps
My
Cause
The Mission: HopeWell Cancer Support's mission is to inspire healing, hope, and purpose for people and their loved ones who experience the life-changing impact of cancer, by providing support through caring, trust, understanding, peace, and strength in our growing, diverse community called HopeWell.
About the Organization: HopeWell is thousands of people, young and old, patients and loved ones, who share in the life-changing experience of cancer. The focus of our unique support community is the psychological, physical, and spiritual response to cancer. Facilitated by talented professionals and surrounded by people who understand and care, our members receive the psycho-social support that is vital to the healing process. Through our no-cost support groups, seminars, and exercise classes, we aim to build lasting relationships and inspire life-giving hope and life-fulfilling purpose.

For 25 years, we have served the Greater Baltimore community, welcoming all people with cancer and their loved ones. Opening our door to more than 200,000 visits . . . offering more than 7,500 days of incomparable support, wellness, and education. And while much in the world of cancer has changed over the last quarter century, one thing remains true: cancer is not going away any time soon.

Join us to help people with cancer and their loved ones cope with the life-changing impact of a cancer diagnosis.
Recent
Donations
$100
Cath, you inspire each of us day in and day out!
$100
Thanks Cathy for all you have done to keep the memory of our sister Kathy alive