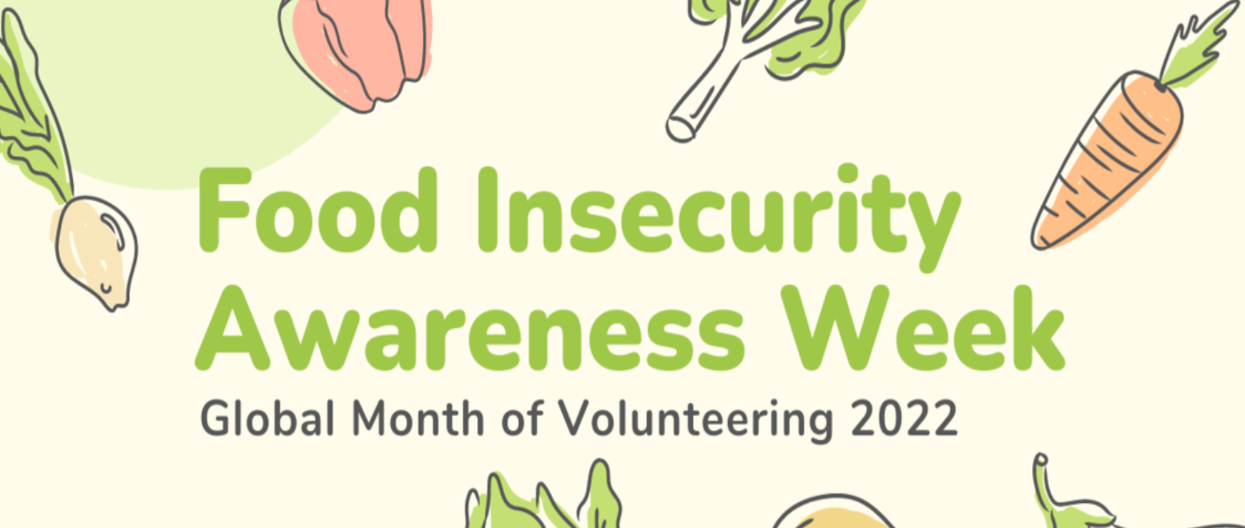 ABOUT FOOD INSECURITY AWARENESS WEEK- AMAZON GSF CAMPAIGN
Food Insecurity Awareness Week is a push to raise awareness, educate, and inspire Amazonians to give and receive deeply. As we learn more about food insecurity and its impact on our global community, we want to create an engaging way for you to marinate on the topics shared while prioritizing your wellness.

What is food insecurity? Food insecurity is defined as systemic and social barriers that prevent a household from easily obtaining food to fuel a healthy lifestyle.

Global barriers to food security include: food availability, food access, and food utilization.

Food Availability: when a community has a reliable source of food to support their community.

Food Access: having adequate resources to obtain healthy foods for a balanced diet.

Food Utilization: driven by a community's knowledge of basic nutrition and care.
PHYSICAL ACTIVITIES
You can participate in this challenge by doing pretty much anything that gets your heart rate up- walking, running, cycling or any of your favorite fitness activities! Just make sure to log it! For activities that cannot be measured in steps or miles, please refer to the PHYSICAL ACTIVITY CONVERSION CHART below.

For more information on tracking your distance or setting up tracking devices please refer to the How It Works and FAQ's sections below.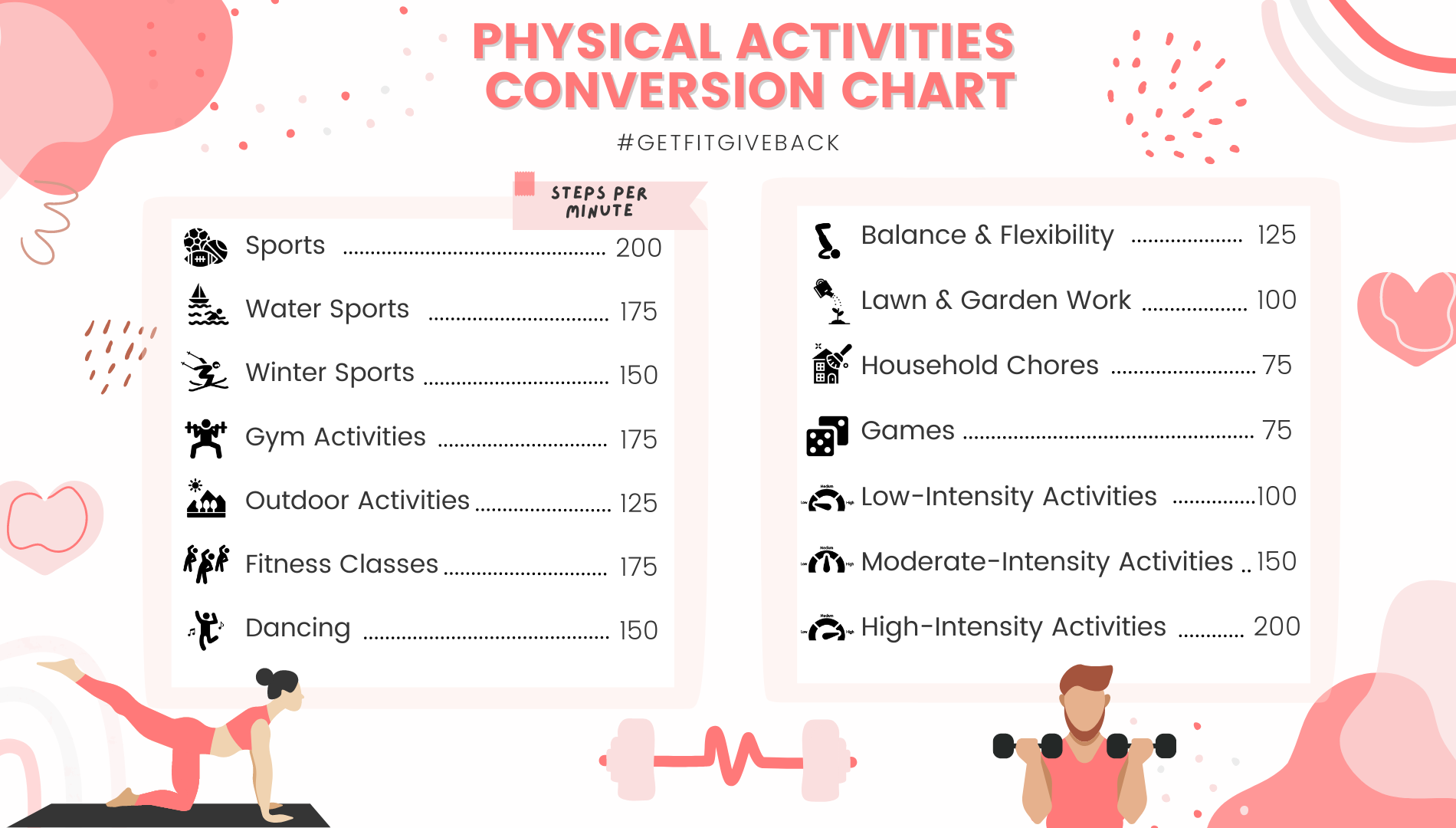 MENTAL HEALTH ACTIVITIES
This challenge will not only encourage you to engage in physical fitness activities, but also practice healthy wellness habits! Check out the MENTAL HEALTH ACTIVITY CONVERSION CHART below to learn more and use the Log Activity button at the top or in the site menu to earn points for each activity logged.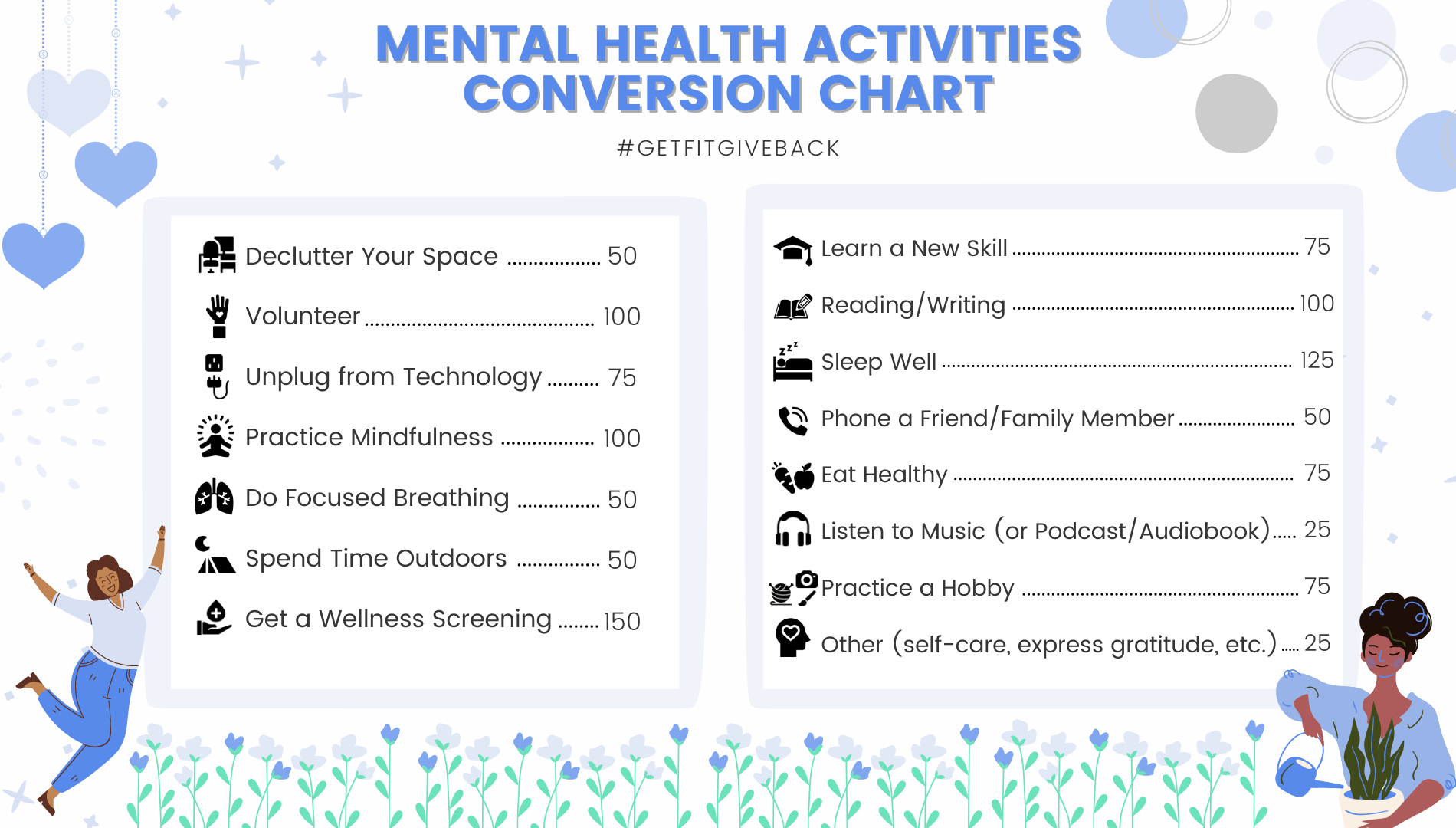 OUR COMMUNITY
ACTIVITY GOAL
COMPLETED: 50,250 points
TARGET: 75,000 points
FITNESS GOAL
COMPLETED: 6,212 miles
TARGET: 1,000 miles
You must go on adventures to find out where you truly belong. ~ Sue Fitzmaurice
Come join us and leave your footprints along the equator!
HOW IT WORKS?
Register for the campaign and set your fitness targets.
Track workouts anywhere & anytime and complete goal.
ABOUT THE ORGANIZATIONS
Feeding America

IN YOUR COMMUNITY AND ACROSS THE NATION, PEOPLE FACE HUNGER. NEIGHBORS ARE AT THE CENTER OF EVERYTHING WE DO.
How we are leading the charge to end hunger:
o Supporting the nation's largest network of food banks, food pantries, and meal programs
o Reaching 40 million people in need
o Serving every community in the United States
o Leading the way in hunger research
o Building powerful local and national partnerships

Read more about the organization >>
World Central Kitchen Incorporated

WCK is first to the frontlines, providing meals in response to humanitarian, climate, and community crises. We build resilient food systems with locally led solutions.

Read more about the organization >>
HOW YOUR PARTICIPATION HELPS

Teams who earn the most wellness points will be able to make a donation to either Feeding America or World Central Kitchen! Winning teams will also earn a banner to display at their site.

1st Place- $5000
2nd Place- $3000
3rd Place- $1000
4th Place- $1000
5th Place- $1000

This is a VOLUNTARY activity for all Amazonians! All job families and levels are welcome to participate.
FREQUENTLY ASKED QUESTIONS
What is Charity Footprints?

Charity Footprints is a social enterprise that connects fitness and charitable giving. We empower people just like you, to get fit & give back.


How will I track my distance?

You can track your workouts by setting up your devices (Fitbit, Garmin, Apple Watch, Google Fit, Misfit, Strava), or download the Charity Footprints' iOS or Android app and track your workouts toward this campaign.

If you workout indoors (treadmill, elliptical, stationary bike etc.), you can upload your workouts here.


How do I join a team on this campaign?

While registering for the campaign, select the team you'd like to join or create a new team and invite others to #GetFitGiveBack with you. If you want to join a team (or create your team) after registration, login to the campaign site and you would find a link to edit "My Team" in the menu under your profile in the header.


Who can I contact if I need help?

You can contact us any time if you need help. We love hearing from our users so please don't hesitate to write to us about issues, suggestions, or to just say hi. You can also contact the challenge administrator directly if you would like.


How do I change or switch my team?

If you want to join a team (or create your team) after registration, login to the campaign site and you would find a link to edit "My Team" in the menu under your profile in the header.