THANK YOU
FOR YOUR SUPPORT
CHOOSE A SPONSORSHIP PACKAGE
------ x ------
Sponsorship Amount
Campaign Email Branding
(to all participants & donors)
Logo/Name on Event Website
(including all donation pages)
Complimentary Walk Registrations
(for employees or staff)
Sponsorship Spots Available
Recognition in Virtual Opening Ceremony (logo) *
Recognition in Virtual Opening Ceremony (name only) *
Promotion in Zooscape E-mail Blast and Social Media Mentions *
Print Collateral Insertions in Fulfillment Mailings *
Conservation Stop Sponsorship
(recognition in email) must join by April 5th *
Fitness Badge Sponsorship
(recognition in email) must join by April 5th *
Logo on T-shirt
(reflecting sponsorship level) must join by April 1st *
PLATINUM
SPONSOR

$5,000
✓
✓
40
3
✓
✓
✓
1
1
✓
GOLD
SPONSOR

$2,500
✓
✓
15
4
✓
✓
-
-
-
✓
SILVER
SPONSOR

$1,000
✓
✓
5
10
✓
-
-
-
✓
* Managed by the Non-Profit organization running this campaign.
ABOUT WALK FOR THE WILD CAMPAIGN
------ x ------

You know the Los Angeles Zoo as an oasis in the heart of Los Angeles that is home to thousands of animals, many of them endangered. Now, here's your chance to explore parts of the Zoo that you don't know, on a virtual walk "around the world" to explore the global conservation impact of the Zoo. Along the way, you'll learn about efforts to save threatened animal species in far-flung locations, from South Africa to India to Paraguay and beyond. It's all part of a fundraising adventure benefitting the L.A. Zoo and the Greater Los Angeles Zoo Association (GLAZA), the nonprofit organization that supports the Zoo and plays a central role in making its vital, species-saving work possible.
HOW TO PARTICIPATE
"Walking for the wild" couldn't be easier! Just follow these simple steps.
STEP 1: REGISTER
and set up your account anytime between now and
May 21
. Once you register, you will have your own web page that will track your team's combined distance and funds you raise together.
Registration:
$45/participant (proceeds go toward your overall fundraising goal) includes a t-shirt.
With a $65 registration, receive a t-shirt and completion medal.
T-shirt pick-up information: Registrants can pick up their T-shirt at the Zoo on select dates and times. (See below.) Please bring a valid photo ID and proof of registration. A friend or family member may pick up another registered participant's T-shirt with a copy of their photo ID and registration confirmation email. Parents picking up T-shirts for their children under the age of 18 are not required to present an ID for the child if one is unavailable. Participants will be given the T-shirt size they selected during the registration process.
Pick-up dates:
Thursday, May 27 from 4 p.m. to 7 p.m.

Friday, May 28 from 4 p.m. to 7 p.m.

Saturday, May 29 from 9 a.m. to 12 p.m.
If you can't make it to the Zoo to pick up your T-shirt during these times, don't worry! Any T-shirts that haven't been picked up in person will be mailed to registrants after May 29, along with medals and fundraising rewards, as eligible. Please allow five to 10 business days for processing and shipping.
STEP 2: RECRUIT team members from anywhere in the world to join you. Decide together on your goals for distance and fundraising. Get the most out of your experience by forming a team with friends, family, neighbors, or coworkers and competing with other teams!
STEP 3: USE YOUR INFLUENCE AND REAP REWARDS.
Connect using emails built into your Charity Footprints account and to your social network to help raise awareness and reach your fundraising goals. Share your progress regularly by posting pictures and short videos to spread the word. Remember to tag
@LAZoo
and include
#WalkfortheWild
to be a part of the larger social media movement! The more you raise, the more funds for conservation and
#WalkfortheWild
rewards you earn. Your registration is applied to your fundraising balance.

STEP 4: SET UP YOUR DEVICE AND GET ACTIVE! Set up your fitness device using the How It Works instructions or download our Charity Footprints Apple or Android app. Consider joining or starting your own team to help motivate activity and healthy competition with other teams. Track your steps/miles during the fitness challenge kicking off on Earth Day (April 22) with a virtual Opening Ceremony and concluding on Endangered Species Day (May 21) when winners of the Top Fundraising and Longest Distance awards will be announced, along with the total amount raised.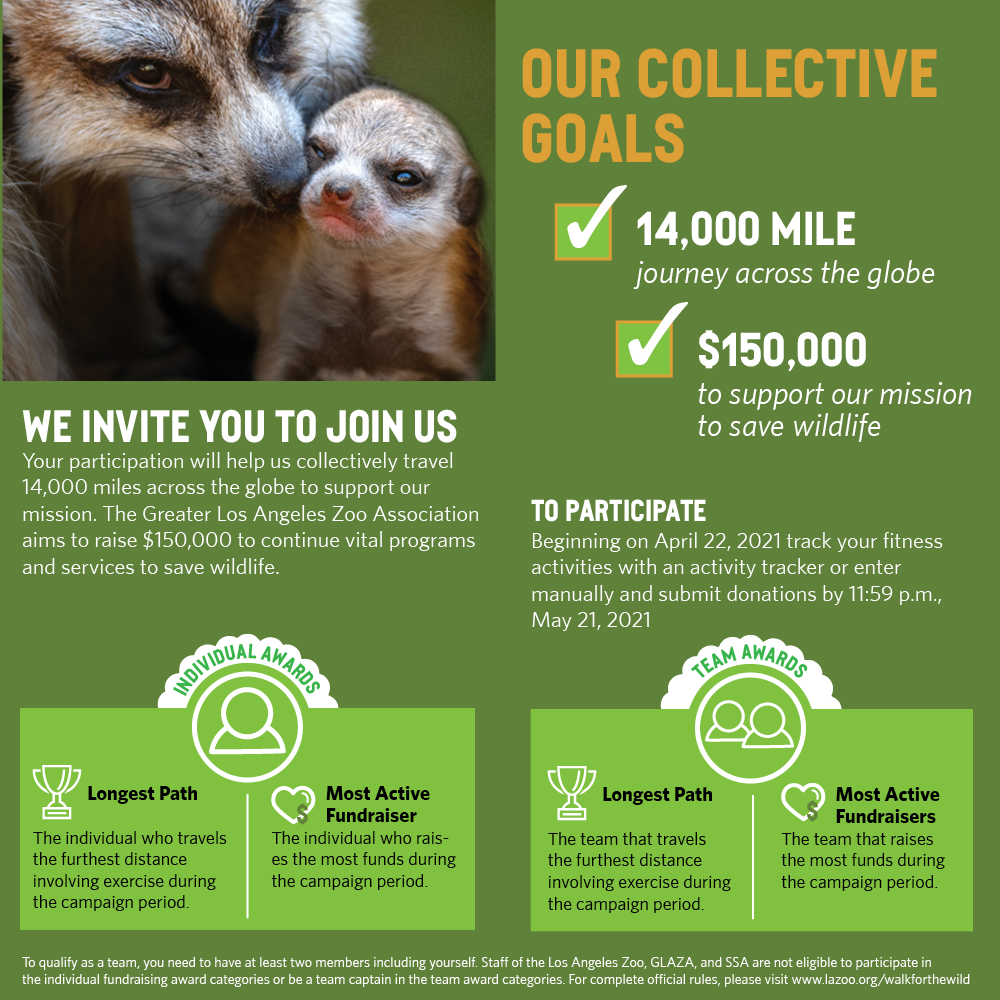 HOW THIS WALK IS DIFFERENT
Unlike a traditional walk/run/bike fundraising event, this virtual "race" uses technology and takes social distancing into account. Participants can choose when and where to walk or get active in whatever way you choose, tracking their real-world steps on an integrated virtual map to eight global destinations and unlocking special content at each stop. Don't walk, run, or bike to stay active? No problem! Maybe you golf, swim, spin, dance, row, box, or even do house or yard work. It all counts! As long as you can move, you can go the extra mile for wildlife and wild places with Walk for the Wild. Collectively, participants are challenged to walk 14,000 miles around the globe to raise awareness for work to save endangered species and funds for the Greater Los Angeles Zoo Association.
Need help converting your activities to miles? Use this handy chart.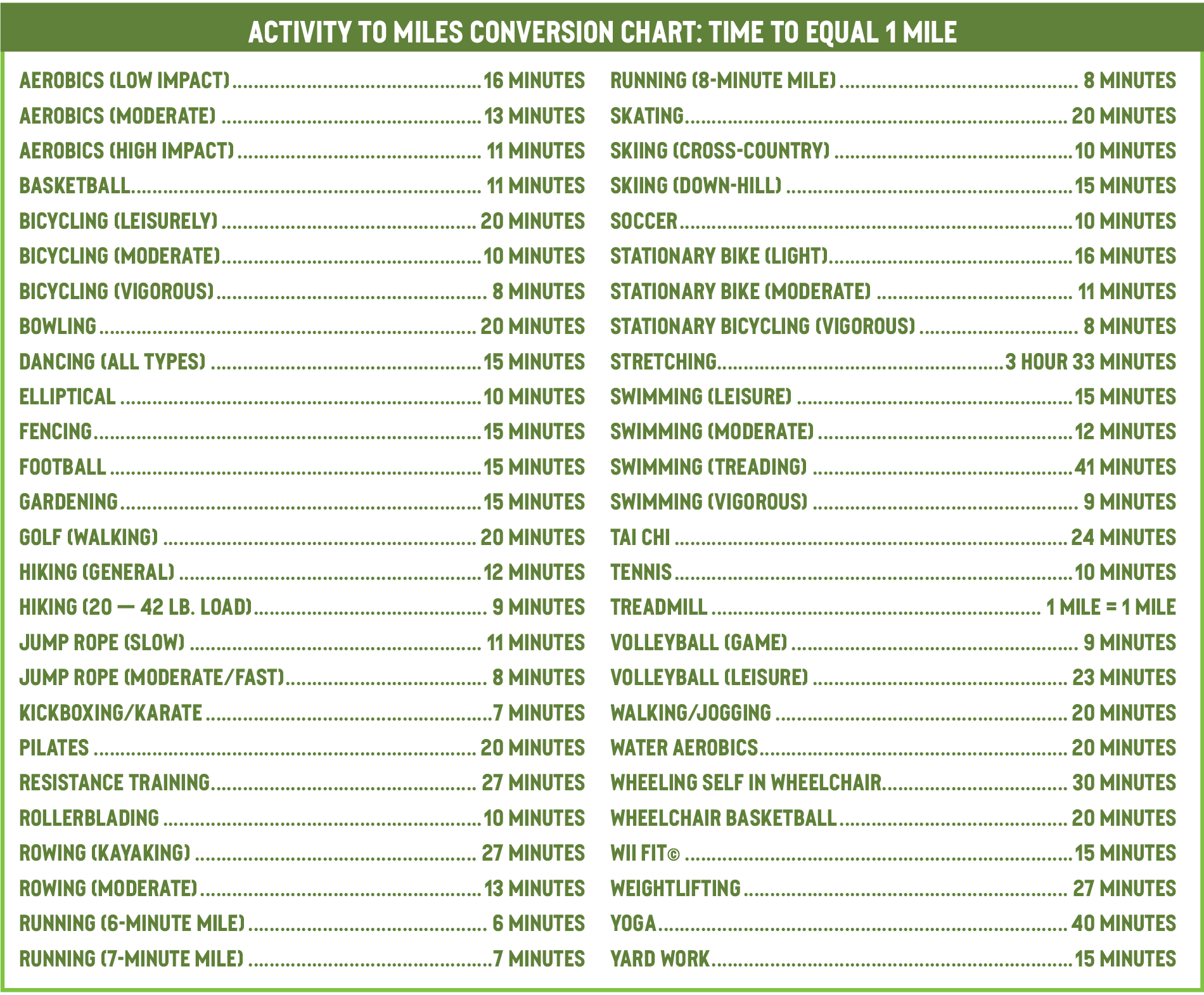 INTERESTED IN WALK FOR THE WILD SPONSORSHIP OPPORTUNITIES?
CONTACT ADMINISTRATORS
------ x ------
If you have any questions about the sponsorship opportunity, please send us a quick email. Please include the details about the campaign, non-profit you're interested in sponsoring, your contact information (including phone number) so that we can reach you directly.