ABOUT WALK-N-WAG UNLEASHED CAMPAIGN
The 8th Annual Walk-n-Wag is set to be UNLEASHED on August 1st, and run until September 17th, followed by an invite-only Finish Line Event in Salem. Join our poster dog, Memphis, and encourage all your pet- and people-loving friends to step out for hospice. You can walk, run, paddle, or earn "footsteps" through positive actions that support the well-being of people and animals in your neighborhood.
Set a personal goal, and track your steps using your own fitness device or the Charity Footprints App. Set up a personal fundraising page to invite friends and family to give. Add to the fun by forming a team and challenging others to some friendly competition. Watch our progress and see your ranking on the live virtual map, and share your experiences with others through uploading photos to the online Scrapbook. Win rewards and prizes* throughout the virtual race through lively contests.
Registration opens August 1st
Tracking August 9th-September 17th (40 days)
Goal of 20 million steps and $20,000
Registration is $10 with the option to order a t-shirt or sweatshirt at additional cost, until the August 25th deadline. Declare your personal goal to achieve between August 9th - September 17th.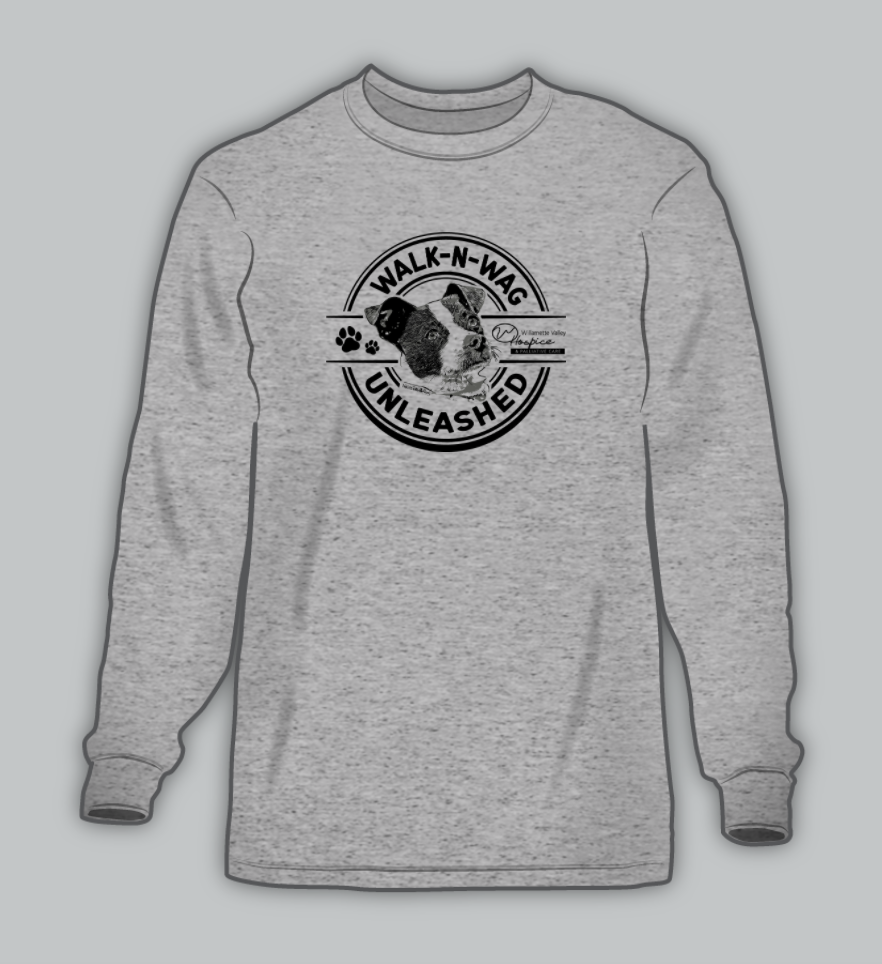 See chart at the bottom of the page for counting step values beyond walking and running. We encourage you to use this race to help pets and people in your community along with being active for your own health.
• Average Daily Steps Goal (2,000 is CDC recommended minimum;
10,000 is AHA recommendation)
• 10K=12,400 steps
• ½ marathon=26,000 steps=13 miles
• Marathon= 52,000 steps=26 miles
All who meet their individual footsteps goal will receive a hospice mission button pin, plus a chance to win a prize basket raffle for each of the four goal categories.
More prize drawings* will take place for fun challenges throughout the virtual race.
Help us spread the word to friends and family throughout the country and globe (we're unleashed, remember?), and win prizes by raising funds for Walk-n-Wag over and above your registration fee. All individuals who raise at least $100 will receive a Walk-n-Wag bandana. In addition,
$250 earns a personalized fleece blanket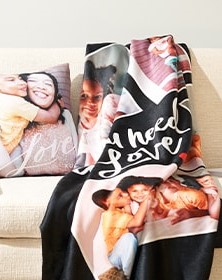 $500 earns a custom portrait of your favorite pet by painter Brigitte Miller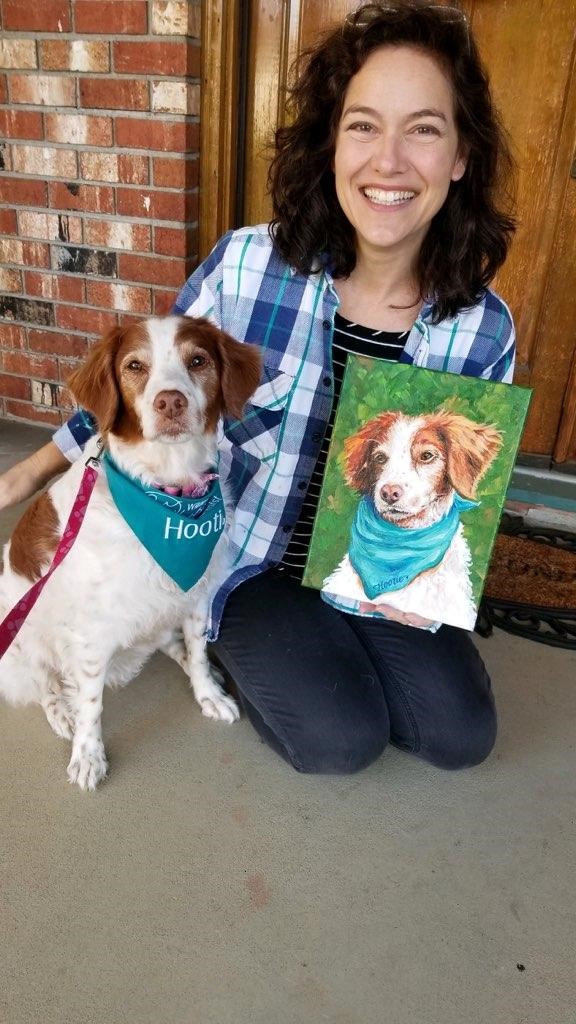 $750 earns a studio photo session with pet photographer Rebecca Cozart, with an 8x10 and 5x7 print

Top 5 footstep winners and Top 5 individual fundraising winners will be placed in a drawing to win our fabulous Grand Prize! The Explore Independence Package includes dinner and a deluxe night's stay at the new Independence Hotel by the river, with artwork, wine and gift certificates to enjoy in Polk County.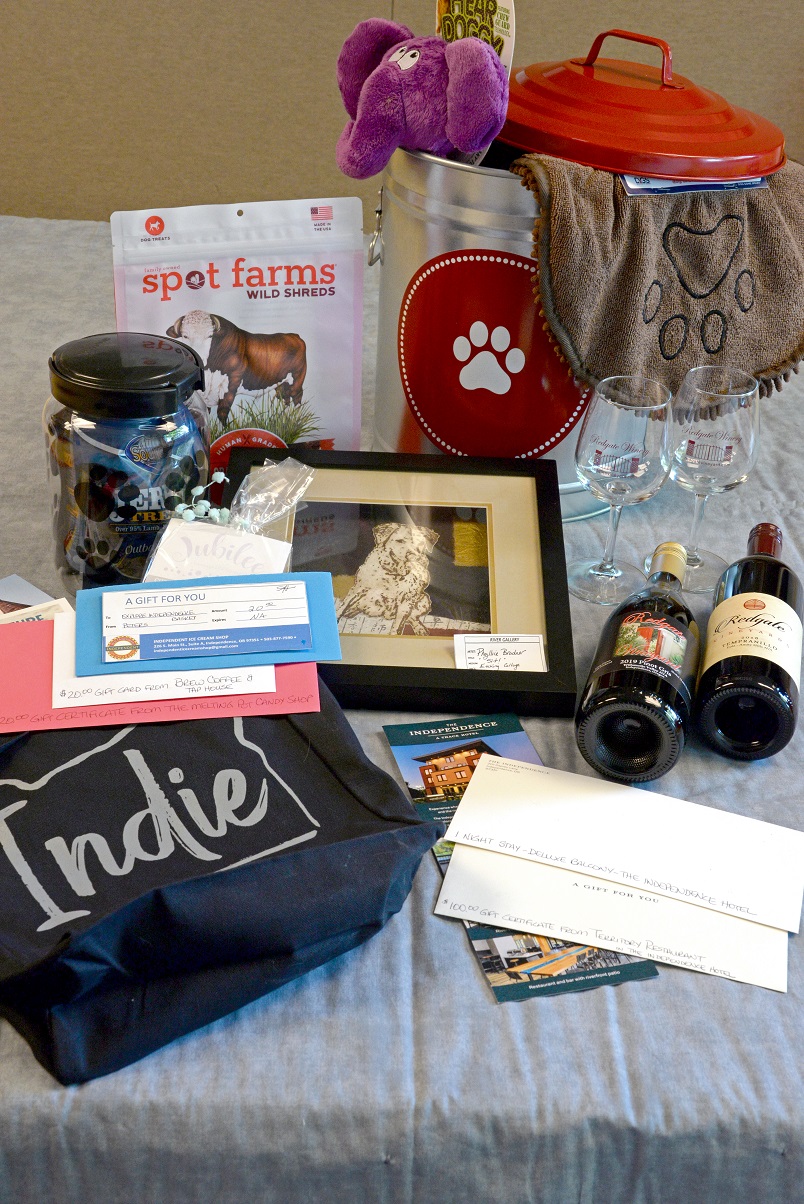 Top 3 largest teams (registered adults) formed by September 1st will receive a custom Walk-n-Wag button pin and ten $5 coffee cards to share among team members.
After the results are tallied, there will be an invite-only Finish Line Event in Salem, with photos for members of the winning team, next year's poster contest nominees, and the top-ranking 25 individuals in both the footsteps and fundraising categories.
*Willamette Valley Hospice staff are not eligible to win contest prizes or raffle drawings; however they may earn premiums offered for meeting peer-to-peer fundraising goals.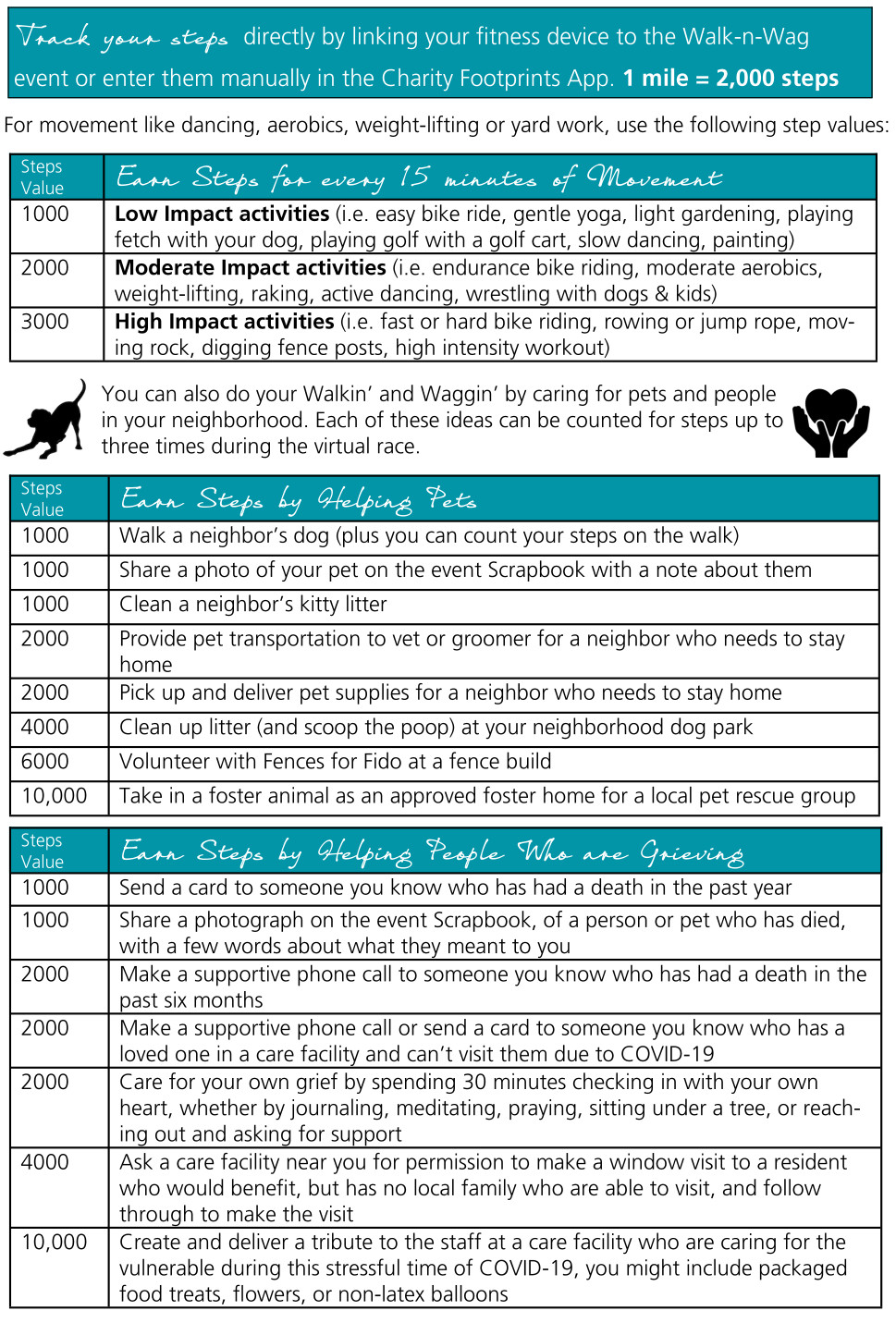 FITNESS GOAL
COMPLETED: 10,715,836 steps
TARGET: 20,000,000 steps
FUNDRAISING GOAL
RAISED: $ 18,392
TARGET: $ 20,000
You must go on adventures to find out where you truly belong. ~ Sue Fitzmaurice
Come join us and leave your footprints all around the US
HOW IT WORKS
Register for the campaign and set your fitness & fundraising targets.
Share your story and raise funds & awareness.
Track workouts anywhere & anytime and complete goal.
ABOUT THE ORGANIZATION
WILLAMETTE VALLEY HOSPICE INC.

We are a community owned, not-for-profit organization providing innovative, personalized, and compassionate care to patients and families facing serious illness.

Our vision is a world where everyone facing serious illness, death, and grief has access to the best personalized and compassionate care.

Read more about the organization >>
How Your Participation Helps

As always, funds raised will help hospice patients care for their pets through Willamette Valley Hospice's Pet Peace of Mind® program. And this year, Walk-n-Wag is lending a paw to WVH's bereavement programs for people of all ages in our community who have lost a loved one. The pandemic has led to tremendous grief in our world through illness and death, and with the loss of so many important social connections. 2020 is a good year to come together in new ways to keep our balance and support one another.
®Registered trademark of Pet Peace of Mind, Inc.
FREQUENTLY ASKED QUESTIONS
What is Charity Footprints?

Charity Footprints is a social enterprise that connects fitness and charitable giving. We empower people just like you, to get fit & give back.

Our Virtual Races allow non-profits to challenge their patrons to run, walk or ride and raise funds just as they would in a fundraising walkathon. The best part - charities save over 45% in event and logistical costs. So, the dollars that you pay to register or fundraise, go farther.


What is the campaign registration fee?

Campaign registration fee is the amount that you'll need to pay to enroll in this virtual race. This fee (less transaction charges) will go to the non-profit running this campaign as a donation.

The registration fee along with the funds raised through your individual fundraising page will enable the non-profit to fund various programs and pursue their organization's mission.


How can I create my fundraising page?

Well, you wouldn't have to create a separate fundraising page. Once you register for this campaign, we'll give you the link to your fundraising page.


How will I track my distance?

You can track your workouts by setting up your devices (Fitbit, Garmin, Apple Watch, Google Fit, Misfit, Strava), or download the Charity Footprints' iOS or Android app and track your workouts toward this campaign.

If you workout indoors (treadmill, elliptical, stationary bike etc.), you can upload your workouts here.


How do I join a team on this campaign?

While registering for the campaign, select the team you'd like to join or create a new team and invite others to #GetFitGiveBack with you. If you want to join a team (or create your team) after registration, login to the campaign site and you would find a link to edit "My Team" in the menu under your profile in the header.


I am an international donor (non-US), what are my donation charges and tax-deductibility?

All donations are made in US dollars, so the donations may be levied an exchange rate fee via your bank. Donors will want to connect with their bank to determine exactly what that fee may be. Additionally, international donors will need to reach out to a tax professional to discuss if and how tax deductibility will apply to their donation.


Who can sponsor my fundraising efforts?

The short answer is - everyone. The fundraising research shows that the number one reason for people not donating is that they weren't asked to.

That said, there are things you can do to attract people to sponsor you. Adding a picture to your fundraising page, telling potential donors why this cause is so personal to you, sharing your fundraising page on social media, email, and chat groups.

Last, if your employer has a gift matching program, check with the human resources department to support your favorite cause as well.


Who can I contact if I need help?

You can contact us any time if you need help. We love hearing from our users so please don't hesitate to write to us about issues, suggestions, or to just say hi. You can also contact the non-profit administrator directly if you would like.


How do I change or switch my team?

If you want to join a team (or create your team) after registration, login to the campaign site and you would find a link to edit "My Team" in the menu under your profile in the header.