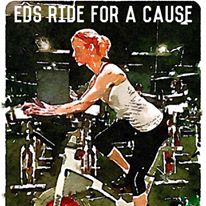 ABOUT EDSRIDEFORACAUSE CAMPAIGN
The 1st official fundraiser benefitting EDS Wellness, Inc. & the 2nd Annual EDS Ride for a Cause at Zengo Cycle in Bethesda, MD!



We will have drinks, snacks, and free giveaways!



You do not have to be local to participate or be able to take part in the class. You can donate a bike seat in honor of yourself or honor of someone else, or you can participate on your own through Charity Footprints!



Registration for those who would like to participate locally is through Zengo Cycle's website. Go to http://www.zengocycle.com/reserve/index.cfm?action=Workshop.events#events24438



Official Facebook event page for the EDS Ride for a Cause 2016 is: https://www.facebook.com/events/1020118844773527/?ti=icl



See details from the 1st EDS Ride for a Cause on May 31st, 2014. Click on the discussion tab to read posts, additional details and see pictures!



https://m.facebook.com/events/683516091712656



Who is EDS Wellness?



EDS Wellness is a 501(c)(3) nonprofit organization promoting health education, integrative healthcare, and wellness strategies for living well with hypermobility syndromes, such as Ehlers-Danlos syndrome (EDS), and related conditions, through print and digital media resources and materials, including seminars, webinars, conferences, coaching, and patient advocacy.



EDS Wellness provides education on various movement, nutrition, and mind-body techniques by collaborating with healthcare practitioners and like-minded organizations, to improve the quality of life and overall well-being of individuals living with EDS and other chronic, often invisible illnesses.



About EDS Ride for a Cause:



Charity events on bikes or indoor spinning bikes, benefitting Ehlers-Danlos syndrome non-profit organizations (I.e. - this event!). EDS Ride for a Cause is a trademark of EDS Wellness, Inc. Information on how to set-up your own EDS Ride for a Cause is available to individuals, support groups, other charities and non-profit organizations, or companies, who would like to put together their cycling fundraiser benefitting an EDS non-profit or support group. We provide information on the necessary step to take to organize a similar fundraiser, relevant materials, and permission to use the EDS Ride for a Cause name.



www.edsrideforacause.com
FITNESS GOAL
COMPLETED: 7 miles
TARGET: 5,000 miles
FUNDRAISING GOAL
RAISED: $ 21
TARGET: $ 10,000
HOW IT WORKS
Register for the campaign and set your fitness & fundraising targets.
Track workouts anywhere & anytime and complete goal.
ABOUT THE ORGANIZATION
EDS WELLNESS, INC.

To provide health education, integrative healthcare, and wellness strategies for living well hypermobility syndromes, such as Ehlers-Danlos syndrome (EDS), other connective tissue diseases, and related comorbidities, through print and digital media resources and materials, seminars, webinars, conferences, health coaching, and patient advocacy.

Read more about the organization >>
HOW YOUR PARTICIPATION HELPS

What projects is EDS Wellness, Inc. working on (i.e. Where do donated funds go?)



1. Wellapalooza- Integrative Health and Wellness conferences blending the best of modern medicine with integrative therapies for those suffering from chronic illnesses.



The coolest health & wellness conferences (& retreats!) ever!



Wellapalooza is a big part of the mission of EDS Wellness and served as the final push to transition to a registered non-profit.



Our 2nd Wellapalooza was held June 9-12th, 2016, and our 3rd Wellapalooza is scheduled for April 28th-30th, 2017. Registration will be up soon!



www.wellapalooza.com



2. Physicians Learning Conferences and Professional Education Opportunities - Our 2nd Physicians Learning Conference is scheduled for June 10th-11th, 2017. Registration will be up soon!



3. Moving Naturally with Hypermobility - Seminars focused on natural movement, physical therapy, health & wellness for those with all types hypermobility syndromes, and the healthcare providers who care for them. Move More. Move Better.



We held our first Moving Naturally with Hypermobility seminar last June with great success. We will be offering these important seminars in various ways. All events, appointments, and information will be available on the EDS Wellness and Moving Naturally with Hypermobility websites and Facebook Pages.



We will also be offering these seminars regularly through live broadcasts, podcasts, and webinars.



www.movingnaturallywithhypermobility.com



4. Just 5 Minutes - Motivation for life, and mission to heal, restore and empower the human spirit - one yoga mat at a time. #Just5Minutes at a time.



Just 5 Minutes is probably the hallmark project of EDS Wellness and serves as its foundation. Growing and expanding on the Just 5 Minutes mission and brand is one of our primary goals this year, and it's also one of the primary goals for EDS Wellness. The plan is, to begin with live "Just 5 Minutes" broadcasts via Periscope. We will also record Just 5 Minutes video clips to upload to our YouTube channel, while we build the Just 5 Minutes website.



Most importantly, we have been looking for the perfect yoga mat company to partner with - a company who also believes in the mission of Just 5 Minutes. By the end of the year, we should have very special yoga mats that say "Just 5 Minutes" on them. These yoga mats will be gifted to the people within the community(ies) that we serve through various classes, courses, conferences, retreats, and more.



www.just5minuts.org



5. Invisible Strength - Stronger 2 Gether - (previously known as "Our Stories of Strength" & Series title of the first EDS anthology Our Stories of Strength - Living with Ehlers-Danlos Syndrome) - anthology series sharing stories of strength, hope & perseverance from those living with chronic, often invisible illnesses. We are #Stronger2Gether.



www.invisiblestrength.org



6. Educational materials (print) - Natural Healing with EDS brochure recently redesigned and released -- a collaborative project with Dr. Clair Francomano, her son and a few others.



7. EDS and Kids e-book with Sarah of My Stripy Life, is one of the other projects that is near completion.



8. Educational information & materials (digital) - Dissemination of reputable information on EDS and related conditions through various digital media platforms such as podcasts, live broadcasts on Periscope, webinars, recorded educational videos in collaboration with community physicians, and of course, Wellapalooza conferences.



9. Health Coaching & Patient Advocacy - EDS Wellness will be utilizing the MINDBODY app to integrate software into my sites for seminars, events, workshops and scheduling health education/health coaching appointments. In the future, yoga and restorative exercise classes and appointments will also be scheduled through the MindBody app.



10. Health Education Programs, Support Groups, and Classes - Our Yoga and Mindfulness for Hypermobility program that began on November 4th, 2017.



11. Research - through our various programs and initiatives, we will be conducting research on various therapies and lifestyle strategies and their effectiveness for those in our community.



EDS Wellness affiliated projects ("other" EDS-related projects that do not fall directly under EDS Wellness):



1. Strength/Flexibility/Health/EDS - NEW and ONLY digital magazine for those striving to live well with EDS and other chronic medical conditions. The new website redesign was launching soon!



"Strength, Flexibility, and Health, while living with Ehlers-Danlos syndrome (EDS) and it's related conditions."



www.strengthflexibilityhealtheds.com



2. The Hypermobile Yogi - Providing information and resources on how to practice yoga safely with joint hypermobility. The Hypermobile Yogi website and related social media accounts, serve a personal online "journal," a requirement for 200 hr yoga instructor training program.



www.hypermobileyogi.com



3. Mast Cell Research - Sharing research, information, and publications on Mast Cell Activation Syndrome (MCAS) and other Mast Cell Activation Disorders, including information on Dr. Afrin's new book Never Bet Against Occam: Mast Cell Activation Disease published by Sisters Media, LLC.



www.mastcellresearch.com
FREQUENTLY ASKED QUESTIONS
What is Charity Footprints?

Charity Footprints is a social enterprise that connects fitness and charitable giving. We empower people just like you, to get fit & give back.

Our Virtual Races allow non-profits to challenge their patrons to run, walk or ride and raise funds just as they would in a fundraising walkathon. The best part - charities save over 45% in event and logistical costs. So, the dollars that you pay to register or fundraise, go farther.


What is the campaign registration fee?

Campaign registration fee is the amount that you'll need to pay to enroll in this virtual race. This fee (less transaction charges) will go to the non-profit running this campaign as a donation.

The registration fee along with the funds raised through your individual fundraising page will enable the non-profit to fund various programs and pursue their organization's mission.


How can I create my fundraising page?

Well, you wouldn't have to create a separate fundraising page. Once you register for this campaign, we'll give you the link to your fundraising page.


How will I track my distance?

Download the Charity Footprints' iOS or Android app and track your workouts toward this campaign. ?>

If you workout indoors (treadmill, elliptical, stationary bike etc.), you can upload your workouts here.


How do I join a team on this campaign?

While registering for the campaign, select the team you'd like to join or create a new team and invite others to #GetFitGiveBack with you. If you want to join a team (or create your team) after registration, login to the campaign site and you would find a link to edit "My Team" in the menu under your profile in the header.


I am an international donor (non-US), what are my donation charges and tax-deductibility?

All donations are made in US dollars, so the donations may be levied an exchange rate fee via your bank. Donors will want to connect with their bank to determine exactly what that fee may be. Additionally, international donors will need to reach out to a tax professional to discuss if and how tax deductibility will apply to their donation.


Who can sponsor my fundraising efforts?

The short answer is - everyone. The fundraising research shows that the number one reason for people not donating is that they weren't asked to.

That said, there are things you can do to attract people to sponsor you. Adding a picture to your fundraising page, telling potential donors why this cause is so personal to you, sharing your fundraising page on social media, email, and chat groups.

Last, if your employer has a gift matching program, check with the human resources department to support your favorite cause as well.


Who can I contact if I need help?

You can contact us any time if you need help. We love hearing from our users so please don't hesitate to write to us about issues, suggestions, or to just say hi. You can also contact the non-profit administrator directly if you would like.


How do I change or switch my team?

If you want to join a team (or create your team) after registration, login to the campaign site and you would find a link to edit "My Team" in the menu under your profile in the header.