ABOUT #MILESINTOMEALS FOR KIDS CAMPAIGN
At Orchard: Africa, we stand in the gap for African children who live in extreme poverty. These vulnerable children, many who have lost one or both parents, often have little or no access to the food and care they need to reach their full potential. In each of the communities we serve, there typically is a church doing their best to care for the needs of their community. Our strategy is to equip these African leaders with the programs, training and resources necessary to help children grow and thrive.
We have been at work in South Africa for 30 years and have cared for hundreds of thousands of children and have provided over 10 million meals to kids in need through our African partners.
This year the demand for food and care has grown exponentially as vulnerable African communities have been in lockdown without food and resources. The needs are growing and we need to do more. Join the #milesintomeals race and go the distance for these amazing children!
Step up and turn #milesintomeals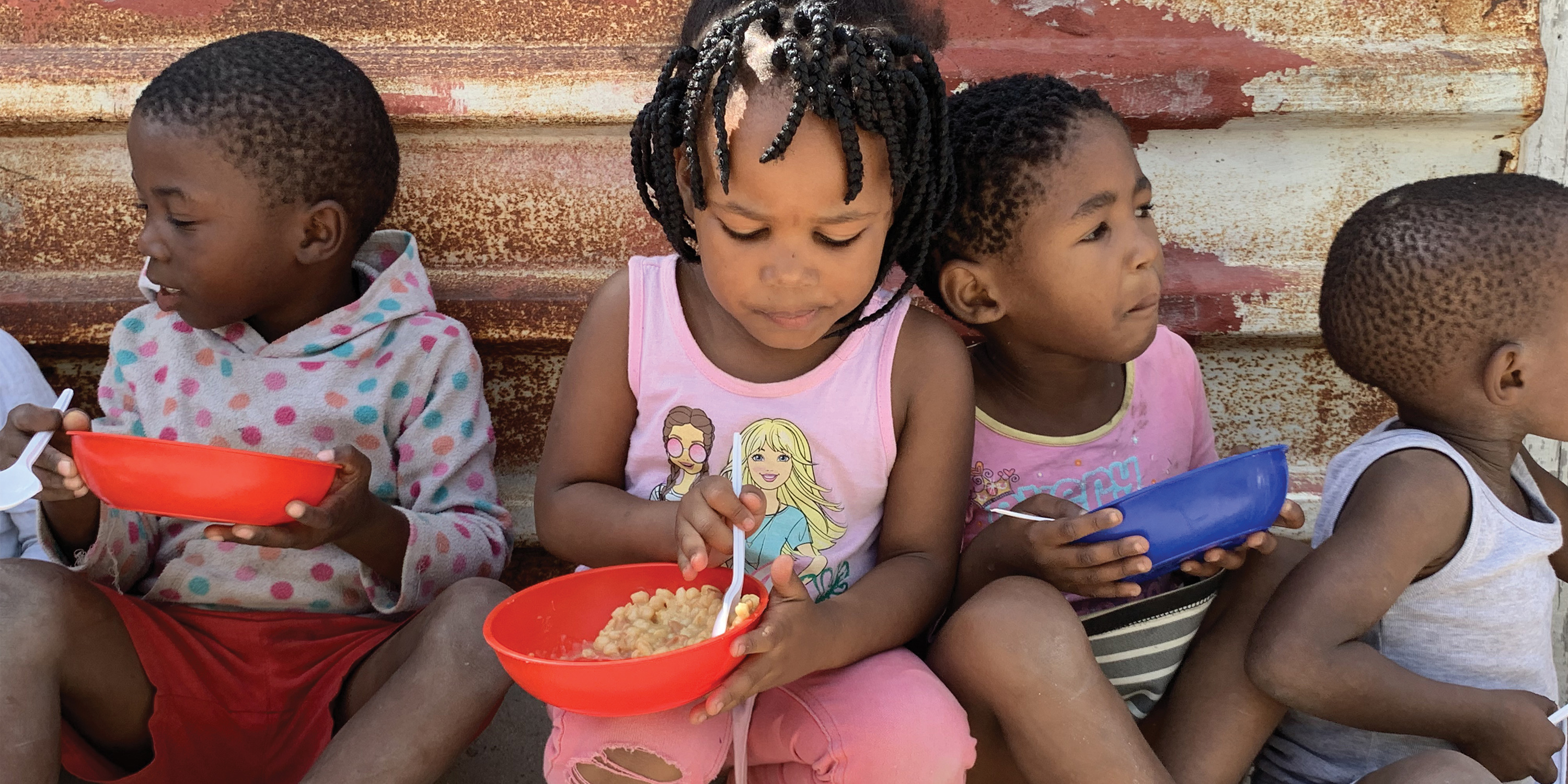 What is the #MilesintoMeals for Kids Virtual Race?
The Orchard: Africa #milesformeals virtual race is an invitation to go the extra mile for vulnerable children in Africa by enjoying being active and raising funds to feed and care for them.
Unlike traditional walk, run or bike races, this virtual race uses technology and takes social distancing into account so you can participate on your own, with a friend, co-worker or your whole family. Register anytime during the race period and do the activities you normally do to turn miles in to meals for the amazing African kids we serve.
Don't enjoy walking, running or biking to stay active? That's no problem. Maybe you prefer to golf, swim, hike, dance, row or even do yard work. As long as you can move you can still participate in the #MilesforMeals Virtual Race.
The Virtual Race will take place from October 17-November 26. You have six weeks to complete or exceed your fitness goals.
Besides being active, what else can I do to step up and go the distance for vulnerable kids?
Share your personalized fundraising page with your friends, family and co-workers and earn Orchard: Africa swag through fundraising and donating (in additional to your registration fee) to the #milesintomeals campaign.
$50 Raised/ Donated
-#MilesintoMeals Advocate
Receive a special edition Orchard: Africa laptop/water bottle sticker to remind you of your support of African kids and to be a great discussion starter with friends.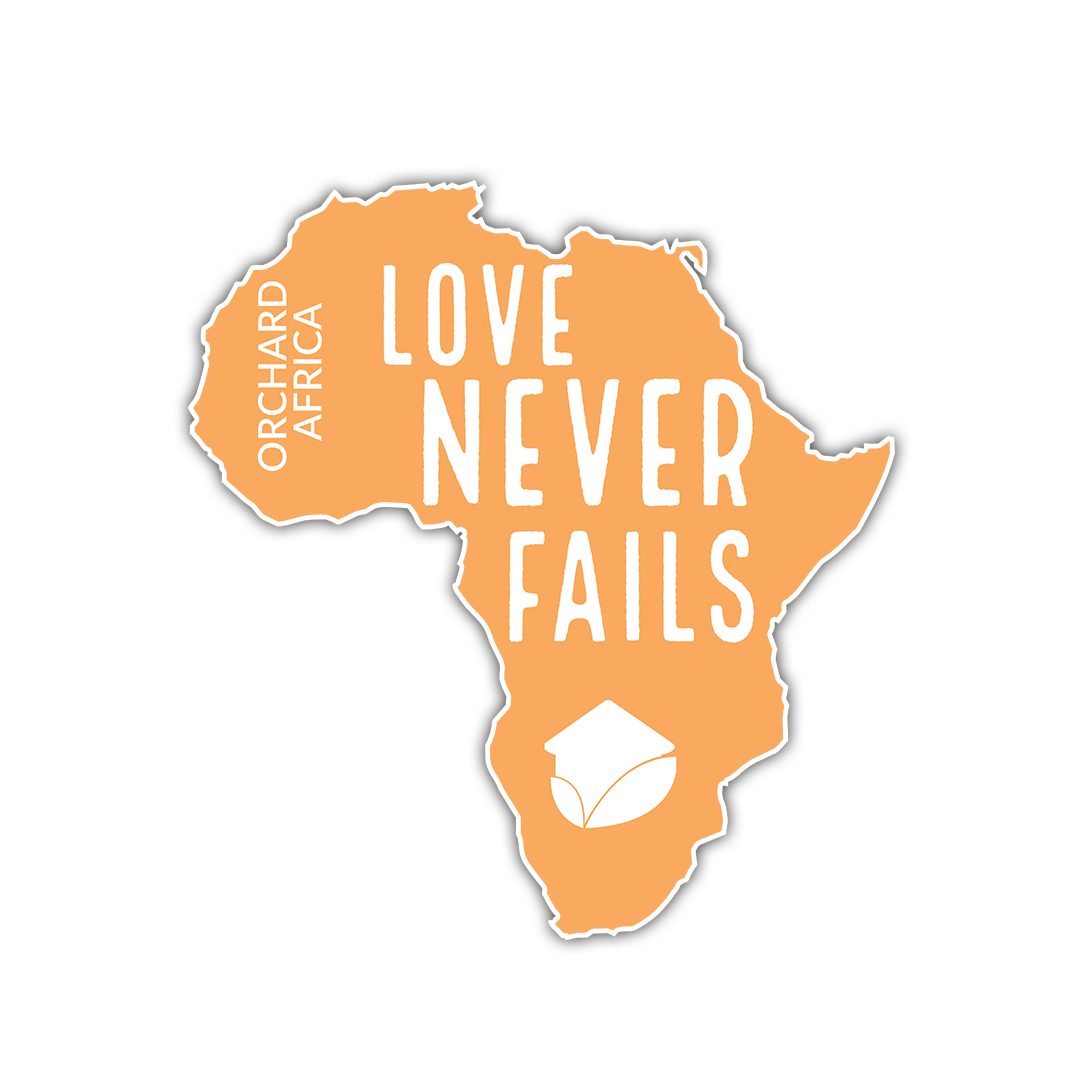 $150 Raised/ Donated
-#MilesintoMeals Ambassador
Receive the sticker and an exclusive #MilesintoMeals Orchard: Africa Virtual Race unisex shirt.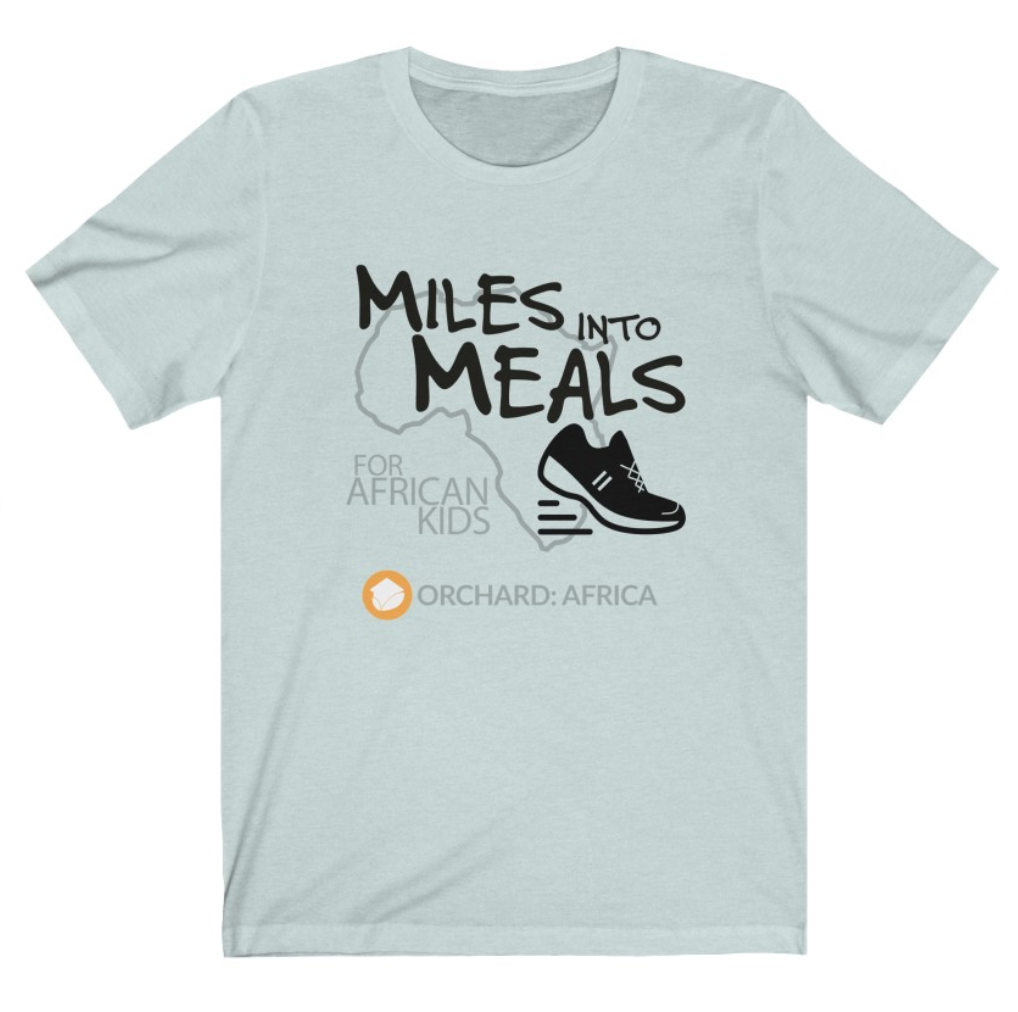 $300 Raised/ Donated
-#MilesintoMeals Champion
Receive all of the above plus a #MilesintoMeals race medal that will commemorate your participation in the Orchard: Africa Virtual Race.

All prizes earned will be sent out at the conclusion of the Virtual Race.
How do I get started and start turning miles into meals?
Your participation will provide food and care for vulnerable children in Southern Africa and getting started couldn't be easier...
Register at the donation level right for you
$20-Individual
$60-Family (For up to 4 family members or friends)
$75-Pro (Individual + receive Orchard: Africa #milesformeals water bottle)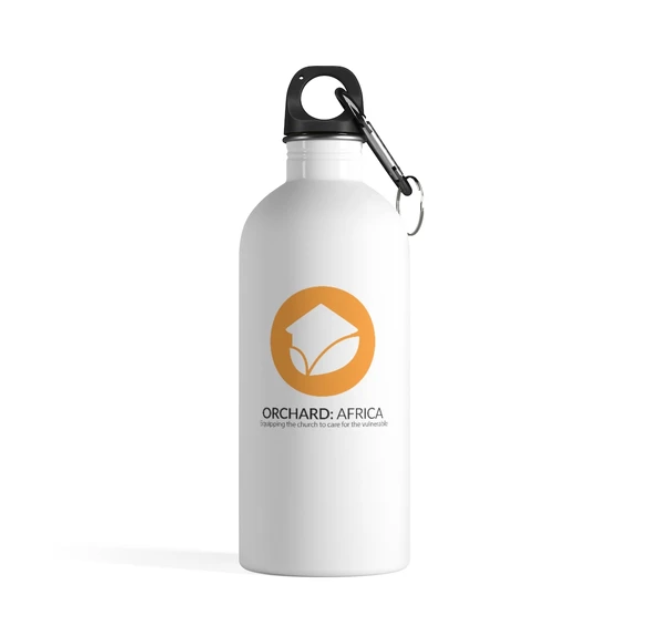 Set Up Your Device. Join or Start a Team. Personalize Your Fundraising Page.
Set up your fitness device using the "How It Works" instructions. Consider joining or starting your own team to help motivate activity and healthy competition with other teams. Easily start your own personal fundraising page and post it to social media to help encourage donations where pledged funds you receive from your circle will help motivate you to hit your goals and get great #MilesintoMeals swag and help feed and care for vulnerable kids.
Use Your Influence. Get Active!
Connect with your social network to help raise awareness and reach your fitness and fundraising goals. Share your progress regularly on social media by posting pictures and short videos to spread the word. Remember to tag Orchard: Africa (@orchardafrica) and include the #MilesintoMeals hashtag to start a social media movement and get steppin'!

How do I track my progress and convert other activities into steps?
You can participate in the #MilesintoMeals For African Kids Virtual Race by doing pretty much anything that gets your heart rate up!
Refer to the
How It Works
and
FAQs
sections below for more information on tracking your distance and setting up your device. Use the map and virtual map below to see how you, your team and everyone else is collectively moving towards our goals.
For activities that cannot be measured in steps or miles, please refer to the Activity to Steps Conversion Chart below. If you don't see your favorite activity, simply use it as a guide. (we trust you to use your discretion!)
Activity to Steps Conversion Chart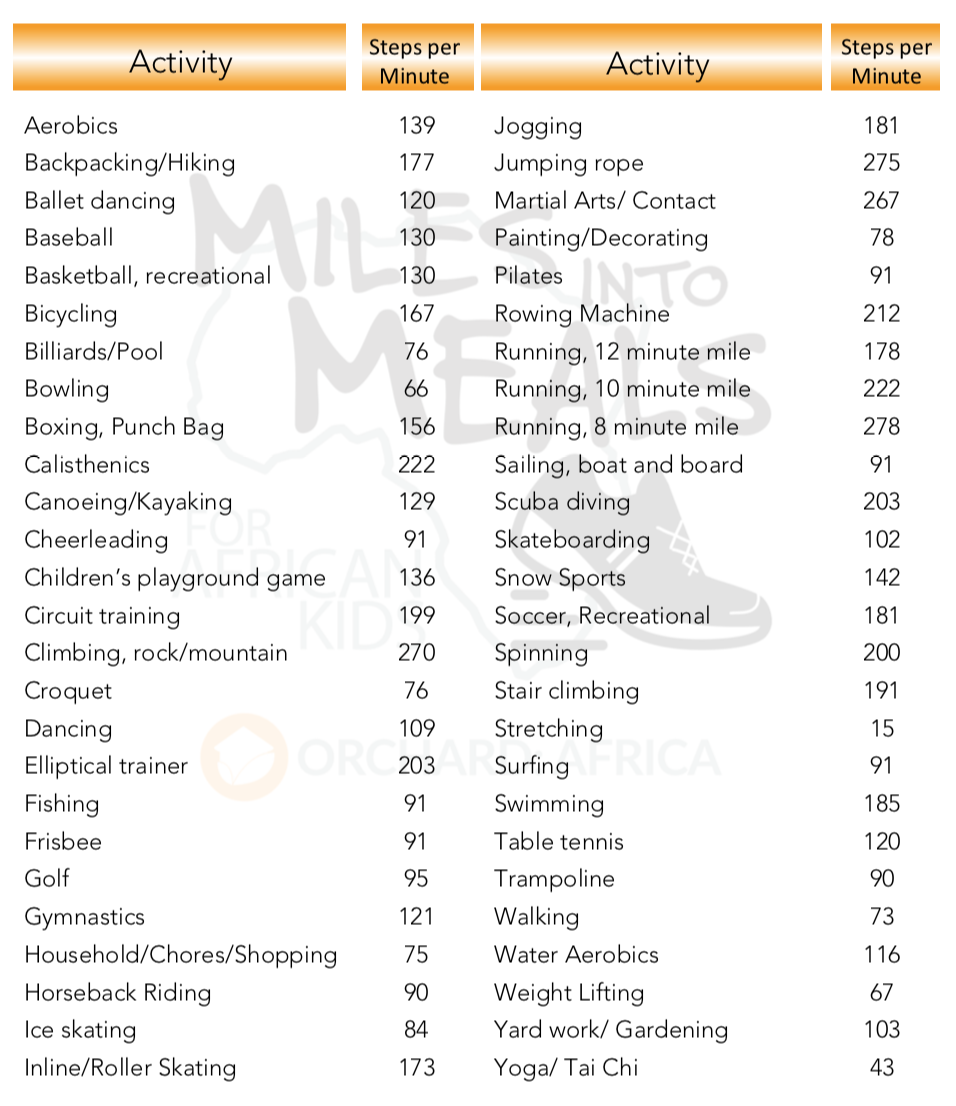 1 Minute of Each Activity = # of Steps
2000 steps = 1 mile
You have from Oct. 17-November 26 to join at any time, set your fitness goals, rack up those steps and raise those funds!
Your personal steps or mileage goal is up to you.
Our collective goal is to raise $100,000 or more and reach a total of 5000 miles or 10 million steps or more!!
FITNESS GOAL
COMPLETED: 4,024 miles
TARGET: 5,000 miles
FUNDRAISING GOAL
RAISED: $ 79,409
TARGET: $ 100,000
You must go on adventures to find out where you truly belong. ~ Sue Fitzmaurice
Come join us and leave your footprints on a journey from Top Village, South Africa to Khayelitsha, South Africa
HOW IT WORKS
Register for the campaign and set your fitness & fundraising targets.
Share your story and raise funds & awareness.
Track workouts anywhere & anytime and complete goal.
ABOUT THE ORGANIZATION
ORCHARD AFRICA

Orchard: Africa exists to equip the church to care for the vulnerable. They feed, educate and care for vulnerable children by equipping churches in Southern Africa with the tools, training and resources needed to show compassion.

Read more about the organization >>
HOW YOUR PARTICIPATION HELPS

All proceeds from the #milesintomeals Virtual Race will go to help Orchard: Africa stock their warehouse with food to distribute to vulnerable families, provide agriculture training to help families grow their own food and to provide the additional care children need beyond food.
FREQUENTLY ASKED QUESTIONS
What is Charity Footprints?

Charity Footprints is a social enterprise that connects fitness and charitable giving. We empower people just like you, to get fit & give back.

Our Virtual Races allow non-profits to challenge their patrons to run, walk or ride and raise funds just as they would in a fundraising walkathon. The best part - charities save over 45% in event and logistical costs. So, the dollars that you pay to register or fundraise, go farther.


What is the campaign registration fee?

Campaign registration fee is the amount that you'll need to pay to enroll in this virtual race. This fee (less transaction charges) will go to the non-profit running this campaign as a donation.

The registration fee along with the funds raised through your individual fundraising page will enable the non-profit to fund various programs and pursue their organization's mission.


How can I create my fundraising page?

Well, you wouldn't have to create a separate fundraising page. Once you register for this campaign, we'll give you the link to your fundraising page.


How will I track my distance?

You can track your workouts by setting up your devices (Fitbit, Garmin, Apple Watch, Google Fit, Misfit, Strava), or download the Charity Footprints' iOS or Android app and track your workouts toward this campaign. ?>

If you workout indoors (treadmill, elliptical, stationary bike etc.), you can upload your workouts here.


How do I join a team on this campaign?

While registering for the campaign, select the team you'd like to join or create a new team and invite others to #GetFitGiveBack with you. If you want to join a team (or create your team) after registration, login to the campaign site and you would find a link to edit "My Team" in the menu under your profile in the header.


I am an international donor (non-US), what are my donation charges and tax-deductibility?

All donations are made in US dollars, so the donations may be levied an exchange rate fee via your bank. Donors will want to connect with their bank to determine exactly what that fee may be. Additionally, international donors will need to reach out to a tax professional to discuss if and how tax deductibility will apply to their donation.


Who can sponsor my fundraising efforts?

The short answer is - everyone. The fundraising research shows that the number one reason for people not donating is that they weren't asked to.

That said, there are things you can do to attract people to sponsor you. Adding a picture to your fundraising page, telling potential donors why this cause is so personal to you, sharing your fundraising page on social media, email, and chat groups.

Last, if your employer has a gift matching program, check with the human resources department to support your favorite cause as well.


Who can I contact if I need help?

You can contact us any time if you need help. We love hearing from our users so please don't hesitate to write to us about issues, suggestions, or to just say hi. You can also contact the non-profit administrator directly if you would like.


How do I change or switch my team?

If you want to join a team (or create your team) after registration, login to the campaign site and you would find a link to edit "My Team" in the menu under your profile in the header.