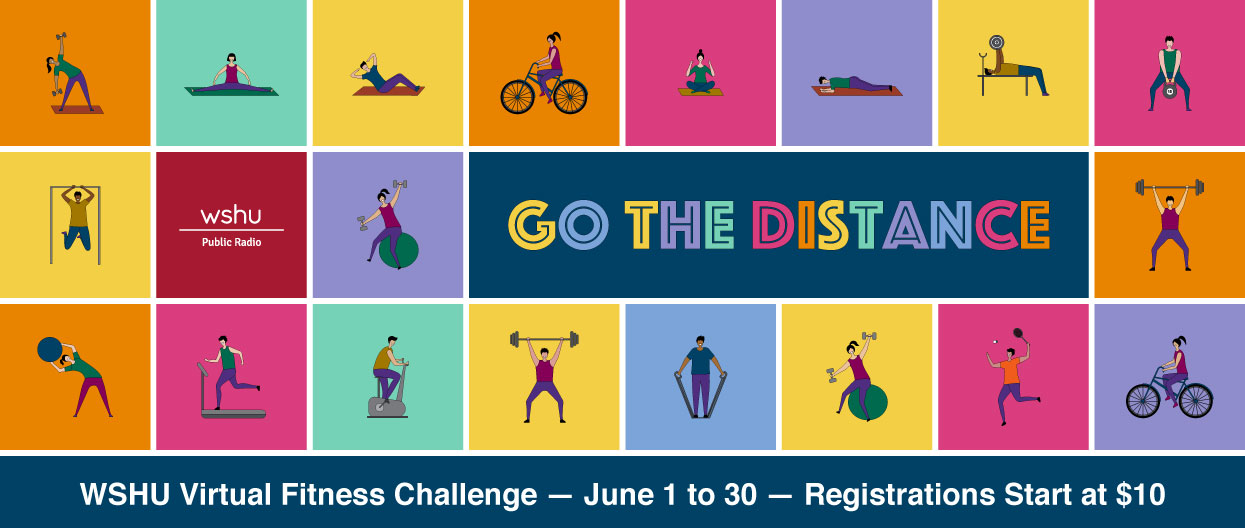 ABOUT GO THE DISTANCE FOR WSHU CAMPAIGN
WSHU invites you to join the Virtual Fitness Challenge while supporting the news you rely on and the music that moves you!

Challenge Details
60,000 steps (~ 30 miles)
June 1 - June 30
Registrations start at $10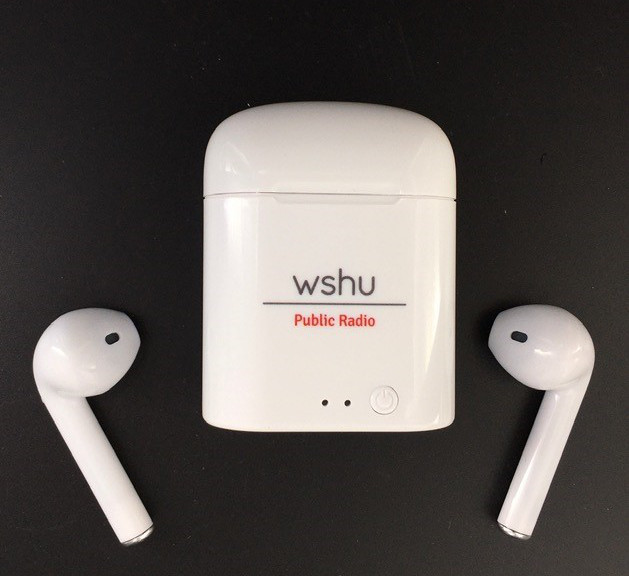 * 100% of Registration Fee goes to supporting WSHU's programming

* The first 100 registrants at the $40 level will receive a pair of WSHU Earbuds



WSHU's Go the Distance is a virtual fitness challenge to connect the entire WSHU community, get some much needed exercise and raise critical funds to power WSHU's news and classical music programs. 100% of all registration fees and all donations will go to support our news and classical music programming.

Unlike a traditional race, the Go the Distance virtual fitness challenge takes place when and where you want – just take 60,000 steps anytime between Monday, June 1 and Tuesday, June 30.

Our goal is to connect with 250 friends and raise $15,000. So spread the word!!

Invite your family, friends, neighbors and colleagues to join you, join a team or make a donation. Every dollar raised will directly support WSHU's programming and mission. It's a great way to promote WSHU and the programs that mean the most to you. Don't forget to include the hashtag #WSHUGoTheDistance in your social media posts.

Submit your stories and photos as you take on the challenge. Use #WSHUGoTheDistance on Facebook, Twitter and Instagram and/or submit your photo to gothedistance@wshu.org.



Awards

Best #WSHUGoTheDistance Overall Photo Submission
Best #WSHUGoTheDistance With My Pet
Best #WSHUGoTheDistance Most Enthusiastic
Best #WSHUGoTheDistance Most Pioneer Spirit
Largest Virtual Team based on # of participants
Top Finisher (most steps in 30 days)
Top Individual Fundraiser



All participants who take a least 60,000 steps during June will be mailed a WSHU car magnet and event pin upon completion of event.

Don't like to walk or run? Convert your favorite activity to steps and enter manually to have it count to your challenge goal.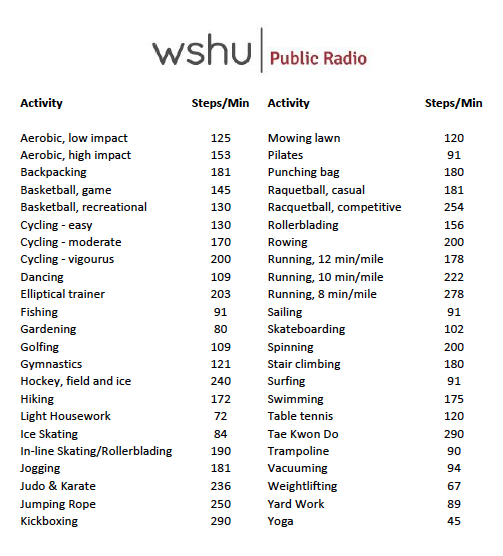 Frequently Asked Questions



What is a virtual fitness challenge?
A virtual fitness challenge is a fitness event that you do anywhere and anytime. You'll receive an official WSHU Go the Distance Challenge Certificate with race registration (sent as printable PDF), and a WSHU magnet and event pin will be mailed to you within 45 days of the race's completion.

What about social distancing?
Registrants can participate outdoors but will need to maintain "Social Distancing Requirements" by maintaining at least a six-foot social distance from other individuals. If you'd rather stay indoors, that's ok too!

How much of my registration is donated to WSHU Public Radio?
100% of your registration and any additional donations will go directly to supporting WSHU's programming including NPR news and talk programs, regional news coverage and locally produced classical music programming.

Do I have to walk or run to participate?
The goal of our race is to have fun and get everyone up and moving. You may choose to complete your challenge with any type of exercise and convert that activity to steps. A chart to help you do this is included above.

Do I have to complete the entire virtual race distance all at once?
No, this virtual race is for everyone, no matter what fitness level. Whether or not you are an avid runner, walker or yoga devotee, you can achieve your step goal in any way you feel comfortable! However you complete the distance, a WSHU magnet and special pin are great rewards for your achievement!
FITNESS GOAL
COMPLETED: 14,645,187 steps
TARGET: 20,000,000 steps
FUNDRAISING GOAL
RAISED: $ 22,317
TARGET: $ 15,000
HOW IT WORKS
Register for the campaign and set your fitness & fundraising targets.
Share your story and raise funds & awareness.
Track workouts anywhere & anytime and complete goal.
ABOUT THE ORGANIZATION
WSHU PUBLIC RADIO (SACRED HEART UNIVERSITY LLC DBA WSHU PUBLIC RADIO)

Listener-supported WSHU Public Radio is the unifying voice of our region—on the air, online and in the community. For more than 35 years, we have served as a trusted source of NPR and regional news that is unbiased, thorough and insightful. Our classical music and storytelling programs offer inspiration and companionship for listeners throughout Connecticut and on Long Island, NY.

Read more about the organization >>
HOW YOUR PARTICIPATION HELPS

Our goal is to connect with 250 friends and raise $15,000 to support WSHU's news and classical music programs
FREQUENTLY ASKED QUESTIONS
What is Charity Footprints?

Charity Footprints is a social enterprise that connects fitness and charitable giving. We empower people just like you, to get fit & give back.

Our Virtual Races allow non-profits to challenge their patrons to run, walk or ride and raise funds just as they would in a fundraising walkathon. The best part - charities save over 45% in event and logistical costs. So, the dollars that you pay to register or fundraise, go farther.


What is the campaign registration fee?

Campaign registration fee is the amount that you'll need to pay to enroll in this virtual race. This fee (less transaction charges) will go to the non-profit running this campaign as a donation.

The registration fee along with the funds raised through your individual fundraising page will enable the non-profit to fund various programs and pursue their organization's mission.


How can I create my fundraising page?

Well, you wouldn't have to create a separate fundraising page. Once you register for this campaign, we'll give you the link to your fundraising page.


How will I track my distance?

You can track your workouts by setting up your devices (Fitbit, Garmin, Apple Watch, Google Fit, Misfit, Strava), or download the Charity Footprints' iOS or Android app and track your workouts toward this campaign. ?>

If you workout indoors (treadmill, elliptical, stationary bike etc.), you can upload your workouts here.


How do I join a team on this campaign?

While registering for the campaign, select the team you'd like to join or create a new team and invite others to #GetFitGiveBack with you. If you want to join a team (or create your team) after registration, login to the campaign site and you would find a link to edit "My Team" in the menu under your profile in the header.


I am an international donor (non-US), what are my donation charges and tax-deductibility?

All donations are made in US dollars, so the donations may be levied an exchange rate fee via your bank. Donors will want to connect with their bank to determine exactly what that fee may be. Additionally, international donors will need to reach out to a tax professional to discuss if and how tax deductibility will apply to their donation.


Who can sponsor my fundraising efforts?

The short answer is - everyone. The fundraising research shows that the number one reason for people not donating is that they weren't asked to.

That said, there are things you can do to attract people to sponsor you. Adding a picture to your fundraising page, telling potential donors why this cause is so personal to you, sharing your fundraising page on social media, email, and chat groups.

Last, if your employer has a gift matching program, check with the human resources department to support your favorite cause as well.


Who can I contact if I need help?

You can contact us any time if you need help. We love hearing from our users so please don't hesitate to write to us about issues, suggestions, or to just say hi. You can also contact the non-profit administrator directly if you would like.


How do I change or switch my team?

If you want to join a team (or create your team) after registration, login to the campaign site and you would find a link to edit "My Team" in the menu under your profile in the header.