ABOUT SASCC WALKS CAMPAIGN
Join us as we put our Best Foot Forward for #SASCCWalks, a virtual event designed to help you get outside, prioritize your health, and support one of the populations most heavily-impacted by COVID-19: older adults.
The past year taught us a lot—including the importance of physical and mental health, and coming together to support those in need. #SASCCWalks connects both together by encouraging you to walk and raise funds for an important cause.
Older adults remain some of the hardest-hit by COVID-19—from being high-risk of contracting the illness, experiencing isolation and depression from lack of socialization and connection, and struggling to stay engaged in a society that has gone totally digital.
To help our older adults stay physically and mentally strong through this pandemic and keep our community truly Age Friendly, SASCC is doing all we can. We're keeping our membership free so more older adults can join and benefit from the virtual fitness, wellness, social, and creative classes we offer; we produce a community newspaper to deliver important information and resources to those without internet; and we advocate for older adults at the regional and state levels—but we need your help to continue!
Every dollar you raise will go toward supporting older adults in your community. Let's put our Best Foot Forward together!
HOW IT WORKS:
Register on this platform as an individual, or create a team with your friends, family or coworkers! Share your individual page with others and help raise money to reach your personal goal of $250 and fitness goal of walking at least 1 mile a day!
Registration Fee:
Registration is $35 and you will receive a free shirt to pick up!
If you would like your shirt mailed, $10 fee will be added to registration.
Winners:
There will be amazing prizes for the top three individuals who raise the most money.
If you are on a team, the top three teams to raise the most money will also receive cool prizes!
Also, each person will receive a prize for accomplishing their $250 goal.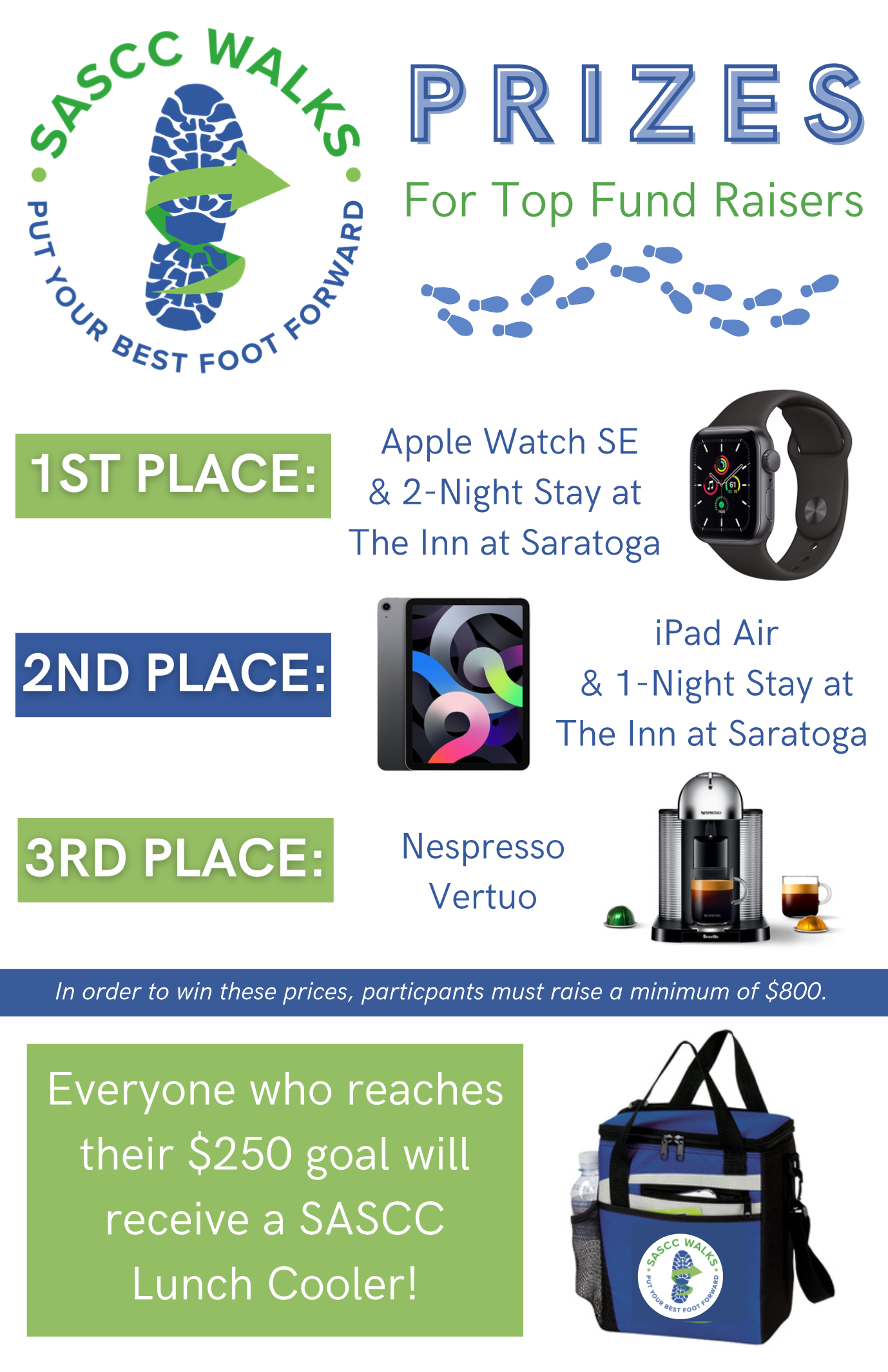 If interested in sponsoring, please email Raj at
raj@sascc.org
. Please find our sponsor levels
here
.
FITNESS GOAL
COMPLETED: 6,052 miles
TARGET: 11,400 miles
FUNDRAISING GOAL
RAISED: $ 39,246
TARGET: $ 100,000
You must go on adventures to find out where you truly belong. ~ Sue Fitzmaurice
Come join us and leave your footprints all around the US
HOW IT WORKS
Register for the campaign and set your fitness & fundraising targets.
Share your story and raise funds & awareness.
Track workouts anywhere & anytime and complete goal.
ABOUT THE ORGANIZATION
SARATOGA AREA SENIOR COORDINATING COUNCIL (SASCC)

Saratoga Area Senior Coordinating Council (SASCC) enriches the lives of older adults through innovative programs and opportunities that offer active engagement with our communities. As a leader in the Silicon Valley Age-Friendly Initiative, SASCC is reimagining a societal infrastructure where all people can age without sacrificing the lives they love.

Read more about the organization >>
HOW YOUR PARTICIPATION HELPS

Funds will allow us to continue providing meals and essential items to vulnerable, homebound, and isolated seniors. We can also continue delivering important resources and information related to community news, vaccination locations, and COVID-19 updates through The Outlook; creating a safe, central hub with reliable and trusted information for seniors
FREQUENTLY ASKED QUESTIONS
What is Charity Footprints?

Charity Footprints is a social enterprise that connects fitness and charitable giving. We empower people just like you, to get fit & give back.

Our Virtual Races allow non-profits to challenge their patrons to run, walk or ride and raise funds just as they would in a fundraising walkathon. The best part - charities save over 45% in event and logistical costs. So, the dollars that you pay to register or fundraise, go farther.


What is the campaign registration fee?

Campaign registration fee is the amount that you'll need to pay to enroll in this virtual race. This fee (less transaction charges) will go to the non-profit running this campaign as a donation.

The registration fee along with the funds raised through your individual fundraising page will enable the non-profit to fund various programs and pursue their organization's mission.


How can I create my fundraising page?

Well, you wouldn't have to create a separate fundraising page. Once you register for this campaign, we'll give you the link to your fundraising page.


How will I track my distance?

You can track your workouts by setting up your devices (Fitbit, Garmin, Apple Watch, Google Fit, Misfit, Strava), or download the Charity Footprints' iOS or Android app and track your workouts toward this campaign. ?>

If you workout indoors (treadmill, elliptical, stationary bike etc.), you can upload your workouts here.


How do I join a team on this campaign?

While registering for the campaign, select the team you'd like to join or create a new team and invite others to #GetFitGiveBack with you. If you want to join a team (or create your team) after registration, login to the campaign site and you would find a link to edit "My Team" in the menu under your profile in the header.


I am an international donor (non-US), what are my donation charges and tax-deductibility?

All donations are made in US dollars, so the donations may be levied an exchange rate fee via your bank. Donors will want to connect with their bank to determine exactly what that fee may be. Additionally, international donors will need to reach out to a tax professional to discuss if and how tax deductibility will apply to their donation.


Who can sponsor my fundraising efforts?

The short answer is - everyone. The fundraising research shows that the number one reason for people not donating is that they weren't asked to.

That said, there are things you can do to attract people to sponsor you. Adding a picture to your fundraising page, telling potential donors why this cause is so personal to you, sharing your fundraising page on social media, email, and chat groups.

Last, if your employer has a gift matching program, check with the human resources department to support your favorite cause as well.


Who can I contact if I need help?

You can contact us any time if you need help. We love hearing from our users so please don't hesitate to write to us about issues, suggestions, or to just say hi. You can also contact the non-profit administrator directly if you would like.


How do I change or switch my team?

If you want to join a team (or create your team) after registration, login to the campaign site and you would find a link to edit "My Team" in the menu under your profile in the header.